Review
In this Rokinon 85mm f/1.4 Aspherical lens Review I use real world photography situations and subjects, to show you what this lens is capable of doing in the real world!! I also used my Sony Nex-6 and LA-EA1 Lens Adapter in order to mount the A-Mount lens to the E-Mount camera. It is a great combo for the most part, but when shooting wide open @ f/1.4, the bokeh gets clipped by the lens adapter unfortunately. Other than that it worked flawlessly and was a very tight fit when connected to my Nex-6.
Please keep in mind the Rokinon 85mm f/1.4  Aspherical Lens is fully manual. No electronics, therefore the aperture and focus are all controlled by you manually. The effective focal length of this lens on my Nex-6 works out to ~127mm when you account for the crop factor.
The Nex Camera system works great with fully manual lenses thanks to the focus peaking feature in particular, although the magnify zoom feature is great for double checking sharpness!! This works really well for most situations, although moving targets like kids and dogs, can be really hard to capture sharp wide-open at f/1.4. Stopped down to f/4 or so it's much easier thanks to the larger depth of filed.
Let's get this A-Mount Lens Review started!!
Rokinon 85mm f/1.4 Aspherical lens
A closer look at the Rokinon 85mm f/1.4  Aspherical Lens.
Mounted On my Nex-6 w/ LA-EA1
Here's what it looks like as I used it for this review all mounted to my Nex-6 via the LA-EA1 lens adapter.
Rokinon 85mm f/1.4  Aspherical Lens Specifications
Focal Length
85 mm
Comparable APS-C Focal Length: 127.5 mm
Aperture
Maximum: f/1.4
Minimum: f/22
Camera Mount Type
Sony Alpha, Minolta AF
Format Compatibility
DSLR (APS-C Sensor)
35mm Film / Full-Frame Digital Sensor
Angle of View
28.3deg.
Minimum Focus Distance
3.3′ (1.01 m)
Groups/Elements
7/9
Autofocus
No
Tripod Collar
No
Filter Thread
Front: 72 mm
Dimensions (DxL)
2.75×3.25″ / 69.85×82.55mm
Weight
1.4lbs / 0.64kg
Build Quality
The Rokinon 85mm f/1.4 Apsherical Lens has very good build quality in my opinion. Not quite as nice as the 35mm UMC version I just reviewed Here>>, but still really well made. The focus ring is a bit tighter out of the box than the 35mm lens as well. Over the past few weeks the focus ring has loosened up significantly is becoming more buttery with each use. At first it was pretty tight though in comparison to the 14mm and 35mm Rokinon lenses.
The aperture ring is nicely notched at all the main aperture settings and in-between, except for f/1.4 and f/2.
I'm happy to report the lens cap snaps on snuggly and does not fall off accidentally 😉 The Lens hood is also included and fits on in both directions snuggly.
The lens is pretty heavy at 1.4lbs, do to the huge glass elements required for the f/1.4 max aperture. Overall length of the 85mm lens is pretty short, especially when comparing it to the 35mm lens. It is beefy though and pretty wide at the end with a lens 72mm filter.
Check it out next to the 14mm and 35mm lens for size comparison:
Real World Sample Photos
I shot in RAW quality mode for all the sample photos, and No Lens Correction of any kind was applied!! These raw files were then exported as jpegs @ 60% quality, 1000px, no sharpening applied beyond the defaults of the Lightroom 4. Some contrast was added to most of of the files as Raw tends to be a bit flat in comparison to jpeg.
Here is one of those fountains in the town square of Ellenville, NY, although not flowing just yet. I shot this wide open at f/1.4 and was about 10 feet away from the boy.
100% Crop
These next few shots were taken by this really old suspension bridge that is falling down and I would never dare to cross. It's really cool though, and here's a few snapshots from the area using the Rokinon 85mm f/1.4 Aspherical Lens.
Under the bridge.
I guess it used to be blue!!
My favorite Blue Angles Plane just down the road from where we live in the local park. Check it out looking though the Rokinon 85mm lens this time for a change 😉
First, f/1.4 vs f/4 using the Nose of the plane.
100% Crop
F/4
100% Crop
A few more angles, and I added some Vingette on the first photo only for effect.
Shooting Through a Fence
A nice photo friendly scene somebody put a lot of work into!!
Sharpness and Performance Test Shots
Now it's time for some Rokinon 85mm f/1.4 Aspherical Lens performance testing, using the same building as the 35mm lens review!! It has a lot of detail. Be sure to click on the 100% Crops for the High Res versions where the detail can really be seen up close!!
Again, these sharpness testing photos have absolutely no lens correction or any adjustments made at all in Lightroom 4. Raw files exported UN-touched!! I also used a tri-pod, and the 2 second self timer for all of theses test shots.
Here's the Full Scene taken @ f/1.4 fallowed by f/4
Please judge the sharpness for yourself at all apertures by clicking on the thumbnails below.
100% Crops @ All Apertures
100% Crop – Top Left –

Click Thumbnails

100% Crop – Center Area –

Click Thumbnails

f/1.4
f/2.0
f/2.8
f/4
f/5.6
f/8
f/11
f/16
f/22
In my opinion the sharpness is very good all around although noticeable softer at f/1.4 through f/2.8. Once you get to f/2.8 things really start to crisp up big time. Fringing is very well controlled, and easily fixable in any raw processing program.
 LA-EA1 Lens Adapter Clips the Bokeh @ F/1.4
The Bokeh gets clipped by the LA-EA1 lens adapter when shooting wide open @ f/1.4. Once stopped down to f/2 it seems intact. I would recommend getting a different lens adapter if you plan on using this lens on a Nex camera, such as the Fotodiox Lens Adapter Here on Amazon >>. I would not have went with the LA-EA1 lens adapter for this review had I know this was going to happen, but what are ya going to do 

 See below for what I'm talking about, and it's really not that noticeable unless the bokeh has specular highlights like in the images below.
More Sample Photos
All I did to these Raw photos was add a little contrast.
 f/1.4 Vs f/4 – Same Scene
A wire garbage can looks pretty cool at f/1.4 and 85mm up close.
Chubs!!
100% Crop
100% Crop
100% Crop
Chubs in afternoon sunlight at a pretty high ISO 1250, and a slow shutter speed of only 1/60sec Hand-Held!! 
100% Crop
How About some Layla Pics??
My little buddy Layla is really getting into her photography lately, and she is cuter than ever I must say!! The Rokinon 85mm lens is not the easiest lens to use with a moving target like Layla, but when you do hit the mark it's magic!!
These next few shots are really high ISO, low shutter speed shots, but I still like them for the real world photography aspect.
Here is Layla when I ask her to please smile 🙂
Chubs is eyeballing Layla's cookies and cream snack, but she is totally wise to him!
Here's is Layla outside in really harsh sunlight with a much faster shutter speed and at f/4 for the aperture.
100% Crop
Here is Layla in some softer light this time, but also at f/4 aperture.
Photoshop Love??
I really like this photo Layla and decided to edit in Photoshop to show you what it can look like with a little love 😉 These are 1200px images, so be sure to click on them to see the full high res versions!!
I added a little contrast and vibrance to these next two photos of Layla.
A few More Random Sample Photos
Check out my shed from the same spot, but with different focal points.
Another f/1.4 VS f/4 example
A familiar Z comp that you may recall from the 35mm lens review as well. The 85mm lens renders the scene a bit different though 😉
The Abandoned Pool @ 85mm
The Ladder:
100% Crop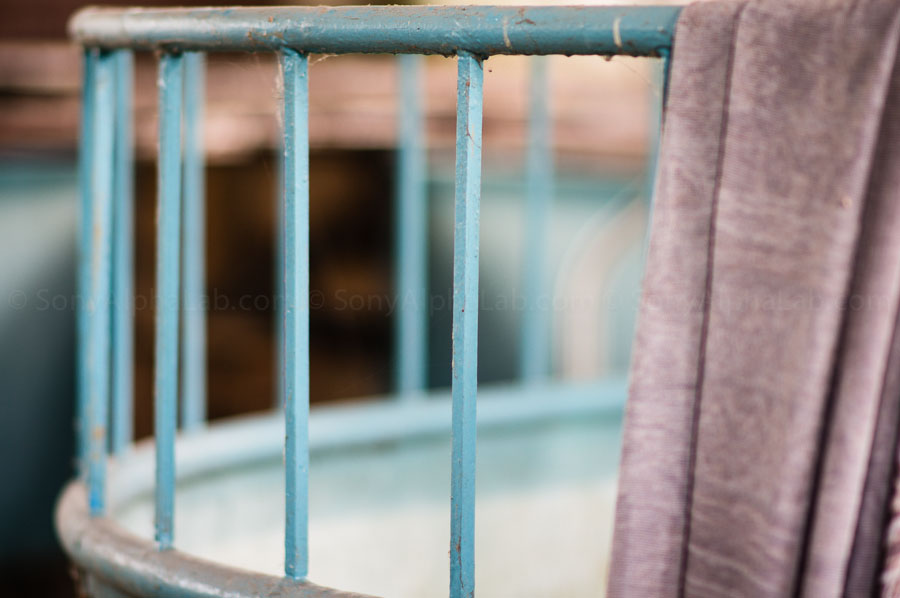 The Filter:
Some random items laying around the pool area.
Review Conclusion
The Rokinon 85mm f/1.4 Aspherical lens is a very high quality piece of hardware at an incredible affordable price!! $269.00 US to be exact, and with performance and results that speak for themselves in my opinion. Shooting wide-open at f/1.4 is a little bit soft, but it sharpens up at f/2.8 really nice. Again f/1.4 is totally usable but a little softer than the razor blade f/4 or f/5.6 apertures. The sharpness test shots show this pretty clearly.
I gave this lens a 4.5 star overall review rating, because the price for value is absolutely un-beatable in my opinion for this focal range. It could really be a 5 star considering the price, but it's not quite as sharp as the 35mm lens @ f/1.4. The 35mm f/1.4 UMC Asperical Lens is ~$200 more though, so it makes sense. The only other slight nit-pic with this lens is the 3 foot minimum focus distance, but this is not a macro lens and the short length makes up for it in the end I think.
I hope you all got what you were looking for in this Rokinon 85mm f/1.4 Aspherical lens Review, and please feel free to ask questions or comment below!! I always appreciate your thoughts, questions, and feedback 😉
Jay
Links to Purchase the Lens for All available Mounts:
Rokinon 85mm f/1.4 Asperical lens for $269 US @ BHPhotoVideo – Sony | Canon | Nikon | Pentax | Olympus, and Samsung NX
Your support is greatly appreciated as we run this site in our spare time and are not paid. We can however, make a small commission if you click a product link that your interested in. That click will then give us credit if you choose to purchase any given item. This has no effect on the cost of the product, and is a simple way to give back to SonyAlphaLab.com for the effort and info we provide.
Tip Jar: https://www.paypal.me/SonyAlphaLab
Support SonyAlphaLab by becoming a | Patreon
Also, be sure to keep following us on Google+ | Twitter | Facebook |
Direct Shopping Links – Thanks for your Support!!
BHPhotoVideo | Amazon – US | CA | UK
Thanks,
Jay