Review
In this Zeiss Touit 12mm f/2.8 Lens Review, I will go over everything you need to know using real world photography, lab testing, and experience. I used my Nex-6 for the camera body and took a lot of sample photos including HDR Photography, Architecture, and more.
| | |
| --- | --- |
| | The Zeiss Touit 12mm f/2.8 Lens is the highest quality E-mount native lens I have held in my hands to date. It's very heavy for its size in comparison to other E-mount lenses, and that is thanks to metal parts and superior build quality Zeiss decided to use. It's much better built than the original 24mm Zeiss E-mount Lens, but that lens is a much smaller form factor, lighter in weight, and faster @ f/1.8. That lens will come down in price a little bit I suspect as demand trails off a bit. Higher quality optics are always welcomed by me and I look forward to putting this lens through its passes! |
Zeiss Touit 12mm f/2.8 Lens Review
Thanks to the combination of one of the widest fields of view in APS-C format photography with fantastic imaging performance and light weight, this lens makes wide-angle photography even more fascinating.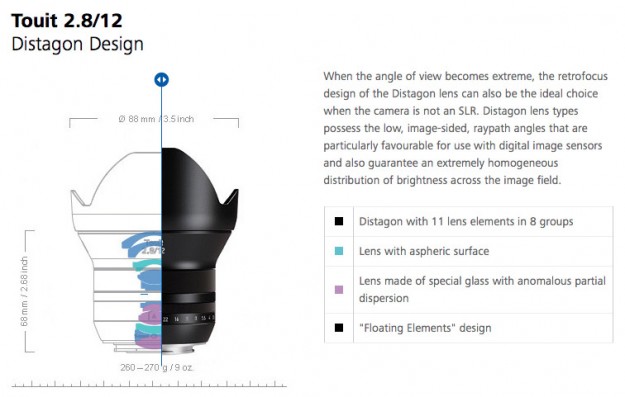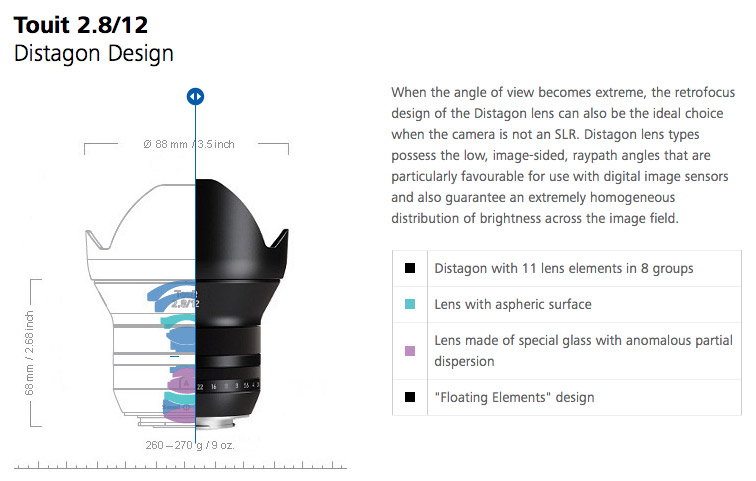 With an angle of view of 99 degrees, the Touit 2.8/12 wide-angle lens will soon become a firm favorite, particularly for landscapes and architectural photography. Its unique T* multicoating guarantees maximum transmission and outstanding absorption of extraneous light. The result, breathtaking image quality from edge to edge and corner to corner of the entire image field. What's more, all moving parts of the Touit 2.8/12, conceived specifically for Sony NEX Series cameras, are engineered for extreme precision and a long working life. And finally, its strong and rigid metal bayonet mount makes it an absolutely dependable companion for many years to come.
Zeiss Touit 12mm Lens Features
Innovative product design: The unmistakeable product design is based on an integrative concept and focuses on essential functional elements. Even the lens hood, typically an accessory, is seamlessly integrated into the overall design.
Aspherical design: The aspherical lens design ensures consistent imaging performance throughout the entire focusing range as well as sharpness to the periphery of the image. The asphere's more complex surface profile can reduce or eliminate spherical aberration
Floating Elements Design: Thanks to the use of the latest floating element design principles, optical aberration effects in ZEISS lenses are reduced to a minimum throughout their entire focusing range.
Excellent resolution and high contrast:
Carl Zeiss T* anti-reflective coating: The optical elements of ZEISS lenses feature T* anti-reflective coating on all surfaces and an optical design that guarantees images of superior brilliance at all times, even in unfavourable lighting conditions.
Zeiss Touit 12mm Lens Specifications
| | |
| --- | --- |
| Focal length | 12mm |
| Aperture range | f/2.8 – f/22 |
| Focusing range | 0.59 ft / 0.18m to infinity |
| Elements/Groups | 11/8 |
| Angular field, diag./horiz./vert. | 99° / 89° / 66° |
| Coverage at close range | 220 x 144 mm (8.66 x 5.67″) |
| Filter Size | 67mm |
| Dimensions (with Caps) | 3.19 x 3.39″ / 81mm x 86mm |
| Diameter of Focusing ring | 2.56″ / 65mm |
| Weight | 0.57 lb / 270g |
Price: $999 US
Zeiss Touit 12mm f/2.8 Lens Lens @ BHPhotoVideo
Zeiss Touit 12mm f/2.8 Lens – E-Mount
Check out some High Res images of the Zeiss 12mm f/2.8 Touit lens from the "lab".
Here's my Nex-6 with the Zeiss Touit 12mm f/2.8 Lens mounted and attached to my Gitzo center ballhead w/ quick release plate.
Build Quality and Design
As I stated in the opening paragraph, the Zeiss Touit 12mm f/2.8 lens is the best quality e-mount lens I have ever used to date. It is a bit heavy, but worth it when you see it went into quality construction and design. The lens hood has a nice flush fit when it's mounted making it a smooth transition as opposed to a step like most other lens hoods have when mounted. You can see the lens actually comes out and then steps in at the top by the lens cap in the image below.
The focus ring is a rubber material that is easy to grip, and extremely smooth. It does like to collect dust though, because it's really soft rubber. The lens cap is the standard Zeiss pinch style and it works pretty good, although not near as nice as the metal RX1 lens cap. The lens filter thread is 67mm, and turns out to be the same as the selp18200 lens I just reviewed here >>
AF Performance
The Auto focus performance is pretty good overall, but only contrast AF is supported. So, the much faster hybrid af sensor on my Nex-6 was not used, and the focus was a bit sluggish. Contrast AF needs to hunt back and forth to find the "contrast", or sharp area. This method is very accurate, but not as fast as the hybrid AF supported by most of the other e-mount lenses. The focus motor itself is fast and quiet, but not silent. You will hear it in videos if you're using AF.
Carl Zeiss Lenses – Developing the new Touit lens family
An interesting video that shows off the quality control and design innovation offered at Zeiss. I recommend checking it out if you have not yet.
Carl Zeiss Lenses – Manufacturing the new Touit lenses
This video is very impressive and shows the behind the scenes footage of the Zeiss Touit lens being assembled and tested! A must watch in my opinion.
Zeiss 12mm Touit Lens- Sample Photos
An old laundry factory taken from the car window hand-held.
Be sure to Click on the photos for the high res ~ 1200px 100% Crop
F/8 vs F/2.8 at the minimum focus distance of ~.59 feet or ~6-7 inches.
The green bridge was near by so I stopped with Layla on the way home from work.
This next image shows off the barrel distortion @ f/2.8. You can also see how fast the focus falls off on the wood and the grass down below the bridge.
I enable the lens profile in Lightroom 5 and the Zeiss Touit 12mm f/2.8 Lens was in the database! Mostly what it did was fix the distortion and vignette that was visible.
Creepy abandoned house.
Another angle.
Shooting into the Sun @ F/2.8
Be sure to Click on the photos for the high res ~ 1200px 100% Crop
My weathered shed @ f/4. Looks pretty 3D at such a wide-angle perspective. I was only about 4-5 feet from the shed when I took this photo.
One of my favorite planes that is down at the local park makes for a great photo subject. Especially with such a wide-angle lens like the Zeiss 12mm Touit. This time I used the Manfrotto 143 Magic Arm Jit w/ Super Clamp to get the camera nice and close to the point 😉 I clamped the arm to the horizontal fence beam that ran along the top. I added a little contrast, clarity, vibrancy, and used the new radial filter for the vignette, in Lightroom 5.
An HDR Photo using 3 exposures @ -3,0,+3, f/16, ISO 100, Photomtix and Lightroom 5.
Be sure to Click on the photos for the high res ~ 1200px 100% Crop
My favorite gas station / convenience store 😉
I've passed this LP Propane Facility since I was a kid, and these folks really take pride in their work and equipment. The whole facility looks perfectly maintained, but the killer photo opportunities are parked out front. They dynamic range was larger than one image could effectively capture, so I opted to use the Auto HDR feature on my Nex-6 at the 6EV spread setting. Jpeg quality is required for this feature as the camera fires three shots and blends them together producing the hdr composite jpeg you see below. For the best results possible regular HDR's are the way to go along with a tri-pod, but for hand-held straight off the camera, I'm very happy with these results and the Zeiss 12mm optics hold up strong.
Check out these old school propane delivery trucks!
Be sure to Click on the photos for the high res ~ 1200px 100% Crop
Some "Lab" Test Photos
I went down to the almost finished lab this morning and put together the scene below to do some lens testing. I'm still working out in my head exactly what I want to do, but a more advanced and sophisticated version of what you see below is my ultimate goal. I tried my best to get everything on the same focal plane that I used and to have the camera as perfectly level as possible. I think the results are pretty interesting at the very least, and offer you an idea of what the lens can do in a variety of situations. I used the 10 second self timer, ISO 100, and a tri-pod for all of these test images. Please let me know what you think of this type of test? Good? Bad? Waste of time?
Here is the full "Lab" Scene @ f/4, so you can get an idea of what you're looking at with the 100% Crops. The focus point on all these "Lab" test images was the center test chart.
Be sure to Click on the photos for the high res ~ 1200px 100% Crop
100% Crops

| | | | | |
| --- | --- | --- | --- | --- |
| |  Bottom Left Chart |  Center Focus Point | Top Right Chart | Random |
| f/2.8 | | | | |
| f/4 | | | | |
| f/5.6 | | | | |
| f/8 | | | | |
| f/11 | | | | |
| f/16 | | | | |
| f/22 | | | | |
Street and Urban Scenes
I have a few scenes to show you, but this first one I really like for the depth and visual detail it offers. The first image is the raw file right off the camera with no adjustments. The next two images are different versions of edits that I did in Lightroom 5. I just wanted to show you how much a little polishing in Lightroom can do to a raw file and how the quality optics help to bring out the details.
Be sure to Click on the photos for the high res ~ 1200px 100% Crop
"Hard Times"
This next series was all taken at this scary looking abandoned house I drive past all the time. I finally went in and man was it creepy yet cool at the same time. I used HDR Photography for a few of these but not all of them. The Zeiss Touit 12mm performed great in the harsh lighting conditions as it relates to lens flare and washing out do to over exposure of bright areas etc.. Most cheaper lenses tend to wash out really bad in these conditions.
Be sure to Click on the photos for the high res ~ 1200px 100% Crop
Here is what the original raw files look like in Lightroom 5:
Here is another frame from inside the abandoned house and you can see what brutal lighting conditions the lens had to deal with. What is particularly notable about the Zeiss is how well it handles lens far and maintains contrast in the scene, even with the blaring over-exposed light flooding the scene. Most lenses do not do so well under conditions like this and the scene would render much more washed out than it appears below. Very impressive and a good indicator of ultra high quality optics!
100% Crops – Click Images for full size!!

| | |
| --- | --- |
| | |
Another creepy room from the house. This is also a HDR Photograph and I did some selective dodging and burning to create more depth and drama in the scene. I love the ultra wide-angle perspective the Zeiss 12mm offers and the distortion is very well controlled as you can see from the vertical lines in the image below.
Here is the last "Hard Times" series HDR photo. Again, I must say the Zeiss Touit 12mm lens is excellent for this type of photography! You need an ultra wide-angle for this type of work and with such harsh lighting conditions, quality optics makes a big difference in the resulting HDR Photograph. Imagine starting with multiple washed out exposure's from the harsh lighting, lens flare, fringing etc.. All these types of lens flaws are amplified when shooting HDR, because the images combine data. They blend together and often the noise, purple fringing and dust will get much more noticeable. Higher end optics make the post processing much easier if your going to blend images and have to fix all the flaws for print. If you're not printing it's not as much of an issue, but still noticeable. Normally around the windows in the really high contrast areas you would see purple, blue, or green fringing. Not with this lens though 😉
Sony 16mm f/2.8 Pancake lens vs Zeiss 12mm F/2.8 Lens – Lab
Per reader requests and my own curiosity/ desire I wanted to show you how the 16mm pancake lens compares to the Zeiss 12mm. The corner sharpness on the sel16f28 is known for being on the soft side, and seeing it in the "lab" scene really highlights this point.
Here is the lower left corner 100% Crop of both the Zeiss and the Sony 16mm pancake side by side:
100% Crops – Zeiss vs Sony 16mm Pancake – Click Images

| | |
| --- | --- |
| | |
As you can see by these "Lab" test photo comparisons, the Zeiss lens is far superior than the sony 16mm pancake lens as far as corner sharpness, vignette, distortion, and fringing. Adding the wide-angle adapter would give a slightly wider view, but the corners would still be a bit soft similar to these test results. I will try to get the wide-angle converter next month for that specific test as well.
Sigma 19mm f/2.8 DN lens vs Zeiss 12mm f/2.8 Lens – Lab
When looking at the Sigma 19mm vs the Zeiss 12mm we have a pretty large gap in focal length, but they are both still considered wide angle lenses, but the Zeiss is more of an Ultra wide-angle!
100% Crops – Zeiss vs Sigma 19mm f/2.8 DN Lens – Click Images

| | |
| --- | --- |
| | |
You can clearly see the Sigma 19mm f/2.8 DN Lens, is much better than the Sony 16mm f/2.8 Pancake lens, and more closely resembles the Zeiss in the optical department. A nice middle ground if you ask me considering the price difference, although the focal lengths are really to far apart to compare fairly in my opinion. They are also in two completely different price points 😉
Conclusion
The Zeiss Touit 12mm f/2.8 lens is a very high quality unit with a hefty price tag to go along with it. It has very punchy contrast and color, which is the most noticeable impression I get from the Zeiss lens other than the obvious killer build quality and engineering. The price is a bit steep and that is the only real negative, but it cost money to build a lens of this quality.
The sharpness overall is very good, but not razor blade sharp like the 24mm e-mount lens in my opinion. It's certainly sharp, don't get me wrong, but the extreme wide-angle does take a little bit away in the corners. The lens performs best on my Nex-6 @ f/5.6 in the sharpness category, but f/8 and f/4 were also sharp. When using the Zeiss 12mm wide open @ f/2.8 it's very sharp in the middle, but the corners are noticeable softer. This is pretty easy to see in the "Lab" photos, but in the real world images it makes little difference. Lens flare and fringing is extremely well controlled and when processing the HDR photos it was a pleasure. With cheaper lenses, more work is needed to correct for the lens flaws do to the stacking of exposure's. HDR Processing amplifies the flaws like a highlighter pen. You may notice dust in the sky on your HDR image after you blend the photos, but in the original files the dust is almost invisible. This is caused by that stacking of exposure information. In any event, working with such high quality optics makes the post processing work much easier if you need pro grade printable results with the least amount of effort.
In the real world the Zeiss Touit 12mm f/2.8 lens is an excellent performer if you're in the market for a fast, ultra wide-angle lens with exception build quality. If you're looking for the best value for the dollar, this lens is not the best option in my opinion for the Sony Nex camera system. I would personally recommend the Sony 10-18mm f/4 OSS Lens which I reviewed Here >> That lens offers excellent optical performance, has the zoom flexibility, plus has Optical SteadyShot built-in. It is a bit slower at f/4, but for landscapes and most other wide-angle work that is not the biggest deal to me.
If you're looking for the best ultra wide-angle lens for the Sony APS-C E-Mount Camera system, the Zeiss Touit 12mm f/2.8 lens is the one to check out first!
Price: ~$999 US
Zeiss Touit 12mm f/2.8 Lens Lens @ BHPhotoVideo
Your support is greatly appreciated as we run this site in our spare time and are not paid. We can however, make a small commission if you click a product link that your interested in. That click will then give us credit if you choose to purchase any given item. This has no effect on the cost of the product, and is a simple way to give back to SonyAlphaLab.com for the effort and info we provide.
Tip Jar: https://www.paypal.me/SonyAlphaLab
Support SonyAlphaLab by becoming a | Patreon
Also, be sure to keep following us on Google+ | Twitter | Facebook |
Direct Shopping Links – Thanks for your Support!!
BHPhotoVideo | Amazon – US | CA | UK
Thanks,
Jay