A
bunch of new Cameras just came out and the few worth checking out in my opinion are the Nikon D4, the Fujifilm HS30EXR, F770EXR, and the FinePix XP-150 waterproof and ultra rugged compact. To start things off, Nikon just came out with a new monster of a camera called the D4. It's retailing for around $6000 and surprisingly only has a 16.2mp sensor. How much you wanna bet it's a Sony sensor?? I really have no idea if it's a Sony sensor, but they make the majority of sensors so it stands to reason 😉 So 16mp on a Full Frame sensor allows for some enormous pixels. In other words the Pixel Density is way less. What this means is better sensitivity, more accurate capturing of light, less diffraction, much less noise, and of course better image quality.
The Nikon D4 could potentially be the best Low Light Camera to date!!
Nikon D4 Key Specifications:
16.2 effective megapixel, full-frame sensor (16.6MP total)
10fps shooting with AF and AE, 11fps with focus and exposure locked, 24fps 2.5MP grabs
91,000 pixel sensor for metering, white balance, flash exposure, face detection and active d-lighting
ISO Range 100-12,800 (extendable from 50 – 204,800)
MultiCAM 3500FX Autofocus sensor works in lower light and with smaller apertures
Two sub-selector joystick/buttons for shooting orientation
1080p30 HD video at up to 24Mbps with uncompressed video output
New EN-EL18 battery (21.6Wh capacity, CIPA-rated at 2600 shots)
Twin card slots – one Compact Flash and one XQD
Nikon D4 – Complete Feature List and Summary
Nikon calls their D4 Digital SLR Camera a "total professional imaging machine". They would be correct in doing so. Designed for the working photographer, the D4 meets the most-demanding photog's needs and then some. Packed with features essential to getting the job done, and getting it done well this rig is more than a digital camera, it's a shooter's bread and butter.
Building off the basic structure of its predecessor, the D4 goes big in a number of ways which are sure to be appreciated. The camera features a 16.2Mp 36 x 23.9mm CMOS sensor with Nikon's FX-format and the EXPEED3 image processor. ISO sensitivity can now be extended as low as ISO 50 or as high as 204,800 with a standard range of 100-12,800 ISO. Additionally, 10 frames per second continuous shooting in FX-format for up to 200 shots ensures the decisive moment will not be missed.
The D4 records in RAW, JPEG, TIFF, and RAW + JPEG files. Metering options include RGB 3D Color Matrix III metering, center-weighted, and spot. Additionally, compatible storage media includes the future of professional storage, XQD memory cards, and Type I CompactFlash memory cards (UDMA compliant). Of course, NIKKOR AF-S and AF-I lenses are compatible with the D4 body, putting an extensive line of lenses at the photographer's disposal.
Another improvement on D4's little brother would be the slightly bigger LCD screen. Up from 3″, the D4 has a 3.2″ LCD monitor with a 170° viewing angle, approximately 100% frame coverage, automatic monitor brightness control, and Live View. In Live View the image can be enlarged up to 46x to make on the spot focus confirmation. Surrounding the monitor are illuminated buttons for ease of use even in low light. Additionally, quick access Live View confirms exposure, white balance, monitor hue, histogram, focus mode, AF area mode, and focusing accuracy with ease.
The D4 also boasts stellar auto focus features – like 51 AF points, an AF mode selector switch, and fast AF point selection. All three of these components of the AF system ensure accurate, fast shooting whether the subject is a room full of children or a high-speed sporting event.
Of course, the D4 wouldn't be a professional level DSLR if it didn't include full HD video capture. The D4 does so, making it equally a pro videographer's tool as much as a pro photographer's. From 1080p broadcast quality video at 30 or 24 fps to full manual control to the option to add an external mic for stereo audio capture, the D4 isn't just a digital camera that also captures video.
Features like the aforementioned Live View allow the videographer to confirm capture of their footage on the camera's LCD and an external (optional) monitor simultaneously. It also gives you access to Picture Controls to handle the look and feel of the video, in-camera. Peak audio meters also allow the videographer to adjust sound levels manually in 20 incremental steps. Remote start and stop of view using wired and wireless remote accessories is also an option, among many others.
Nikon FX-format (36 x 23.9mm) CMOS Sensor with 16.2 Effective Megapixels

D4 achieves an ideal balance of high pixel count and FX-format sensor size, producing exceptionally sharp, clean and well-saturated images and offers flexibility in post-production cropping for magazine-quality print and web publishing
3.2″ Super-Sharp 921,000-Dot LCD Monitor with Automatic Monitor Brightness Control

Ambient brightness sensor automatically adjusts LCD visibility according to environment for bright, crisp image playback, menu adjustment and Live View shooting. Enlarge images up to 46x to make on the spot focus confirmation – crucial for high resolution shooting
Full 1080p HD Broadcast Quality Video

Create true broadcast quality video using Full 1080p video at 30 or 24fps in H.264/MPEG-4 AVC HD format. D4's 16.2Mp sensor combined with B-frame data compression delivers high quality video ensuring unmatched moving image integrity for clips up to 29 min. 59 sec. in length. Fast sensor readout enables reduced rolling shutter – especially useful during panning sequences
View Simultaneous Live View Output on External Monitors & Record Uncompressed Video Via HDMI

Check video recording on the camera's LCD and external monitor simultaneously; ideal for focus pullers and camera operators. When the highest possible image quality is required you can bypass memory cards and record uncompressed footage directly from the image sensor onto an external storage device. Options to customize the HDMI output signal are also included
Full HD Recording with FX, DX (1.5x crop) and 1920 x 1080 (2.7x) Crop Mode Settings

The FX-based format renders exquisitely shallow depth of field (DOF) as well as wide-angle shooting. The DX-based format offers a picture angle that is 1.5x crop to the focal length and is ideal when you can't get close enough to the action when an existing lens is used. For even more of a telephoto effect, the 1920 x 1080 crop format gives you a 2.7x. Versatility like this lets you explore different moods with the large and comprehensive selection of NIKKOR lenses. All three modes deliver exceptional Full HD 1080p output
Standard ISO 100 to 12,800, Expandable from ISO 50 Up to ISO 204,800 Equivalent

The 16.2 megapixel D4 offers similar clean, low-noise performance as its predecessor D3s at ISO 12,800 and expands the range by one EV, making ISO 100 standard. For more extreme/challenging conditions, drop to ISO 50 equivalent or raise sensitivity to as high as ISO 204,800 equivalent. With the D4, shoot confidently in nearly any light – even in places where the human eye has difficulty focusing
10/11 Frames Per Second Continuous Shooting in FX-format for Up to 200 Frames

Realize 10 fps shutter bursts with full AF and AE performance in FX-format. Boost the frame rate up to 11 fps in FX-format, locking focus on the position detected in the first frame
Faster, More Responsive 51-Point AF System

D4's AF sensor utilizes 51 strategically placed AF points that are designed to capture subjects as you choose: by working together like a net to capture moving subjects or for pinpoint accuracy. Use a single AF point to home in on the exact place on your chosen subject. Each of the 51 AF points delivers fast and accurate AF detection to an impressive low light level of -2 EV (ISO 100, 20ºC) with every AF NIKKOR lens – expect to shoot more smoothly at night stadium assignments, poorly lit indoor arenas, cathedrals, theaters and any other low-lit venues
AF Detection Up to f/8

D4 aligns its 15 cross-type sensors in the center to detect contrast for both vertical and horizontal lines with lenses f/5.6 or faster. The five central points and three points to the left and right of them in the middle line are compatible with f/8
EXPEED 3 for Faithful Colors, Fine Tones and Wide Dynamic Range: Optimized for Stills and HD Video

EXPEED 3 results in still images with faithful, well-saturated color and natural depth. Tones are subtle and nuanced, from pure pitch black to pure white. For images produced even under harsh light, the D4 output preserves smooth color gradation with abundant tone and detail. When shooting in dim lighting at high ISOs, the camera's intelligent noise reduction lowers noise without degrading image sharpness. Full HD 1080p video is rendered with reduced moiré, false colors, jaggies, and sharp edges. Noise reduction technology specifically designed for video preserves clarity
Comprehensive High Fidelity Audio Recording and Playback Control

Built-in external stereo microphone input allows for recording crystal clear sound using the optional ME-1 Stereo Microphone and can be precisely controlled in 20 incremental steps. Check audio in isolation as you record using headphones directly connected to the camera. Preview adjustments before or during Live View recording
Time Lapse Shooting: Capture a Variety of Scenes of Subjects at a Breathtaking Pace

The D4's time-lapse shooting lets you set intervals and frame rates in order to dramatically relay slow-moving activity at dramatic speeds. The D4 allows you to shoot time-lapse photography with replaying rates from 24 times to 36,000 times faster than normal. Time-lapse shooting files can also be saved as movie files
91,000 Pixel RGB 3D Color Matrix Metering III with Advanced Scene Recognition System

Face detection using the optical viewfinder and detailed scene analysis using the 91K RGB sensor enables superior auto exposure, auto white balance detection, AF performance and i-TTL flash exposure
Two Live View Shooting Modes

Photography Live View and Movie Live View modes add flexibility; exposure, white balance, monitor hue, histogram, focus mode, AF area mode and focusing accuracy are easily confirmed
Expand Dynamic Range Using Built-In HDR

Combines two exposures at up to 3EV to create a single image revealing an extremely wide dynamic range, but with less noise and richer color gradation than ever before
Flash Compensation and Exposure Compensation Separated for Better Creative Control

With the D4, in addition to conventional global flash and background exposure compensation, as well as flash exposure compensation, there is a new function that allows you to compensate only the background exposure independently from the subject illuminated by Nikon Speedlights
Dedicated Nikon Picture Control Button

Convenient Picture control button provides six preset options: Standard, Neutral, Vivid, Monochrome, Landscape and Portrait for stills and video while 9 customizable settings provide advanced, personalized color control
Two Axis Virtual Horizon Graphic Indicator

Use either LCD monitor or viewfinder to check if camera is level; horizontally or with forward or rear rotation
Improved Vertical Shooting Operation

One unique set of controls for both horizontal and vertical shooting. Comprised of a main-command dial, an AF-ON button and a joystick style AF selector, each set is laid out identically for a more intuitive operation regardless of camera orientation
Speedier AF Point Selection

In addition to the round multi-selector used for AF point selection, the D4 incorporates a new joystick style sub-selector made of rubber that's more responsive to your finger's touch. Positioned for optimal control during both horizontal and vertical shooting, this new button permits a speedier shift of AF points
Illuminated Buttons Let You Set Functions in Low-Lit and Even Dark Shooting Situations

D4 uses back-illuminated operation buttons and release mode dials for clear visibility in the dark
Magnesium Alloy Body with Weather Sealing

To sustain peak performance, even in the most demanding environmental conditions, the body, exterior, and mirror box of the D4 are comprised of strong-yet-lightweight magnesium alloy. This assures the camera's superb reliability and extra long life. Thorough measures are taken to seal and protect against invasive moisture, dust and even electromagnetic interference. A comprehensive weather and dust sealing, combined with additional Nikon engineering, further ensure integrity of the camera body
400,000 Cycles Durable, Accurate Shutter Unit with Mirror Balancer

For the utmost reliability and rigorous performance, the D4's shutter has been tested for 400,000 cycles on fully assembled cameras at extreme continuous burst rates for extended time periods. The camera's mirror balancer minimizes the bounce of the mirror's down movement with such finesse that it extends viewing time and allows more time for AF operation – one reason why the D4 can offer autofocus and focus tracking even during high-speed continuous shooting
Self-Diagnostic Shutter Monitor

To sustain precision shutter operation throughout the mechanism's lifespan, the D4 incorporates intelligent shutter monitor technology. Should any shutter speed variance be detected, the camera automatically corrects to adjust between actual speed and correct shutter speed
WT-5A Wireless Transmitter Compatibility

With Image transmission mode you can transmit images to an FTP server or computer, either automatically or by manually selecting images. With PC mode you can operate the D4 via Camera Control Pro 2. For HTTP mode: You can use a web browser via computer or smart phone, show thumbnails of images stored in the camera's memory cards, or make slide shows, view images, operate simple camera controls for remote shooting or begin live view shooting, including video, which is new to the WT-5A. From one master camera, release up to 10 remote D4 camera and WT-5A combinations. An optional iPhone application for remote control is also available for the WT-5A
Intelligent Power Management

Power consumption and power management systems are engineered throughout the D4 for even greater operating efficiency using a new, small and high-capacity EN-EL18 rechargeable Li-ion battery. Expect long battery life and the ability to shoot up to approx. 2,600 images per charge
Nikon D4 – Full Specs
Price
MSRP
US:

$5999.95

, UK: £4799.99
Body type
Body type
Large SLR"
Body material
Magnesium alloy
Sensor
Max resolution
4928 x 3280
Other resolutions
4096 x 2720, 4096 x 3280, 3696 x 2456, 3200 x 2128, 3072 x 2456, 3072 x 2040, 2464 x 1640, 2400 x 1592, 2048 x 1360, 2048 x 1640, 1600 x 1064
Image ratio w:h
5:4, 3:2
Effective pixels
16.2 megapixels
Sensor photo detectors
16.6 megapixels
Sensor size

Full frame

(36 x 23.9 mm)
Sensor type
CMOS
Processor
Expeed 3
Color space
sRGB, Adobe RGB
Color filter array
RGB Color Filter Array
Image
ISO
100, 200, 400, 800, 1600, 3200, 6400, 12800 (

204800 with boost

)
White balance presets
12
Custom white balance
Yes (4)
Image stabilization
No
Uncompressed format
RAW
File format

NEF (12-bit or 14-bit, compressed or lossless compressed RAW)
NEF + JPEG
TIFF
JPEG

Optics & Focus
Autofocus

Phase Detect
Multi-area
Selective single-point
Tracking
Single
Continuous
Live View

Digital zoom
No
Manual focus
Yes
Number of focus points
51
Lens mount
Nikon F mount
Focal length multiplier
1×
Screen / viewfinder
Articulated LCD
Fixed
Screen size
3.2″
Screen dots
921,000
Touch screen
No
Live view
Yes
Viewfinder type
Optical (pentaprism)
Viewfinder coverage
100 %
Viewfinder magnification
0.7×
Photography features
Minimum shutter speed
30 sec
Maximum shutter speed
1/8000 sec
Exposure modes

Programmed auto with flexible program (P)
Shutter-priority (S)
Aperture-priority (A)
Manual (M)

Built-in flash
No
External flash
Yes (Hot-shoe, Wireless plus sync connector)
Flash modes
Front curtain, Rear curtain, Red-Eye, Slow Sync
Flash X sync speed
1/250 sec
Drive modes

Single frame
Continuous low speed
Continuous high speed
Quiet shutter-release
Self-timer
Mirror up

Continuous drive
Yes (9 – 11 fps)
Self-timer
Yes (2-20 seconds, 1-9 exposures at intervals of 0.5, 1, 2, or 3 seconds)
Metering modes

Multi
Center-weighted
Spot

Exposure compensation
±5 EV (at 1/3 EV, 1/2 EV, 1 EV steps)
AE Bracketing
(2, 3, 5, 7 frames at 1/3 EV, 1/2 EV, 2/3 EV steps)
WB Bracketing
Yes (2-9 frames in steps of 1, 2, or 3)
Videography features
Format
Microphone
Mono
Speaker
Mono
Resolutions
1920 x 1080 (30, 25, 24 fps), 1280 x 720 (60, 50, 30, 25 fps), 640 x 424 (30, 25 fps)
Storage
Storage types
Compact Flash (Type I,

XQD

) x2
Storage included
None
Connectivity
USB
USB 2.0 (480Mbit/sec)
HDMI
Yes (Type C )
Wireless
Optional
Remote control
Yes (via ten-pin remote terminal)
Physical
Environmentally sealed
Yes (Water and dust resistant)
Battery
Battery Pack
Battery description
Lithium-Ion EN-EL18 rechargeable battery & charger
Weight (inc. batteries)
1340 g (2.95 lb / 47.27 oz)
Dimensions
160 x 157 x 91 mm (6.3 x 6.18 x 3.58″)
Other features
Orientation sensor
Yes
Timelapse recording
Yes (Playback speed 24x to 36000x )
GPS
Optional
Fujifilm Also Releases a new line of killer cameras!!
There is whole bunch of new Fujifilm models, but the HS30EXR stood out to me for it's incredible 24-720mm zoom and high quality CMOS sensor. Check it out below if it I peaked your interest 😉 It certainly peaked mine once I read over the specs, I was like WOW!! The HS30 features a redesigned 16MP back-lit CMOS sensor, which is what Sony uses, and gains a series of improvements over the existing HS20 model. My guess is it will cost around $350 or so considering the HS20 is ~$325 US.
Fujifilm HS30EXR All The Info You Need
24-720mm Fujinon 30x Optical Zoom and Super Macro Mode
The bright, high-precision Fujinon lens boasts a maximum aperture of f/2.8 and an optical zoom range from wide-angle 24mm to 30x telephoto, while a remarkable 1cm Super Macro Mode opens up creative opportunities right under your eyes. Producing exceptional resolution across the image plane, from the center to the edges, this lens also delivers brilliant Fujinon optical quality across the entire zoom range.
Manual barrel zoom
The wide-angle 24mm to 30x telephoto optical zoom range is controlled by twisting the lens barrel, giving you speedy, intuitive control over magnification power.
15x Optical Zoom(360mm*1)
30x Optical Zoom(720mm*1)
60x Intelligent Digital Zoom
Controlled by the convenient Function (Fn) button, the Intelligent Digital Zoom offers an astonishing 60x magnification power, the equivalent of a 1440mm*2 focal length. In addition to magnifying the image, the EXR sensor intelligently minimizes noise in flat areas and sharpens and enhances contrast in edge areas and to create natural clarity and crispness even at super-telephoto magnification. Intelligent Digital Zoom also functions in EXR AUTO mode, to guarantee you exceptional shots with minimal effort.
*1 Equivalent on 35mm camera
*2 Equivalent to angle of view on 35mm camera
30x Optical Zoom(720mm*1)
60x Intelligent Digital Zoom(1440mm*2)
1cm Super Macro
At a distance of just 1cm, macro photography using the FinePix HS30EXR allows you to capture all the exquisite detail of your subject from really close up.
Fujinon Lens
11-groups / 15-elements Configuration
Incorporating 15 elements in 11 groups, including 3 aspherical and one ED lens, all elements in the high-quality Fujinon 30x zoom lens have been treated with Super EBC (Electron Beam Coating) to reduce ghosting, flare, and purple fringe. This high-performance lens produces outstanding resolution with very little color blurring or distortion, resulting in images with superb clarity and color fidelity.
1. ED lens
2. Aspherical lens
3 Aspherical Lenses – For Rich Resolution and a Compact Form –
By using 3 high-performance aspherical lenses, the FinePix HS30EXR delivers sharp image quality with rich resolution. These lenses also contribute to a more compact overall lens configuration.
1. Focal Plane
Spherical Lens
Aspherical Lens
ED Lens – Removing All Color Fringing Even at High Magnification –
One ED lens has been employed for their low dispersion and effective reduction of chromatic aberrations. By preventing color fringing and reducing contrast, the FinePix HS30EXR lens captures images with superb accuracy across the zoom range from wide angle to telephoto.
Super EBC – Aiming for High Quality Images –
All the lens elements used in the FinePix HS30EXR have been treated with multilayer Super EBC (Electron Beam Coating), the same process used for Fujinon broadcasting video lenses and large-format camera lenses acclaimed by professionals. Reducing ghosting and lens flare, the treatment promises clear image quality.
Image Stabilization (CMOS Shift + High ISO)
Long telephoto shots usually suffer from camera shake and subject movement which can ruin photos by producing blurred results. The FinePix HS30EXR's highly effective CMOS-shift and high ISO image stabilization ensures that your shots stay extra-crisp and clear, even at the full 30x zoom.
Advanced Anti Blur
In EXR AUTO mode, Advanced Anti Blur selects optimum sensitivity and harnesses responsiveness of the BSI EXR CMOS sensor, using Multi Frame technology to layer four consecutive frames shot at high speed into a single, sharp, blur-free image with remarkably low noise, even at telephoto zoom settings.
Clear, High-Resolution Fujinon Electronic View Finder
Engineered by Fujinon, the bright, incredibly sharp electronic viewfinder boasts enhanced resolution of 920,000 dots and an expanded viewing angle of 22 degrees. Perfect for tracking moving subjects in bright outdoor light, the viewfinder is equipped with an "Eye Sensor" that automatically switches the view from the LCD screen when you hold the camera up to your eye.
Electronic Viewfinder with Eye Sensor
Put your eye to the EVF and Eye Sensor automatically switches display from the LCD to the highly responsive viewfinder.
Electronic Horizon Leveling Gauge
When composing a shot in the spacious LCD, the built-in electronic level display makes it easy to align the image with the true horizon.
16-Megapixel BSI EXR CMOS Sensor
The 1/2-inch BSI (Back Side Illuminated) EXR CMOS sensor combines an impressive 16 megapixels of high-resolution image quality with exceptionally responsive performance. Fujifilm's proprietary pixel and color filter arrays enhance both vertical and horizontal resolution, the key to 3-way capture technology that ensures the best image quality for every scene. Dynamic range has been expanded to 1600%, achieving a new level of imaging performance.
The BSI structure results in improved light reception for a significant boost in sensitivity, with available settings up to ISO 12800 for S size. An optimized signal read-out configuration significantly reduces in-sensor noise, achieving a further significant reduction in signal-to-noise ratio. The CMOS format also achieves higher readout speeds and faster image processing, enabling 8fps high-speed continuous shooting at full 16-megapixel resolution.
1. Color Filter (EXR pixel array)
2. Photodiode
3. High Speed Transfer Circuit
4. Light
A. Conventional pixel array
B. EXR pixel array
C. Conventional CMOS sensor
D. BSI CMOS sensor
I. EXR pixel array
II. High sensitivity CMOS sensor
Three-sensors-in-one
High Resolution
Just as your eyes see even the tiniest of details when looking at something in good light, HR (High Resolution) mode maximizes the full 16 megapixel resolution of the FinePix HS30EXR to reproduce even the smallest details in bright, beautiful color.
Wide Dynamic Range
Just as your eyes see the full range of shadows to highlights in high-contrast scenes, DR mode simultaneously captures two images to produce a single image with significantly enhanced dynamic range, revealing subtle details in shadow and eliminating washout of bright areas.
High Sensitivity & Low Noise
Just as your eyes strive to make dark scenes as bright and detailed as possible, SN mode takes advantage of high-sensitivity to capture smooth texture and natural brightness with minimal noise.
30% Less Noise!!*
Stunning Stills in Low Light
30% less noise at ISO3200! The enhanced performance of the new EXR CMOS sensor lets you shoot dark scenes at high ISO sensitivity and capture them brighter, clearer and with less noise than ever before.
* When shooting at ISO3200.
EXR AUTO
With the addition of Motion Detection, Intelligent Scene Recognition technology in EXR Auto mode automatically recognizes and optimizes white balance, focus, exposure and other settings for a total of 103 shooting patterns. In addition to recognizing the shape and color of scenes, the camera also calculates available light and determines whether a person is present, giving you exceptional photos in almost every conceivable situation.
Full 1080p HD Movies
With the ability to shoot full HD video (1920 x 1080p; 30fps/H.264 High Profile) with impressive stereo sound, the FinePix HS30EXR doubles as a high-performance video camera. Improved continuous auto focus is enhanced by facial recognition, to ensure the people in your movies are in focus and properly exposed. Movie scene recognition optimizes settings to take the guesswork out of movie making. The H.264 (MOV) file format combines high quality video with a small file size, for effortless editing on a PC.
HD Movie + EXR High Sensitivity
The BSI EXR CMOS sensor maximizes high-sensitivity performance to capture stunning movies, even in challenging lighting conditions.
HD Movie + Film Simulation
Add atmospheric effects to your movies with a choice of Film Simulation modes, including black & white and sepia.
HD Movie + 30x Manual Zoom
From 24mm wide-angle to 720mm telephoto, dynamic zoom effects add impact to your movies. In addition to responsive auto focus, a manual focus option lets you fine-tune any scene.
HD Movie + HDMI port
A built-in HDMI port makes it easy to show movies and photos on your widescreen HDTV*.
EXR Processor
Featuring Dual CPUs, an EXR Core, and a reconfigurable processor, the EXR Processor delivers outstanding power and speed, performance that comes into its own in Full HD Movies, high-speed continuous shooting, speedy auto focus and Intelligent Scene Recognition. Start-up is quicker, focusing is faster, and writing time after burst shooting has been significantly reduced.
High-Speed Image Search
The EXR Processor powers an array of sophisticated high-speed picture search and sorting functions.
Vector GUI
A Vector Graphics Accelerator is responsible for crisp, highly legible menus and information readouts on the graphic user interface and pleasant viewing on HDTV.
High Speed Shooting Functions
High-speed Auto Focus
Focusing in as little as 0.16 seconds*, high-speed auto focus ensures that every frame is sharp and clear, even when shooting burst sequences.
Responsive Start-up and Processing Performance
Thanks to the powerful EXR processor, the FinePix HS30EXR wakes in approximately 0.8 seconds.* In addition to quick start-up and faster focusing, waiting time after continuous shooting sequences has been reduced by as much as half compared to conventional models. That means the HS30EXR is ready to go back to work almost immediately.
High Speed Continuous Shooting
Capture the action at 8 frames per second in full 16-megapixel resolution. At 8-megapixels (M size), burst sequences can be shot at 11 frames per second. Each frame can be viewed as a single shot or the entire burst sequence can be viewed in a separate window. In the case of pictures taken in continuous shooting mode, only the first frame of each series will be displayed. Press the selector down to view the other pictures in the series.
High Speed Movie
Sometimes things happen too fast for you to see them properly with your own eyes. The FinePix HS30EXR can freeze the action at up to an amazing 320fps! So you can see every single minute detail and watch things happening step by step in slow motion.
* High Speed Movie can be recorded at the following speeds and sizes: 320fps (320 x 112 pixels), 160fps (320 x 240 pixels), 80fps (VGA 640 x 480 pixels).
Best Frame Capture Mode
Timing your shot is ever so easy with Best Frame Capture. Half-press the shutter and the FinePix HS30EXR starts recording photos at 11fps at 8 megapixel resolution. When the moment happens, fully press the shutter button and the camera captures up to 16 frames including pre-recorded frames, giving you the opportunity to select the best shot.
Film Simulation mode
Simulate the distinctive look of Fujifilm color films loved by professional photographers: the natural tones of PROVIA, the distinctive saturation and vibrant colors of Velvia, or the smooth tonality and skin tones of ASTIA. Black & White and Sepia modes can also be selected.
PROVIA / Standard Mode
Velvia / Vivid Mode
ASTIA / Soft Mode
Black & White
Sepia
Manual Exposure Setting (M/A/S/P)
Permits quick and easy selection of automatic and manual exposure settings.
Three Bracketing Functions
Film Simulation Bracketing
One press of the shutter produces three images of PROVIA, Velvia and ASTIA modes.
AE Bracketing
Continuous capture of three frames with exposure range of up to ±1.0EV.
Dynamic Range Bracketing
One press of the shutter produces three images in a different dynamic range (100%, 200%, 400%).
RAW Shooting
RAW+JPEG Mode
In addition to default JPEG file format, the HS30EXR also offers the option of RAW or RAW + JPEG image formats. SILKYPIX viewer and RAW conversion software is included for effortless management and conversion of RAW image data on your PC.
Simultaneously record captured images in both RAW format for post-processing on your personal computer and JPEG format for easy distribution.
Advanced Shooting Modes
Pro Focus Mode with Face Detection
This focus-bracketing mode emulates the gentle, out-of-focus background look of a DSLR when shooting portraits or macro subjects. A single press of the shutter first takes an exposure focused on the main subject, then additional exposures at different focus points*1. This produces a final image emphasizing the sharply focused subject against a soft, out-of-focus background*2.
Conventional Compact Digital Camera
FinePix HS30EXR
*1 There must be sufficient distance between the subject and the background for this function to work properly.
*2 Except for subjects where focus bracketing is unable to produce sufficient defocus.
Pro Low-light Mode
Ideal for shooting non-moving subjects in low light, this mode automatically takes a series of four high-sensitivity & low-noise exposures and then combines them into an image with less noise than the single exposures.
Multiple Exposures
Multiple exposure function lets you superimpose two different exposures in a single frame to create artful, one-of-a-kind photos.
Motion Panorama 360 – Photo Gallery Quality
Just sweep the camera right-left or up-down to shoot giant panoramas up to 360°. When you view the panorama playing back on your camera or personal computer, you can enjoy a seamless panorama image with both ends stitched together to create a "cylinder" view.
3D Mode (Individual Shutter 3D)
Two exposures of the same scene are saved in MPO (Multi-Picture Format) to create convincing images that appear to have been shot in real 3D. An overlapping guide on the LCD screen makes it easy to position the exposures, so even a novice can create impressive 3D effects. Fujifilm's proprietary high-resolution 3D print system produces natural, beautiful 3D prints from images captured with the HS30EXR.
Face Tracking Auto Focus
Face Detection couples with Tracking Auto Focus for new ways of capturing great people pictures, even when those people won't stop moving. Face Detection optimizes focus and exposure to ensure bright, clear faces, while Tracking Auto Focus maintains sharp focus on moving subjects. The result is attractively exposed, well-focused photos.
Face Detection
Face Detection optimizes people pictures by detecting faces and adjusting focus and exposure to ensure bright, clear results.
Conventional Digital Camera
FinePix HS30EXR
Red-eye Removal in Detected Faces
Red-eye removal automatically detects and corrects flash reflection for a perfect end result.
Instantly Detect up to 10 Faces!
The Face Detection can simultaneously recognizes up to 10 faces in a photo. Share your group portraits using the zoom up function in playbacks, checking each detected face. Each priceless expression can be cropped and saved in clear high resolution results.
Face Recognition
The FinePix HS30EXR not only detects faces in a frame but it can also recognize who is who! You can register up to 8 people in your camera and next time you take a photo of them it will bring up their name and optimize settings in favor of your registered faces. In playback, you can search for all photos containing registered faces to quickly find photos of your favorites.
Auto Release
As soon as the Face Detection function detects the face, shutter is automatically released capturing the finest of the person with great optimization.
Dog / Cat Detection
By incorporating Dog / Cat Detection function, the FinePix HS30EXR is able to detect dog or cat faces*, optimizing focus and exposure for pet photos that will delight everyone. An auto-release function can also be selected to automatically shoot the photo when the pet is looking directly at the camera.
* Up to 10 dog or cat faces per photo; cannot detect faces in profile; cannot detect faces in scenes with both dogs and cats.
Share Your Images with Built in Social Networking
Don't wait until you get home to start choosing whch pictures to upload to FACEBOOK. Start the process in camera by tagging the pictures you want to share. The next time you connect to your home computer your images will upload automatically. The same goes for movie clips too, which can also be uploaded to YouTube™.
Easy web uploading to YouTube™ and FACEBOOK via MyFinePix Studio
It's as easy as one, two, three. Shoot pictures and HD video clips and tag them for upload to your FACEBOOK profile page or YouTube™ account.
1. Shoot  2. Mark  3. Upload
Upload
When the FinePix HS30EXR is connected to a PC, the marked images are uploaded to the designated site, eliminating the need for time-consuming PC-based image processing or selection.
MyFinePix Studio Automatically Searches for New Images to Upload
MyFinePix Studio detects new images to upload. When finding new image to upload, the uploader starts automatically.
Favorites Rank
Sort your favorite photos tagged by star ratings from 0 through 5. Quickly search for favorite pictures depending on the rank using image search.
Photobook Assist
Create a photo album in your camera. Easily accessible and mobile, you can share images with family and friends anytime, anywhere. Installed in-camera, you can create a Photobook folder where tagged images will be stored and organized accordingly. Your Photobook can also be ordered online for print when connected to the internet, as well as when you go to stores to get your photos printed*, images can easily be sorted when tagged.
* Print service availability depends on region.
Image Search
With the convenient Image Search Function, you can search pictures by Date, Face, Favorite Rank, Scene, Type of Data and Upload Mark.
By Date
Viewing your saved photo image by date, making it easy to locate specific events or occasions.
By Face
All your portraits can be selected and replayed based on composition: group photos, couple pictures, or solo portraits.
By Favorite Rank
Quickly search favorite pictures depending on the rank.
By Scene
Photos shot with AUTO or EXR AUTO, or Dog / Cat can be replayed according to the type of scene: portrait, landscape, night scene and macro.
By Type of Data
Display the content of your image library according to the type of data: still photos, movie footage.
Playback Functions
Micro Thumbnail View
Up to 100 pictures can be viewed at a time in a 10×10 array of micro thumbnails. Convenient for smooth and comfortable playback.
Slideshow
Close-ups of detected faces are shown in slideshow style.
3D Viewing and 3D Printing
The camera displays images in 2D. Press the selector down to toggle between the first and second shots.
Devices equipped for 3D display, such as the FinePix REAL 3D V3 digital viewer or FinePix REAL 3D W3 digital camera, will display the images in 3D.
3D prints can be ordered from http://www.fujifilm.com/3d/print/
The supplied software displays 3D anaglyph images. 3D photos can also be viewed using other applications that support the MP format.
3D TVs that support the MP format can display images in 3D. See the manual for your TV for details.
* Images are not output in 3D when printed directly from the camera.
* 3D images are displayed in 2D in slide shows and when output on a conventional TV.
* 3D images can not be edited or retouched.
Price: to be determined…
The Next Model worth checking out is the Fujifilm F770EXR. The #'s look good and basically it's a high quality compact with some punch!! The F770 uses a 16MP CMOS sensor that offers the EXR technology, the good stuff! The latest iteration (backlit sensors) offers 30% less noise than existing 16MP EXR models. The lens is a 25-500mm equivalent range zoom, and the can also capture 1080p movies and offers P,A,S and M shooting modes. In addition to all this, it can shoot RAW as well!! The F750EXR is the same exact camera without the GPS built in 😉

Fujifilm F770EXR Specs
Body type
Compact
Sensor
Max resolution
4608 x 3456
Other resolutions
4608 x 3072, 4608 x 2592, 3264 x 2448, 3264 x 1840, 2304 x 1728, 2304 x 1536, 1920 x 1080
Image ratio w:h
4:3, 3:2, 16:9
Effective pixels
16.0 megapixels
Sensor size
1/2″ (6.4 x 4.8 mm)
Sensor type
EXRCMOS
Processor
EXR
Color filter array
RGB color filter
Image
ISO
Auto, 100, 200, 400, 800, 1600, 3200 (6400 and 12800 with boost)
White balance presets
7
Custom white balance
Yes (1)
Image stabilization
Sensor-shift
Uncompressed format
RAW
JPEG quality levels
Fine, Normal
File format

JPEG (Exif Ver 2.3 )
RAW (RAF format)
RAW+JPEG
3D still image:MPO compliant

Optics & Focus
Focal length (equiv.)
25 – 500 mm
Optical zoom
20×
Autofocus

Contrast Detect (sensor)
Multi-area
Center
Tracking
Single
Continuous
Face Detection

Autofocus assist lamp
Yes
Digital zoom
Yes (2x)
Manual focus
No
Normal focus range
45 cm (17.72″)
Macro focus range
5 cm (1.97″)
Lens mount
None
Screen / viewfinder
Articulated LCD
No
Screen size
3″
Screen dots
460,000
Touch screen
No
Live view
Yes
Viewfinder type
None
Photography features
Maximum aperture
F3.5 – F5.3
Minimum shutter speed
8 sec
Maximum shutter speed
1/2000 sec
Exposure modes

EXR
Program
Aperture Priority
Shutter Priority
Manual
SP
Adv
Auto

Scene modes

Natural Light
Natural Light & Flash
Portrait
Portrait Enhancer
Dog
Cat
Landscape
Sport
Night
Night (Tripod)
Fireworks
Sunset
Snow
Beach
Underwater
Party
Flower
Text

Built-in flash
Yes
Flash range
3.7 m (Wide: 15 cm–3.7 m / Tele: 90 cm–2.4m)
External flash
No
Flash modes
Auto, On, Off, Red-eye, Slow Sync
Drive modes

Single
Continuous
Self-timer

Self-timer
Yes (2 or 10 sec, Auto release, Auto shutter (Dog, Cat?)
Metering modes
Exposure compensation
±2 EV (at 1/3 EV steps)
AE Bracketing
(at 1/3 EV, 2/3 EV, 1 EV steps)
WB Bracketing
No
Videography features
Format
Microphone
Stereo
Speaker
Stereo
Resolutions
1920 x 1080 (30 fps), 1280 x 720 (30 fps), 640 x 480 (30 fps)
Storage
Storage types
SD/SDHC/SDXC
Storage included
30 MB
Connectivity
USB
USB 2.0 (480Mbit/sec)
HDMI
Yes (mini)
Wireless
None
Remote control
No
Physical
Environmentally sealed
No
Battery
Battery Pack
Battery description
Lithium-ion NP-50A rechargeable battery and charger
Weight (inc. batteries)
234 g (0.52 lb / 8.25 oz)
Dimensions
105 x 63 x 36 mm (4.13 x 2.48 x 1.42″)
Other features
Orientation sensor
Yes
Timelapse recording
No
GPS
BuiltIn
None
The Last new Fujifilm camera announced worth checking out is the FinePix XP-150. This bad boy is waterproof up to 10 meters, has a 14MP CMOS sensors and 28-140mm equivalent lenses. The XP-150 is also shockproof for drops of up to 2m, freezeproof to –10°C and are dust/sand proof. The Xp-150 also offers built in GPS and the XP-100 is the same camera without GPS 😉 This would be awesome to have for a vacation to the islands, water parks, snowboarding, dirtbiking, ect…. It would be nice to not have to worry about dropping the camera in the sand at the beach etc.. I know I'm very careful with my gear by sand and water, and if Layla is even close to the area I pretty much have to leave it packed away. This type of camera sorta solves that issue!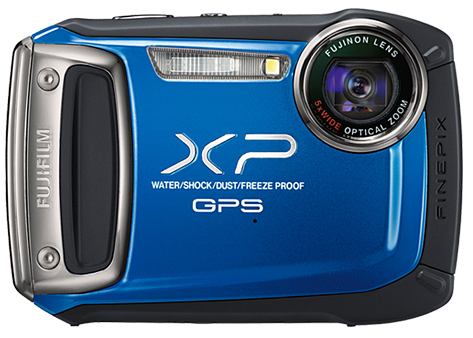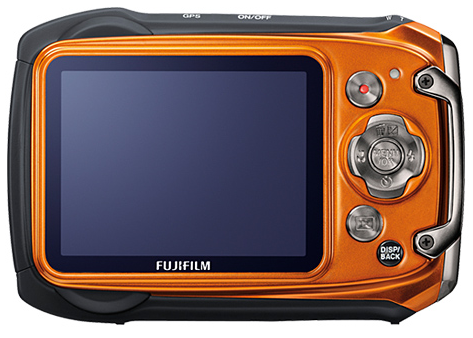 FinePix XP-150 – Full Specs
Body type
Compact
Sensor
Max resolution
4608 x 3072
Other resolutions
4320 x 3240, 4320 x 2432, 3072 x 2304, 3072 x 1728, 2048 x 1532, 1920 x 1080
Image ratio w:h
4:3, 3:2, 16:9
Effective pixels
14.4 megapixels
Sensor size
1/2.3″ (6.17 x 4.55 mm)
Sensor type
CMOS
Image
ISO
Auto, 100, 200, 300, 400, 800, 1600, 3200
White balance presets
6
Custom white balance
No
Image stabilization
Sensor-shift
Uncompressed format
No
JPEG quality levels
Fine, Normal
File format
Optics & Focus
Focal length (equiv.)
28 – 140 mm
Optical zoom
5×
Autofocus

Contrast Detect (sensor)
Center
Tracking
Single
Continuous

Digital zoom
Yes (6.8x)
Manual focus
No
Normal focus range
60 cm (23.62″)
Macro focus range
9 cm (3.54″)
Lens mount
None
Screen / viewfinder
Articulated LCD
Fixed
Screen size
2.7″
Screen dots
230,000
Touch screen
No
Live view
Yes
Viewfinder type
None
Photography features
Maximum aperture
F3.9 – F4.9
Minimum shutter speed
4 sec
Maximum shutter speed
1/2000 sec
Exposure modes

Program
SR Auto
Auto
Low-Light
Motion
Dynamic Range
Motion Panorama 360

Scene modes

Natural Light
Natural Light with Flash
Portrait
Portrait Enhancer
Dog
Cat
Landscape
Sport
Night
Night (Tripod)
Fireworks
Sunset
Snow
Beach
Party
Flower
Text

Built-in flash
Yes
Flash range
3.1 m
External flash
No
Flash modes
Auto, On, Off, Red-eye, Slow Sync
Drive modes

Single
Continuous
Self-timer

Continuous drive
Yes (3fps)
Self-timer
Yes (2 or 10 sec, Auto release, Auto shutter (Dog, Cat), Couple, Portrait)
Metering modes
Exposure compensation
±2 EV (at 1/3 EV steps)
WB Bracketing
No
Videography features
Format
Microphone
Mono
Speaker
Mono
Resolutions
1920 x 1080 (30fps), 1280 x 720 (30 fps), 640 x 480 (30 fps)
Storage
Storage types
SD/ SDHC/ SDXC
Storage included
47 MB
Connectivity
USB
USB 2.0 (480Mbit/sec)
HDMI
Yes (mini)
Wireless
None
Remote control
No
Physical
Environmentally sealed
Yes (Waterproof, Shockproof, Freezeproof, Dustproof)
Battery
Battery Pack
Battery description
Lithium-ion NP-50A rechargeable battery & charger
Battery Life (CIPA)
300
Weight (inc. batteries)
205 g (0.45 lb / 7.23 oz)
Dimensions
103 x 71 x 27 mm (4.06 x 2.8 x 1.06″)
Other features
Orientation sensor
Yes
Timelapse recording
No
GPS
BuiltIn
GPS notes
With electronic compass and tracking
Your support is greatly appreciated as we run this site in our spare time and are not paid. We can however, make a small commission if you click a product link that your interested in. That click will then give us credit if you choose to purchase any given item. This has no effect on the cost of the product, and is a simple way to give back to SonyAlphaLab.com for the effort and info we provide.
Tip Jar: https://www.paypal.me/SonyAlphaLab
Support SonyAlphaLab by becoming a | Patreon
Also, be sure to keep following us on Google+ | Twitter | Facebook |
Direct Shopping Links – Thanks for your Support!!
BHPhotoVideo | Amazon – US | CA | UK
Thanks,
Jay