The next generation Sony sensors will be the worlds first stacked Cmos sensor!! It's going to be called the Exmor RS, the S being added for the stacked sensor technology. Sony plans to use this new technology in smart phones a tablets initially as you will see the tiny sensor modules below. Sony has committed to making two larger versions of this sensor for cameras, and we shall see them soon i would imagine. Possible in the new Nex-5R or Nex-6?? Not sure, but they do have Phase detection AF and it looks like this stye senor could work for that possible.
Part of the Official Press Release:
Full Press Release can be found at Sony Global  >>
August 20, 2012, Tokyo, Japan – Sony Corporation ("Sony") today announced the commercialization of "Exmor RS," the world's first(*1) CMOS image sensor incorporating a unique, newly-developed 'stacked structure.' Shipments will commence in October. Sony is introducing three models of the "Exmor RS," stacked CMOS image sensor, for use in smartphones and tablets, which combine superior image quality and advanced functionality with compact size. Sony will also launch three corresponding imaging modules incorporating these sensors.
Going forward, Sony will continue to evolve its digital imaging products, while aggressively pursuing the further development and expansion of its core "Exmor RS" stacked CMOS image sensor technologies and lineup, in order to deliver increasingly diverse and user-friendly image capturing experiences.
The "Exmor RS" is a CMOS image sensor that adopts a unique 'stacked structure.' This structure layers the pixel section, containing formations of back-illuminated pixels over the chip affixed with mounted circuits for signal processing, in place of conventional supporting substrates used for back-illuminated CMOS image sensors.
Two of the three "Exmor RS" models Sony is launching are the 'IMX135', a type 1/3.06 model with 13.13 effective megapixels and the 'IMX134', a type 1/4 model with 8.08 effective megapixels, which feature 'RGBW coding' function and 'HDR (High Dynamic Range) movie' function. The 'RGBW coding' function can capture sharp, clear images even when filmed or photographed in low light conditions, such as a dark room or at night by featuring W (white) pixels in addition to conventional RGB (red-green-blue) pixels, and leveraging Sony's proprietary device technology and signal processing to heighten sensitivity without compromising its high resolution. 'HDR (High Dynamic Range) movie' function enables two different exposure conditions to be configured within a single screen when shooting, and seamlessly performs appropriate image processing to generate optimal images with a wide dynamic range and brilliant colors, even when pictures are taken against bright light. The other "Exmor RS" model is the 'ISX014', a type 1/4 model with 8.08 effective megapixels, which has a built-in camera signal processing function.
In addition to the higher image quality and superior functionality, the use of a 'stacked structure' has helped Sony to achieve a more compact size.
Sony will also bring to market three compact auto-focus imaging modules equipped with lens units and featuring auto-focus mechanisms that incorporate these image sensors: the 'IU135F3-Z,' 'IU134F9-Z' and 'IUS014F-Z'. These three imaging modules adopt a newly-designed lens which has been optimized for the industry's smallest(*1) 1.12?m unit pixel size to achieve higher resolution.
The 'IU135F3-Z' is an auto-focus imaging module incorporating a bright, high-resolution F2.2 lens. The 'IU134F9-Z' (W:8.5 x D:8.5 x H:4.2mm(*4)) is thin and compact. The 'IUS014F-Z' is an all-in-one imaging module that comprises an image sensor with built-in camera signal processing function and built-in auto-focus and picture adjustment function.
Going forward, Sony plans to continue with the proactive development of its "Exmor RS" stacked CMOS image sensors in order to bring to market imaging modules that achieve higher image quality, advanced functionality and an even more compact size. Sony aims to leverage the characteristics of its 'stacked structure' design to respond to the demand for larger screens in devices such as smartphones, where the amount of space available for embedding imaging modules is limited, and to continue expanding its product lineup to better accommodate its customers' needs.
Demand is growing rapidly for mobile devices such as smartphones and tablets, and Sony is committed to strengthening its production capacity(*2) for stacked CMOS image sensors, which combine the dual strengths of advanced functionality and compact size. This will enable Sony to solidify its position as the global leader in CMOS image sensors, and to act as a driving force for the industry in the future.
Old Exmor R Vs New Exmor RS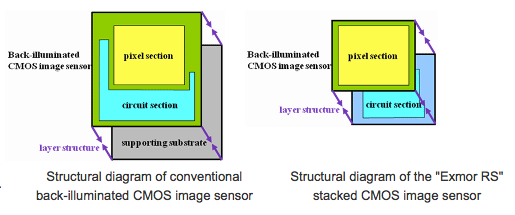 Here's what the 24mp Nex-7 Exmor R Sensor looks like with 5:1 Magnification using the Nanoha Macro Lens 5:1 from Yasuhara. Notice the circuitry on the lower left of the actual image sensor which is the gray area to the right. The gray on the left is the steel chassis assemble that holds the sensor.
Looks a lot like that illustration on the left above doesn't it??
Closing Remarks
Exciting times for us Sony fans as the technology keeps changing so fast it's almost hard to keep up with all the new stuff coming out!! We have 3 new Nex Lenses coming, and two new Nex Cameras coming. Their is also rumor of a New Hybrid camera coming which will be a Full Frame sensor!! Oh yeah, exciting times for sure 😉
Jay
Your support is greatly appreciated as we run this site in our spare time and are not paid. We can however, make a small commission if you click a product link that your interested in. That click will then give us credit if you choose to purchase any given item. This has no effect on the cost of the product, and is a simple way to give back to SonyAlphaLab.com for the effort and info we provide.
Tip Jar: https://www.paypal.me/SonyAlphaLab
Support SonyAlphaLab by becoming a | Patreon
Also, be sure to keep following us on Google+ | Twitter | Facebook |
Direct Shopping Links – Thanks for your Support!!
BHPhotoVideo | Amazon – US | CA | UK
Thanks,
Jay