In this hands on preview by Steve Huff photo, we get a great first look at New Sony Nex-7!!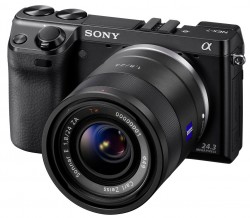 It's here and in my hands! A full on production
Sony NEX-7
and Zeiss 24 1.8 lens with the final firmware. Sony hand delivered this to my home on October 11th, one month before retail release of the camera. I will be doing a FULL extensive review of the NEX-7 in the next two weeks, until then this is my 1st look video showing you the camera, the lens and some video samples to test for the 5n "click", which is absent in the 7.
Your support is greatly appreciated as we run this site in our spare time and are not paid. We can however, make a small commission if you click a product link that your interested in. That click will then give us credit if you choose to purchase any given item. This has no effect on the cost of the product, and is a simple way to give back to SonyAlphaLab.com for the effort and info we provide.
Tip Jar: https://www.paypal.me/SonyAlphaLab
Support SonyAlphaLab by becoming a | Patreon
Also, be sure to keep following us on Google+ | Twitter | Facebook |
Direct Shopping Links – Thanks for your Support!!
BHPhotoVideo | Amazon – US | CA | UK
Thanks,
Jay