The New RX0 Ultra Compact Waterproof and Shockproof Camera from Sony has been announced! Full Breakdown article now up Here >>
Basically this little camera has the form factor of most action cameras, but it has a much larger higher quality 1″ sensor optimized for speed, and a 24mm f/4 equivalent Zeiss lens. So the output of this ultra compact camera should blow away the competition, because as we know, Sony has the best sensors for this sort of thing in general.
The RX0 can be controlled from the Playmemories app and can work together with other RX0 cameras for a multi-shoot situations which action cameras are being used for like crazy these days. You know, stunts, concerts, live events, and stuff like that…
Top quality Zeiss optics will ensure that killer clarity, color, and minimal distortion are captured.
The RX0 is not designed to capture vacation surfing videos—its narrower, less distorted field of view will make it harder to see your feet while you surf, and extra features like timecode and the ability to focus on something other than infinity are probably over most people's heads. What the RX0 allows is for professional videographers to mount cameras in places they have never been able to before and still get high-quality, timecode-synced video that can be integrated easily into a normal production workflow.
Key Features:
Outputs 4:2:2 UHD 4K Video via HDMI
Ultra-Compact, Lightweight Body
20MP 1″ Stacked CMOS Sensor
Timecode-Sync Multiple Cameras
Internally Records 1080p60 Video
Zeiss 24mm-Equivalent Lens, f/4 Aperture
XAVC-S, AVCHD and .MP4 Recording
Control via App or VP1K Remote
NTSC/PAL Switchable
Max ISO = 12,800
Waterproof & Shockproof Body
Shockproof rating = 6.6′ / 2.0 m
Burst Photo = 16 Photos / 1 Second
Continuous shooting = Up to 5.5 fps
1 x Micro-HDMI (Type-D)
Mic Input
Size = 2.4 x 1.6 x 1.2″ / 61.0 x 40.6 x 30.5 mm
Weight = 3.4 oz / 96 g
Price = $699.99
Glamour Shots of the New RX0: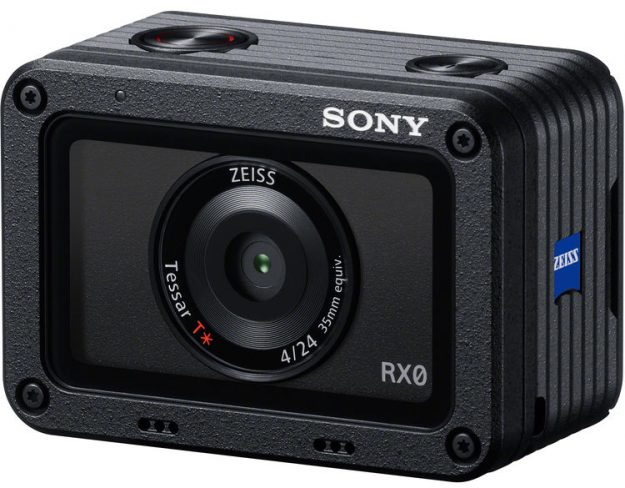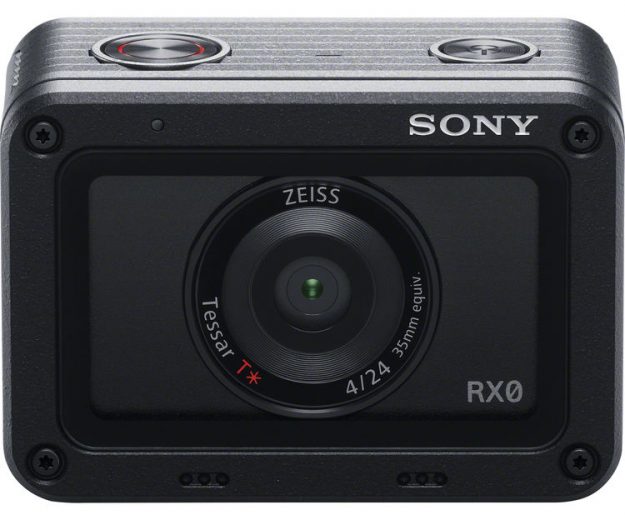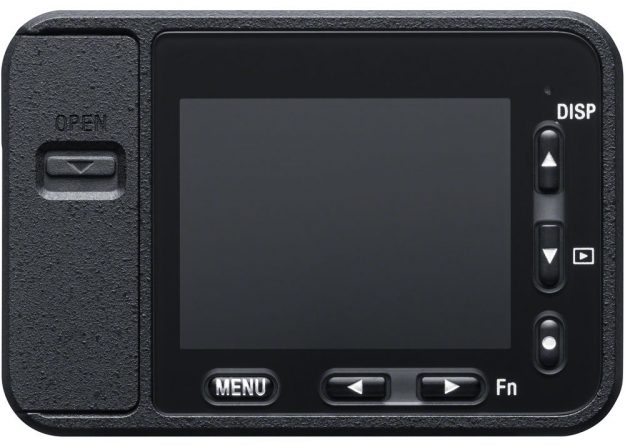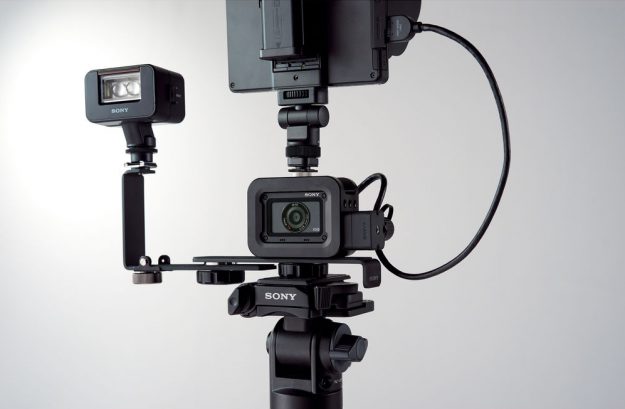 Promo Videos of the New Sony RX0
Breakdown Courtesy of BHPhoto: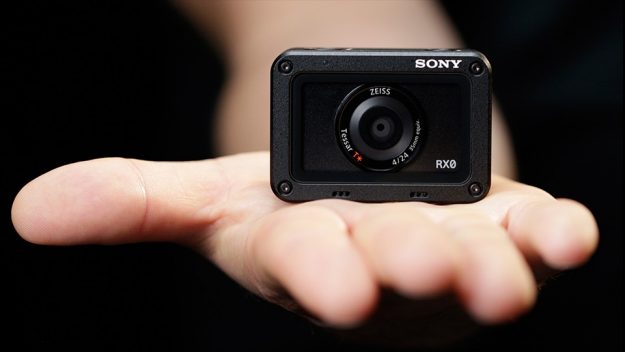 The lightweight
Sony RX0 Ultra-Compact Camera
offers professional image quality in an action-camera sized form factor. Capable of outputting uncompressed 4K UHD video, it also records up to 1080p60 in-camera at 50 Mb/s in XAVC.
A Zeiss 24mm-equivalent f/4.0 lens provides a wide, but not distorted, field-of-view.
Its 21MP 1″ stacked CMOS sensor produces minimal rolling-shutter artifacts, and is protected by the RX0's waterproof and shockproof body. Geared towards multi-camera recording, up to five cameras can be timecode-synced and controlled via the Sony Play Memories smartphone app (iOS and Android). When connected to a Wi-Fi router, greater than five cameras can be synced, suiting the RX0 for concerts, stunts, and other multi-camera applications.
Internal recording options include 24/25/30/50 and 60 fps at 1080p, all at 50 Mb/s in the XAVC codec, as well as super-slow motion at up to 960 fps. Still photos can be captured in both raw and JPEG with shutter speeds as fast as 1/32,000/second, and in bursts up to 16 fps. Uncompressed UHD 4K video is output via HDMI for capture to external recorders. The Sony RX0's additional pro-style features include manual- and auto-focus modes, a 20″ minimum focus distance, S-Log2 recording, NTSC and PAL compatibility, and on-camera control buttons.
The Sony RX0 includes a rechargeable NP-BJ1 battery, an AC adapter, micro-USB cable, and wrist strap. The camera itself is waterproof down to 33′, and can be used down to 330′ with the optional MPK-HSR1 waterproof housing (available separately).
– Ultra-compact, lightweight, waterproof, and shockproof camera body
– Outputs uncompressed UHD 4K to an external recorder, captures up to 1080p60 internally
– 20MP 1″ stacked CMOS sensor provides optimal image quality, and minimizes rolling-shutter artifacts
– 24mm-equivalent f/4 lens provides a wide view without barrel distortion
– Can record video clips longer than 30 minutes
– Timecode-sync and control of up to five cameras with one smartphone, control greater than five cameras when connected to Wi-Fi
– Sony Play Memories app is available in both iOS and Android versions
– NTSC and PAL–compatible
Closing Remarks
The action camera market should be happy to see this new RX0 from Sony I would say! Knowing Sony, the quality output of this unit should be killer, and will most likely leave the relative competition in the dust.
Sony also makes action cameras, so it will be interesting to see how this camera plays into that market. This looks perfect for mounting to drones I'm thinking.
After some further thought, this is clearly not designed to be an action camera, but more of a "next to the action" camera… A Separate market for sure! To replace having to use an expensive camera on the side-lines, but way better quality than the standard action camera…
So, what do you think of this new little movie maker from Sony?
I gatta run, but I'll catch up with you later,
Jay
Your support is greatly appreciated as we run this site in our spare time and are not paid. We can however, make a small commission if you click a product link that your interested in. That click will then give us credit if you choose to purchase any given item. This has no effect on the cost of the product, and is a simple way to give back to SonyAlphaLab.com for the effort and info we provide.
Tip Jar: https://www.paypal.me/SonyAlphaLab
Support SonyAlphaLab by becoming a | Patreon
Also, be sure to keep following us on Google+ | Twitter | Facebook |
Direct Shopping Links – Thanks for your Support!!
BHPhotoVideo | Amazon – US | CA | UK
Thanks,
Jay