I went to the Sony store near where I live today and visited with my new friend Matt. He text to let me know that they got in a bunch of Zeiss glass if I wanted to take a look or whatever. Needless to say I swung over and got my hands on the Sony 135mm f/1.8 lens for the first time. Matt then mounted it up to the Sony full frame A900 for me so I could play with it for a bit. Talk about customer service! How cool is that?? Oh yeah, I'll be heading back their again very soon and often!!
It's the Sony Retail Store located at the Woodbury Commons Outlets in NY if anybody wants to check it out, and be sure to ask for Matt.
Here's the Sony SAL-135F18Z 135mm f/1.8 Carl Zeiss Sonnar T* AF Lens I got to play with for a bit. It was pretty heavy and the focus wasn't the fastest, but the depth of field was incredible and the minimum focus distance was a lot less than I though it was going to be when I was taking some random shots.
New Sony Rebates:
I also just got an email from BHPhotoVideo.com, and they have a New Sony Lens Rebate Page that is really nice; especially if your in the market for a camera and a lens which makes you eligible for the extra $100 bundle deal!!
New Rebate Page – (Click Here) – expires 9/30/12
Sony Xperia Tablet S
While I was at the Sony store I couldn't help notice all the cool new gadgets like the New Xperia Tablet. This piece is really nice, and one of the first tablets I've touched that was almost as good as the Mac iPad. I say almost, because it has the Android software running it which is not near as fast or responsive as the Mac Software. It just is what it is, and I'm not a hater believe me. The Sony Tablet S just has a ridiculous feature set for the money!! Universal remote, full size SD Card reader, USB, Splash proof, teachable IF Remote Control, Flash Support, and it's the 1st PlayStation Certified tablet!! That is correct, PlayStation games are playable on the tablet!! The tablet I was playing with happen to be hooked up to the wifi, so I was able to check out the Lab 😉 It looked really good on the high res TrueBlack Screen I must say!!
As I said above the Android software is what runs the Sony tablet S so, you have some serious power and freedom to download apps, updates, etc… The base model goes for ~$379 US, but there is a $50 rebate that expires on Sept 30th so you can get it for ~$329
I think Michele and I are going to buy this as the iPad is just to much money to justify in my opinion. As nice as it as it, being an iPhone user and MacBook Pro user i still can't shell out the cash for an iPad. It's just a larger iPhone pretty much and the Sony Tablet has USB, a SD Card reader, and teachable home theater remote!! That makes it an official laptop alternative in my opinion and justifies the price. All I'm going to do is look at pics, work on the website and forum, watch short videos, play games, and control the home theater 🙂
Sony Xperia Tablet S Highlights:
TruBlack 9.4″ LCD Touch Panel Display
NVIDIA 1.0GHz Tegra 250S Dual-Cortex A9
Internal 1GB RAM & 16GB Storage Capacity
Android Honeycomb Operating System
LED Backlight & 1280 x 800 Resolution
WiFi 802.11 a/b/g/n & Bluetooth 2.1+EDR
SD Card Slot & Micro A/B USB Port
Front 0.3MP Camera & Back 5.0MP Camera
Access to Android App Market
Ergonomic Grip for Added Comfort
First look at the Sony Xperia 9.4″ Tablet S
This is a great first look of the Sony tablet S  if your interested!!
Here's a few more pics:
Note the wide screen format and folded magazine/ wedged design: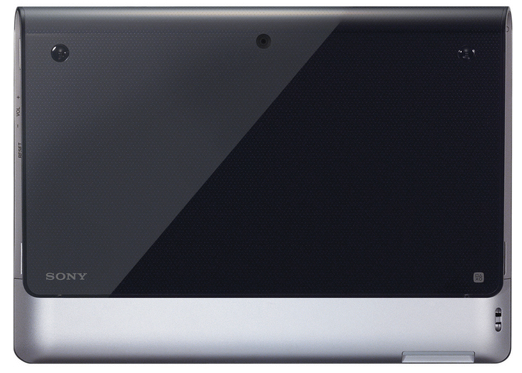 Full Overview and Feature Set of the Sony Table S
The portable and lightweight Sony 16GB 9.4″ Tablet S offers all the great things you know from Sony – in a tablet. It can be your personal assistant, confidant, photographer and friend. It affords organization, entertainment and communication. It already supports the innovative Android Honeycomb operating system; why not let it support you too. The Tablet S features a 9.4″ TruBlack LCD touch panel with 1280 x 800 resolution and LED backlight. The innovative and dark screen ensures your movies and video will be viewed with the richest and deepest dark colors, no matter if it's day or night. Plus, the internal 1GB RAM memory keeps your work flowing, thanks to the 1.0GHz NVIDA Tegra 250S dual-cortex processor. The 16GB storage capacity is ideal for storing all your audio and video content, but if you need more room, the full-size SD Card slot affords storage expansion.
The Tablet S features a plethora of connection options as well. For wireless connectivity, it's equipped with WiFi 802.11 a/b/g/n and Bluetooth 2.1+EDR. You can access the Internet from your home wireless network or from any WiFi hot-spot. Plus, Bluetooth connectivity affords wireless device connection for easy and convenient keyboard or mouse hook-up. Other connection options include a Micro A/B USB port and a 3.5 mm stereo headphone jack. There are also front and rear cameras. Plus, the Tablet S is the perfect tablet for playing your favorite PlayStation 3, PS1, and PSP games.
The back of the Tablet S features an ergonomic design that moves the weight of the device to your palm and also makes for a better typing and viewing angle when the unit is set flat on a table. With so many connection possibilities, a variety of multimedia support and accessory features, you can easily employ the Tablet S as a tool in your mobile office or as a source of entertainment to share with friends and family. Whether you're a dedicated worker-bee, social-butterfly, or both; Sony has created an adaptable everyday tablet for your varied day to day activities.
Customize with Android Market

With access to the Android Market, you can browse through thousands of useful time-saving and entertaining apps. There's also instant access to Google mobile services and applications including 3D maps and easy web search with Google Voice Search. Download what you want and make your Tablet truly yours
Universal Remote Control

Having difficulty remembering which remote control goes with which device? Let Tablet S solve that for you. Whether it's your TV, Blu-ray Disc player, stereo or cable box, you can control all of them right from your Sony Tablet. The Tablet S built-in universal remote not only controls your Sony products, but other brands as well
Instant Access to Hit Movies

Video Unlimited is your ticket to instant entertainment. Featuring a catalog of the latest releases from every major studio to rent or own, Video Unlimited offers you instant access to hit movies direct to your living room. With Video Unlimited, you'll never have to worry about returning a disc or paying a monthly subscription fee for instant access to your movies or rentals anywhere, anytime
Game with PlayStation

The first PlayStation Certified tablet that provides out-of-the-box gaming with PlayStation favorites Crash Bandicoot and Pinball Heroes, plus download more classic PS1 and PSP game titles online
Millions of Songs Instantly

Music Unlimited offers you instant access to millions of songs from every major label. Forget syncing MP3 files across multiple devices, simply sync to the cloud once and enjoy the music you love on any PC and a variety of Internet-enabled Sony devices. Enjoy timeless favorites or dare to try something new – all without paying for each track or album
Build your Library

Access bestsellers, new releases, magazines, comics and more from over 2 million titles available at the Reader Store from Sony. The intuitive interface is ideal for on-the-go reading, allowing you to make bookmarks and highlights, plus adjust font sizes as you read. With Sony Tablet, you can take your favorite eBooks on the go
Sony's Brilliant TruBlack Display

By controlling the refraction of light between the LCD and the screen, Sony's TruBlack panel provides more vibrant colors, deeper blacks, and a totally amazing image. Enjoy exploring your connected world even more with the beautiful display offered by Sony's unique panel display technology
Enhanced Speed & Responsiveness

Sony's latest software technology brings you fast web browsing, a responsive touch panel, and an exceptionally intuitive user interface
Full-Size SD Card Reader

Sharing your photos, video clips, playlists and other files makes mobile life more enjoyable. The Thrive affords a full-size SD Card slot for simplifying file transfers to and from your tablet. The integrated SD Card can be used to expand your storage capacity as well
WiFi & Bluetooth Wireless Connectivity

Tablet S keeps you connected without tying you down. Its advanced integrated WiFi affords an easy, convenient way to stay in-touch and access the Internet. All you need is a home wireless network or WiFi hot-spot. You'll also enjoy onboard Bluetooth 2.1+EDR, which makes it easy to enhance your comfort and convenience by adding wireless devices like keyboards and mice
Ergonomic Design to Fit Your Hand

With all the things you can do with Tablet S, you need a comfortable and easy design to carry the device for long periods of time. Specially designed to ergonomically fit your hand, this unique form factor shifts the device's weight closer to your palm making it feel lighter and more comfortable while reading a book, or watching a video. In addition, this design provides a more natural angle for typing and browsing when set flat on a table
Closing Remarks
Well, it's about that time, so I will catch up with you on the forum for up to the minute info on Sony Alpha Gear and all sorts of other cool stuff!!
I really hope you got something out of this article!! If so, we would greatly appreciate you considering clicking our links to products if you do decide to go shopping. We will receive a very small commission for the product referral. This is how we pay for the server juice and get the gear to review. We have lots of Camera Guides, Lens Guides, and Accessories Guides with direct links to our preferred vender to make shopping really easy!!
Going Shopping?? BHPhotoVideo >>, Amazon >>, Adorama >>
Also, be sure to check out the New SonyAlphaLab – Forum I'm currently gearing up!! Far from active yet though.
Thanks for your continued support!! With out you all, I would not be able to continue to do this. As you may know I have a full-time job and a family on top of all this stuff 🙂
Jay