Sony announced yesterday the new HVL-F43M Flash Unit for the latest Standard mount Nex and Alpha cameras, and rebates expiring 6/29! The Sony HVL-43M incorporates a powerful GN43 flash output, and also has a dedicated video light, just like the big brother HVL-F60M Flash Unit, to meet the growing demand for better quality video on camera.
The HVL-F43M is also built to endure some moister and dust, which is good for those outdoor events, or not so clean indoor shoots. I wish all the cameras were made with this in mind, but that costs money, just like every other feature.
The Sony HVL-F43M Flash is available for Pre-order – $398 US @ BHPhoto (Click Here)


Key Features:

Quick Shift Bounce – Pivot 90° L/R
Built-in Bounce Sheet
Wireless Ratio Control – 3 Flash Groups
Effective Range: Over 30′
Color Temperature: Approx. 5500K
Retractable 15mm Wide-Angle Panel
TTL/Continuous/Pre-Flash/Manual/Red-Eye
Multi Interface Shoe Connector
Runs on 4 AA Alkaline / NiMH Batteries
Mini Stand and Case Included
Brighten up your shooting with the HVL-F43M flash gun for latest cameras and interchangeable-lens camcorders equipped with Sony's Multi Interface Shoe.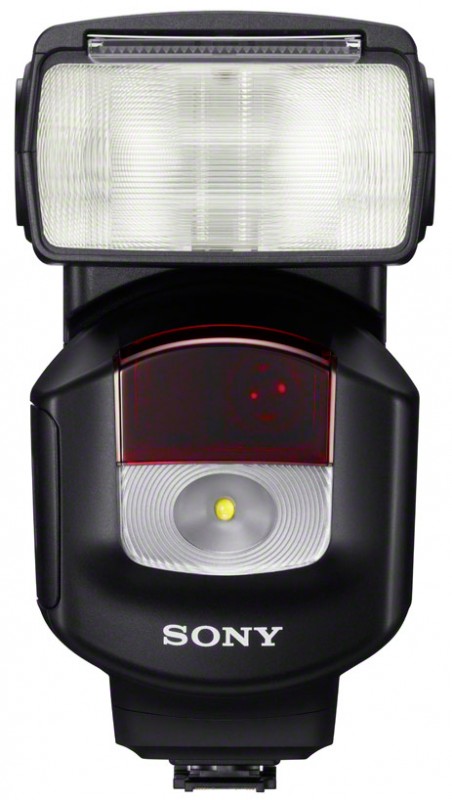 Sony HVL-F43M Flash Unit Specs
| | |
| --- | --- |
| Guide Number | 43 (105mm, ISO100?m) |
| Flash Coverage | 24-105mm (15mm focal length covered with built-in wide panel) |
| Flash Control | Pre-flash control, manual flash control selectable, direct through-the-lens (TTL) flash metering |
| Bounce Flash | Click positions: up (30°/45°/60°/75°/90°/120°/150°); down (8°); right (30°/45°/60°/90°); left (30°/45°/60°/90°) |
| LED video light | Max. illuminance 400 lux/0.5m; illuminating distance approx. 1 m at ISO3200 / F5.6) |
| Recycling time | Approx. 2.9 seconds (with alkaline batteries) |
| Battery performance | Approx. more than 200 flash cycles (with alkaline batteries – based on Sony measurement) |
| Power level switching | 22 levels: (1/1, 1/2, 1/4, 1/8, 1/16, 1/32, 1/64, 1/128), 1/3 steps |
| Wireless Ratio Control | Available to control by 3 groups when used with a99, a77, a65, a58, a57, a37, a900, a850, a700, NEX-7, NEX-6, DSC-RX1, DSC-RX1R |
| Other features | Auto WB Adjustment with Colour Temperature Info; Auto zoom control optimised for image sensor size; High-Speed Synchro; Modeling Lighting; Test Lighting; Multi Lighting. Supports camera's Red-eye reduction feature. Built-in wide panel and bounce sheet. High quality LCD screen. |
| Compatible Shoe | Multi Interface Shoe (Auto-lock Accessory Shoe with optional ADP-AMA adaptor) |
| Included items | Connector protect cap, mini-stand, case |
| Dimensions (WxHxD) | Approx. 75 x 140 x 87 mm |
| Weight | Approx. 355g (without batteries) |
| Power source | 4x AA Alkaline / AA Ni-MH batteries |
Full Press Release via Sony:
Shoot smarter with the versatile new HVL-F43M external flash
27 June 2013
Smart, compact design with bright GN43 flash output, Quick Shift Bounce and dust/moisture resistant design
Powerful LED light for video shooting
Multi Interface Shoe for compatibility with latest Sony A-mount SLT, E-mount cameras/camcorders and Cyber-shot™ models
Brighten up your shooting with the HVL-F43M flash gun for latest cameras and interchangeable-lens camcorders equipped with Sony's Multi Interface Shoe.
The powerful, fully-featured flash builds on the success of the acclaimed HVL-F43AM that's a mainstay of many photographers' gadget bags. Like its predecessor, it offers the popular 'Quick Shift Bounce' system that allows instant rotation of the flash head when switching between landscape and portrait compositions. This maintains the same bounce angle in either shooting position for consistently-lit photos.
While the F43AM was compatible with the Auto-lock accessory shoe on older A-mount cameras, the new F43M is now even more versatile. It's equipped with a Multi Interface Shoe for 100% compatibility with Sony's SLT-A99, SLT-A58, NEX-6, HDR-VG900, HDR-VG30, Cyber-shot™ HX50, RX1/RX1R and RX100 II models. It is also compatible with Auto-lock accessory cameras via the optional ADP-AMA adaptor.
The brand-new model has another bright trick to broaden its appeal. The F43M also doubles as a powerful LED video light for keen videographers. Keep shooting Full HD video on your camera or camcorder when you're short of natural light: backlit subjects, interviewees, parties and night-time scenes are bathed with natural, even illumination.
With a rugged, reliable design that resists dust and moisture, the HVL-F43M handles everyday shooting as well as more challenging outdoor assignments.
Wireless control allows quick creation of sophisticated multi-flash effects. It's easy to accurately control lighting ratios for up to three on- and off-camera flash units for beautifully balanced, pro-style results.
Other smart functions include Auto White Balance adjustment with colour temperature information for consistently natural-looking white balance under any lighting conditions.
The new HVL-F43M external flash by Sony is available in Europe from July 2013.
Expiring Rebates –
6/29
Closing Remarks
Well, it's really nice to have a more affordable flash option for the new multi-interface standard hot shoe camera like my Nex-6. Spending $548 for the HVL-F60M seems overkill in my opinion unless your using a pro grade camera like the SLT-A99 or SLT-A77 for example, or your needs just require a flash with that much power and portability option. Spending $398 for the HVL-F43M is much more reasonable considering the cost of the camera itself. I still prefer to use natural light over flash whenever possible, but flash does have it's place when you need to freeze the action, or it's just so dark you have no other option. Crazy dark reception halls always come to mind, or Church's for that matter. In any event, more flash options for the Muti-Purpose Standard Hot Shoe is great and nice work Sony!
Also, don't forget about the rebates that are expiring tomorrow June 29th!
That is it for now, but the Sony RX1 and a bunch of other gear are in the LAB, so stay tuned for some new articles and sample photos in the near future. I'll actually be posting a few sample photos on Google+, if you want to check a few out before I post them on the Lab in an article format. I love Google + btw!!
Thanks again for checking in, and please feel free to ask questions or comment anytime,
Jay
The Sony HVL-F43M Flash is available for Pre-order – $398 US @ BHPhoto (Click Here)
Your support is greatly appreciated as we run this site in our spare time and are not paid. We can however, make a small commission if you click a product link that your interested in. That click will then give us credit if you choose to purchase any given item. This has no effect on the cost of the product, and is a simple way to give back to SonyAlphaLab.com for the effort and info we provide.
Tip Jar: https://www.paypal.me/SonyAlphaLab
Support SonyAlphaLab by becoming a | Patreon
Also, be sure to keep following us on Google+ | Twitter | Facebook |
Direct Shopping Links – Thanks for your Support!!
BHPhotoVideo | Amazon – US | CA | UK
Thanks,
Jay