New Sony gear is on the way to the lab now!! Courtesy of BHPhotoVideo.com, we have the Sony Nex-5r (Body Only), the 35mm f/1.8 OSS Lens (sel35f18), and ultra wide angle 10-18mm OSS lens (sel1018).
The Nex-5r has a few advantages over the Nex-6 worth noting!! The touch screen is awesome for starters, and it swivels the full 180 degrees upward for easy self portraits, or Podcasting style self recordings!! This is where I think the Nex-5r will shine, as it's hard to record yourself without a video monitor like the Professional broadcasters have.Especially when holding products in your hand like camera lenses and stuff 😉
I'm also really excited about the new optics as it's a while since I used a quality wide angle with auto focus like the sel1018 has. It's also supposed to be extremely sharp corner to corner. Will see about that!
The 35mm OSS is also exciting to me in particular for it's low light shooting abilities!! I wonder how slow the shutter can go handheld and still get a sharp shot? 1/8th, 1/16th??  Will see!!
Now check out the previews of the gear below for more detailed info. I will take some product shots my self, so there will be high res clos-ups of all the gear in the days to come. Open Box anybody??
Sony NEX-5R Mirrorless ILC – Overview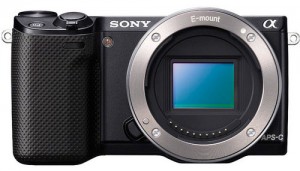 The Sony Nex-5R is very similar to the Sony Nex-5n, except it has the same updated 16mp sensor that the Sony Nex-6 has. The Nex-5R also features a special 180 Degree flip-up Touch Screen design. This is perfect for doing self portraits or video recordings where seeing the screen is critical. Reviewers like myself will find this incredible useful!! The Sony Nex-F3 also features this 180 degree flip screen and I used it a lot while I had the camera in the lab.  The Nex-5R does not have a built in viewfinder like the Nex-6, but does except the OLED Viewfinder Accessory which is great if you need it.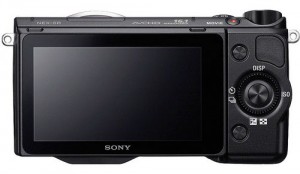 Key Features:
16.1 MP APS-C Size HD Sensor
Uses Sony E-mount Lenses
Full 1080 HD 60p/60i/24p Movie Capture
3.0″ 180º Tilt-able Touchscreen LCD
Fast Hybrid Autofocus
PlayMemories Camera and Mobile Apps
Wi-Fi Sharing
Intuitive Interface with Control Dial
Low Light Performance up to ISO 25600
Six-Image Layering
Sony Nex-5R Features Breakdown
16.1 MP APS-C size HD image sensor: The same sensor format that Sony builds into the full-sized DSLRs. With 13 times the area of the typical point-and-shoot sensor, APS-C sensor size makes the difference between "snapshots" and "photographs," delivering an exceptional combination of high res, high sensitivity and gorgeous, blurred backgrounds.
Fast Hybrid AF: Sony's advanced Fast Hybrid AF combines two technologies for outstanding performance: Phase detection auto focus for quick response that is ideal when tracking fast-moving subjects and contrast-detection auto focus for added precision. A perfect match that delivers optimal Auto Focus for fast, precise focusing in any scene.
Full HD Movies at 60p/60i/24p: Capture HD Movies in your choice of super-smooth 60p, standard 60i or cinematic 24p, all at Full HD 1920×1080 resolution.1 AVCHD codec delivers stunning picture quality. MP4 codec offers smaller files for easier upload to the web.
Wi-Fi Sharing: Wi-Fi capability, a first for Alpha-series, allows transfering photos directly to smartphones and tablets with the PlayMemories Mobile app. Wi-Fi enables sharing, viewing and saving photos for expanded photo-shooting enjoyment. Photos can be easily transferred to smartphones and tablets, viewed on large screen TVs or saved to a PC.
PlayMemories Camera Apps: Supports PlayMemories Camera Apps, the world's first application download service that lets users install new camera functions as needed.
180-degree tilt-able 3.0″ Touch LCD: The NEX-5R is equipped with a tilt-able LCD screen that flips up 180-degrees without sacrificing compactness. This makes taking great self-portraits incredibly easy since users can precisely compose shots, choosing to include people or objects in the frame for more satisfying results.
Control Dial: Control dial, Fn (function) button and touch screen (including touch shutter function) greatly facilitate operation and getting the shot that much easier.
Picture Effect mode: There are 7 types (11 variations) of picture effects to choose from: Posterization (Color), Posterization (B/W), Pop Color, Retro Photo, Partial Color(R), Partial Color(G), Partial Color(B), Partial Color(Y), High-key, High Contrast Monochrome, Toy Camera.
6-image layering: The camera captures six images in a fraction of a second. The camera then combines the data from the 6 different images up to ISO 25600 to create a single image. This helps to control blur in Anti-Motion Blur mode as well as enables cleaner, sharper nighttime pictures in Hand-held Twilight mode.
Photo Creativity Touch interface: The Photo Creativity touch interface enables creative settings that can be easily made using the control dial with results seen in real time on the LCD. Settings include; Background Defocus, Brightness, Color, Vividness and most Picture Effects.
Auto Portrait Framing: Simply photograph a person and Auto Portrait Framing will save an additional, optimally framed image in portrait or landscape orientation. Combining Face Detection and By Pixel Super Resolution technologies with rule of thirds, Auto Portrait Framing provides appealingly balanced full resolution portraits.
Clear Image Zoom: Utilizing Sony's exclusive By Pixel Super Resolution Technology, Clear Image Zoom increases the effective focal length of your lens up to 2x by digitally magnifying the center of your image with nearly imperceptible degradation. It virtually doubles the effective focal length of whatever lens you're using.
Convenient USB charging: Easily recharge the camera via USB charging. Simply connect the bundled USB cable and recharge the battery without removing it from the camera, either via AC outlet or PC connection.
Multi-interface terminal: Multi-interface Smart Accessory 2 shoe greatly expands the connectivity options such as external flash units.
Auto HDR built into camera: High Dynamic Range (HDR) photography captures more scene contrast than a single exposure can handle by combining the best highlight detail from one shot and the best shadow detail from another for one incredible shot. Handles severe backlighting and other high-contrast scenes. Captures in a split second.
Sweep Panorama Technology: Capture expansive landscapes automatically. Press the shutter, sweep vertically or horizontally. The camera does the rest, continuously shooting images and stitching them together. Up to 23 MP image size. Up to 202 degrees maximum sweep angle (18mm focal length).
Fast Auto Focus: Some cameras in this class are slow to focus. That can make you miss the shot on fast-moving subjects like sports and unpredictable subjects like pets and babies. Sony's fast Contrast Auto Focus system typically takes as little as 0.3 seconds and also offers continuous Auto Focus when shooting movies.
Sony Nex-5R Specifications
Lens Compatibility
Sony E-mount lenses
Camera Type
Sony E-mount interchangeable lens digital camera
Imaging Sensor
Exmor APS HD CMOS sensor (23.5 X 15.6mm)
Anti Dust
Charge protection coating on Optical Filter and ultrasonic vibration mechanism
Pixel Gross
Approx. 16.7 megapixels
Effective Picture Resolution
Approx. 16.1 megapixels
Focal Length Conversion Factor
1.5x
Color Filter System
RGB primary color filters
Media Type
Memory Stick PRO Duo
Memory Stick PRO-HG Duo
SD memory card
SDHC memory card
SDXC memory card
Color Space
sRGB, AdobeRGB
Still Image Mode
JPEG (Standard, Fine), RAW, RAW+JPEG
Still Image Size 16:9
L: 4912 x 2760 (14M)
M: 3568 x 2000 (7.1M)
S: 2448 x 1376 (3.4M)
Still Image Size 3:2
L: 4912 x 3264 (16M)
M: 3568 x 2368 (8.4M)
S: 2448 x 1624 (4M)
Panorama Horizontal Wide
12,416 x 1,856 (23M)
Panorama Vertical
5,536 x 2,160 (12M)
Panorama Horizontal Standard
8,192 x 1,856 (15M)
Panorama Vertical Standard
3,872 x 2,160 (8.4M)
Video Format
AVCHD Ver. 2.0 (Progressive), AVCHD, MP4
Video Mode AVCHD
PS – 1920 x 1080/60p@28Mbps
FX – 1920 x 1080/60i@24Mbps
FH – 1920 x 1080/60i@17Mbps
FX – 1920 x 1080/24p@24Mbps
FH – 1920 x 1080/24p@17Mbps
Video Mode MP4
HD – 1440 x 1080/ 30fps@12Mbps
VGA – 640 x 480/ 30fps@3Mbps
Audio Format
Dolby Digital (AC-3) / MPEG-4 AAC-LC, 2ch
Microphone/Speaker
Built-in stereo microphones or ECM-SST1 (sold separately) / Built-in, monaural speaker (volume settings in 8 steps between 0 and 7)
Still Image File Format
JPEG (DCF Ver. 2.0, Exif Ver.2.3, MPF Baseline compliant)
RAW (Sony ARW 2.3 format)
Lens Mount Type
Sony E-mount lenses
Digital Zoom
Approx. 4x (still images and movie)
Smart Zoom Technology
M: approx. 1.4x
S: approx. 2x
LCD Type
7.5cm (3.0-type) wide type TFT (921,600 dots)
Angle Adjustment
Up: Approx. 180 degrees
Down: Approx. 50 degrees
Brightness Control
Manual (5 steps between -2 and +2), Sunny Weather mode
Real-time Image Adjustment Display
On/Off
Peaking
Yes (Level setting: High/Mid/Low/Off, Color: White/Red/ Yellow)
Customization
Graphic display/ Display all info/Big font size display/No display info/Levels/Histogram/Viewfinder
Touch Panel
Yes
Focus System
Fast Hybrid AF (phase-detection AF/contrastdetection AF) with "Exmor" APS HD CMOS sensor
Focus Points
99 points (phasedetection AF), 25 points (contrastdetection AF)
AF Modes
AF-S: Single-shot AF
AF-C: Continuous AF
Focus Area
Multi Point (99 points(phasedetection AF), 25 points(contrast-AF)), Center-weighted, Flexible Spot
Focus Sensitivity
0 EV to +20 EV (at ISO100 conversion with F2.8 lens attached)
Manual Focus Assist
Yes MF assist (4.8x, 9.6x)
Focus Features
Predictive control, Focus lock, Eye-Start AF (with FDA-EV1S and LA-EA2 (Sold separately))
AF Illuminator
Built-in, LED type (with a range of approx. 0.3-3.0m (with E PZ16-50mm F3.5-5.6 OSS attached))
Picture Effect(s)
11 types (15 variations):
Posterization (Color, B/W)
Pop Color
Retro Photo
Partial Color (R,G,B,Y)
High Contrast Mono
Toy Camera
Soft Highkey
Soft Focus
HDR Painting
Rich-tone Mono
Miniature
Auto Exposure Lock
AE is locked when the shutter button is half pressed (ON/ OFF is available in MENU)
Creative Style
Standard
Vivid
Portrait,
Landscape,
Sunset
B/W (Contrast, -3 to +3steps)
Saturation (-3 to +3steps)
Sharpness(-3 to +3steps)
Exposure Bracketing
With 1/3, 2/3, 1, 2, 3EV increments, 3 frames
Exposure Compensation
Still images: +/- 3.0EV (1/3EV steps), Movies: +/- 2.0EV (1/3EV steps)
Exposure Settings
iAUTO
Superior Auto,
Programmed AE (P)
Aperture priority (A)
Shutterspeed priority (S)
Manual (M)
Sweep Panorama
Scene Selection
ISO Still Images
Auto (ISO 100-3200), Selectable (ISO 100- 25600)
ISO Movies
Auto (ISO 100-3200), Selectable (ISO 100-6400)
Metering
1200-zone evaluative metering
Metering Modes
Multi-segment, Center-weighted, Spot
Metering Sensitivity
0EV-20EV, (at ISO 100 equivalent with F2.8 lens)
Noise Reduction
Long Exposure NR: (On/Off, available at shutter speeds longer than 1 second) High ISO NR: (High/Normal/ Low)
Scene Mode(s)
Portrait, Landscape, Macro, Sports Action, Sunset, Night Portrait, Night View, Handheld Twilight, Anti Motion Blur
White Balance Mode
Auto WB, Daylight, Shade, Cloudy, Incandescent, Fluorescent, Flash, C.Tem (2500 to 9900K), C.Filter (G7 to M7,A7 to B7), Custom
Drive Mode
Single-shot, Continuous shooting, Speed Priority continuous shooting, Self-timer, Bracketing, Remote Cdr
Self-timer
2s or 10s delay (single, continuous 3 or 5 frames)
Shutter Speeds
Still images: 1/4000 to 30s.
Movies: 1/4000 to 1/4 (1/3 steps) up to 1/60 in AUTO mode (up to 1/30 in Auto slow shutter)
Shutter Type
Electronically controlled, verticaltraverse, focalplane type
Flash Compensation
+/- 2.0EV (1/3EV steps)
Flash Coverage
FOV coverage up to 16 mm (in the focal length)
Flash Metering System
Pre-flash TTL
Flash Modes
Autoflash, Fill-flash, Rear sync., Slow sync., Rear Sync., Flash Off
Flash Type
External flash (supplied) attachable to Smart Accessory Terminal (sold separately)
Guide Number
7 (in meters at ISO 100 equivalent)
Recycling Time
Approx. 4 sec.
Self Timer
Yes (3 sec delay/Off selectable)
Still Image Playback Options
Single, 6/12-frame index view, Enlarged display mode, Panorama (Standard), Panorama (Wide): 34x), Auto Review, Image orientation, Slideshow, Panorama scrolling, Folder selection, Delete, Protect
Video Playback Options
Forward/Rewind
Easy Handycam/Help Function
Yes
Self Timer
Yes (3 sec delay/Off selectable)
Face Detection
On/On (Regist. Faces)/Off, Face Selection (maximum 8 detectables)
Smile Shutter Technology
Smile shutter (selectable from 3 steps)
Tracking Focus
Yes (object tracking)
Auto High Dynamic Range
Yes, (Auto Exposure Difference, Exposure difference Level (1.0-6.0 EV at 1.0 EV step), off)
Shooting Tips
Yes
Sweep Panorama
Horizontal (Wide/ Standard), Vertical (Wide/Standard)
HD Output
HDMI (TypeC mini), BRAVIA Sync, Photo TV HD
PhotoTV HD
Yes
Battery Type
InfoLITHIUM NPFW50 (7.2V)
Number of Still Images
Approx. 330 images (CIPA standard)
Power Consumption (in Operation)
Still images:approx. 2.7W(w/ E PZ16- 50mm F3.5-5.6 OSS lens attached)
Operating System Compatibility
Windows XP SP3
Windows Vista SP2
Windows 7 SP1
Mac OS X (v10.3- 10.8)
Dimensions WxHxD
4.36 x 2.3 x 1.53″ / 110.8 x 58.8 x 38.9mm
Weight
Approx. 7.7 oz / 218g (excl battery & media)
Approx. 9.7 oz / 276g (w/ battery & media)
Nex-5R (body only) ~$598 US + 2% Reward@ BHPhotoVideo >>
Nex-5R w/16-50mm lens (black) ~$798 US @ BHPhotoVideo >>
Nex-5R w/16-50mm lens (Silver) ~$798 US @ BHPhotoVideo >>
Nex-5R w/18-55mm lens (black) ~$698 US @ BHPhotoVideo >>
Nex-5R w/18-55mm lens (Silver) ~$698 US @ BHPhotoVideo >>
Sony 35mm f/1.8 OSS Lens – SEL35F18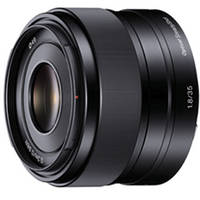 High performance and a compact design make the SEL35F18 prime lens an ideal second lens that's easy to carry around while capturing the action. It's perfect for a wide variety of photos, including snapshots while strolling, night shots (thanks to the bright maximum aperture) and portraits with beautifully defocused backgrounds. Newly-designed optics reduces spherical aberration and coma for sharp images even when shooting wide open. Combined with built-in Optical SteadyShot image stabilization, your photos and videos will be crisp, clear and blur-free.
Sel35f18 Features
Compact, lightweight fixed F1.8 lens
This compact, large-aperture, fixed focal length lens has a focal length of 52.5 mm (35 mm equivalency) and is approximately 1-3/4" (45mm) long. Compact and easy to carry around, this bright lens makes an ideal "second lens" with the capability to handle a wide variety of shooting situations — from landscapes and snaps around town to lovely portraits with beautiful background blur.
Silent and smooth focusing for shooting movies
The quiet, high-speed linear motor in SEL-35F18 controls focus while an in-lens stepping motor in the actuator controls the aperture. Together they provide extremely quiet operation and smooth focusing as well as quiet and fluid aperture control. These motors are ideal for shooting video since they eliminate the worry of excessive lens-drive noise.
Built-in Optical SteadyShot™ image stabilization
The built-in Optical SteadyShot image stabilization system provides a 4-stop (approx.) shutter speed advantage, making it significantly easier to achieve crisp, blur-free images and video.
Circular Aperture
In low-light shots or nightscapes, out-of-focus light sources have a pleasing circular defocused effect.
New optical design
Newly designed optics reduces spherical aberration and coma, delivering performance similar to Sonnar T* E 24mm f/1.8 ZA and E 50mm f/1.8 OSS in the central area of the lens, and equal or better contrast at the periphery. The results are clean, sharp images even when shooting wide open.
Superb focusing operation
The SEL-35F18 supports DMF (Direct Manual Focus), which enables users to resume manual focusing directly after obtaining focus with AF. This is particularly useful when AF cannot lock onto a subject or continually focuses on an unintended one. It also facilitates fine focusing when shooting portraits with a shallow depth of field.
SEL35F18 Specs
Weights and Measurements
Dimensions (Approx.) : 2 1/2″ x 2 13/16″ (63 x 45mm) (Diameter x Length)
Weight (Approx.) : 5.5oz (155g)
Optics/Lens
Lens Type : E-mount 35mm F1.8
Lens Mount Type : Sony E-mount
Aperture : f/1.8
Aperture (Max.) : f/1.8
Aperture (Min.) : f/22
Focal Length (35mm equivalent) : 52.5 mm
Filter Diameter : 49 mm
Lens Construction : 6-8
Minimum Focus Distance : 11.88″ (0.3 m)
Angle of View : 44° (APS-C)
Aperture Blade : 7 blades (Circular aperture)
Dimensions (Max. Diameter x Length) : 2 1/2″ x 2 13/16″ (63 x 45mm) (Diameter x Length)
Exterior Finish : Black
Lens Weight : 5.5oz (155g)
Maximum Magnification : x 0.15
Steady Shot Mode:Active : Lens-based Image Stabilization (OSS)
Advanced Features
Image Stabilization : Optical SteadyShot
Price: ~$448
Buy Sony SEL35f18 Lens @ BHPhotoVideo + 2% Reward
Sony 10-18mm f/4 OSS Alpha E-mount Wide-Angle Zoom Lens – SEL1018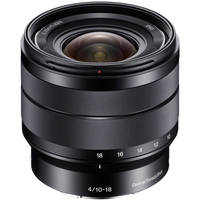 The SEL-1018 super wide-angle zoom lens is perfect for taking photos of sweeping landscapes and producing striking images with emphasized perspective. If you're seeking a wider minimum focal length than offered by standard wide-angle zoom lenses, the SEL1018 is the ideal choice for you. Featuring a minimum focal length of only 10mm (15mm in 35mm camera equivalency), the SEL-1018 wide-angle zoom lens delivers highly-detailed, super wide-angle photos. With a constant maximum aperture of f/4 through the entire focal length range, you'll be able to use the widest aperture at every focal length. Even in low light, you can take advantage of the bright aperture to utilize fast shutter speeds without needing to increase ISO sensitivity.
Product Highlights
Super Wide-Angle Zoom Lens
Sony E-mount Lens for NEX Cameras
15-27mm Equivalency in 35mm Format
Aperture Range: f/4.0-22
f/4.0 Aperture Throughout Zoom Range
Optical SteadyShot Image Stabilization
Internal Focusing System
Three Aspherical Elements
Super Extra-low Dispersion Glass
62mm filter size
SEL1018 Full Specs
| | |
| --- | --- |
| Lens Type | E-mount 10-18mm F4.0 OSS |
| Lens Mount | Sony E-mount |
| Lens Construction | 8 groups, 10 elements |
| Focal length (35mm equivalent) | 15mm-27mm |
| Angle of view | 109° – 76° |
| Aperture blade | 7 blades (Circular aperture) |
| Aperture (Max.) | F4.0 |
| Aperture (Min.) | F22 |
| Maximum Magnification | 0.1x |
| Minimum Focusing Distance | 9.8″ (0.25m) |
| Filter Diameter | 62mm |
| Image Stabilization | Optical SteadyShot |
| Dimensions (Max. Diameter x Length) | 2 7/8″ x 2 1/2″ (70 x 63.5mm) |
| Weight | 8oz (225g) |
Full Feature Breakdown
10-18 mm super wide-angle zoom lens
The SEL-1018 offers a constant maximum aperture of F4 through the entire focal length range, enabling use of the widest aperture at every focal length. Even in low-light environments, such as outdoors at sunset, users will be able to take advantage of the bright aperture and use fast shutter speeds without unnecessarily raising ISO sensitivity.
Superb image capturing capability
Three Aspherical lens elements correct for spherical aberration and distortion, making it possible to shoot high-contrast, high-quality images with markedly less bleeding even at the maximum aperture. In addition, the optical system employs Super Extra-low Dispersion glass, realizing highly detailed images with reduced color aberration even at the 10 mm focal length.
Minimum focal length of 10 mm (15 mm in 35 mm eq.)
Thanks to a minimum focal length of only 10 mm (15 mm in 35 mm-camera equivalency), the SEL-1018 delivers finely detailed, super wide-angle photos, ideal for shooting majestic landscapes that can only be captured with super wide-angle lenses, as well as for producing striking photos with emphasized perspective.
Built-in Optical SteadyShot image stabilization
The built-in Optical SteadyShot image stabilization system provides a 4-stop (approx.) shutter speed advantage, making it significantly easier to achieve crisp, blur-free images and video.
Internal Focusing System
Lens elements at the rear of the optical system move, allowing rapid auto-focus response.
Circular Aperture
In low-light shots or nightscapes, out-of-focus light sources have a pleasing circular defocused effect.
Buy Sony SEL1018 Lens Price @ BHPhotoVideo  ~$848 + 2% Reward

Closing Remarks
Should be a lot of fun reviewing the new gear and please let me know if you want anything special done why I have this gear for the next 20 days or so. I have a few really good spots to test out the new optics I've been saving for the wide angle lens in particular!!
On another note, I was really happy to see on Google Analytics that not only the US, but Canada, the UK, Germany, Australia, France, Italy, the Netherlands , and Sweden are all in the top 10 demographics for SonyALphaLab.com readers!! Thank you very much, and I hope the translations are coming out OK for those that don't speak English. I know my spelling and grammar is also far from good!!
I also updated my Sign-Off  message below with New links for International readers!! International readers can now also give back to SonyAlphaLab by using the Ebay links for your particular currency/ area. Amazon links for CA and the UK only at this time, as I could not translate the sign-up page do to encryption issues for the other regions. Thanks again everybody for your continued support and asking for the links!! Also, please consider sharing some articles with your friends and family on facebook ect..
Thanks,
Jay
Your support is greatly appreciated as we run this site in our spare time and are not paid. We can however, make a small commission if you click a product link that your interested in. That click will then give us credit if you choose to purchase any given item. This has no effect on the cost of the product, and is a simple way to give back to SonyAlphaLab.com for the effort and info we provide.
Tip Jar: https://www.paypal.me/SonyAlphaLab
Support SonyAlphaLab by becoming a | Patreon
Also, be sure to keep following us on Google+ | Twitter | Facebook |
Direct Shopping Links – Thanks for your Support!!
BHPhotoVideo | Amazon – US | CA | UK
Thanks,
Jay