So what New Sony Camera Gear did you guys get? We have several New Authors on SAL, and we would appreciate Your Feedback for upcoming Sony Reviews and more!!

With so many options out there when it comes to reviewing gear, I figured I would reach out again to all you SonyAlphaLab readers with a couple of Feedback Polls!! I would also like to find out what gear you guys got for the holidays, and/or currently own. I want to hone the website as much as possible towards what You Want, so you participation is greatly appreciated, encouraged, and to everyone's benefit I feel. Before the feedback polls I wanted to go over what our new authors are packing as their gear may influence your review requests for me one way or another 😉
New SAL Authors
We have several New Authors on SAL packing all sorts of Sony Camera gear!! This may change your feelings on what should be reviewed as a priority or whatever. I'm also really excited to have more skilled perspectives contributing on all sorts of topics, tutorials, reviews, ect..  So far we have Five New Authors and myself as contributors. Let's take a look at what each of these guys have real quick, and I will let them fill in the blanks as needed. Also be sure to check out their awesome Websites, Photography, and fallow them on Twitter, Google+, Facebook, ect.. Lets get this SAL network really going guys!!
Reader Feedback Polls
So as you can see our new Authors are packing some heat as it relates to Sony Photography Gear in particular, so you may not want me to review the DSC-RX1 or Sony A99 for example? Based on your participation below, we will find out what you want reviewed most!!
 Sony Cameras?
[poll id="27″]
Lenses?
[poll id="28″]
Accessories??
[poll id="29″]
Your Gear??
[poll id="30″]
Please take a moment to select one choice from each Feedback Poll above. This information will be used by all the authors to help create better and more targeted articles/ reviews!!
So What Did I Get?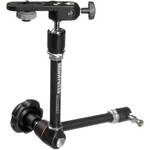 I was fortunate enough to get a few things for Christmas including that awesome Manfrotto Magic Arm that Monico showed us Over Here >> A Must read Article for any photographer!!
I also got a 16gig Sandisk Extreme SD memory card, and a RainbowImaging Adapter for my, new to me, yet old school Minolta 50mm f/2 MD Lens!
On top of all that killer stuff, I also got a PlayStation 3!! My original 5 year old PS3 has a jammed disk/disks, and I can't get them out (Layla is highly suspect!!).  The New PS3 came with  Medal of Honor – WarFighters  and I've been cracking out to that for a few hours a day since Christmas!! Hence the lack of activity over here on SAL 😉 I want to get the new Call of Duty as well!!
Sony Alpha Forum Updates!

Some pretty awesome discussions and Q&A going on over on the Sony Alpha Forum! Be sure to check it out, sign-up, and share some photos! Myself and many others would love to see them 🙂 Be sure to use a legit email when signing up as I have to screen all of the new user applications manually. Spammer user sign-up is incredible bad and using legit emails makes it much easier to spot real vs fake user apps. As it stands now I have to do Google search on each IP address to insure it's not a spammer or Bot. Kinda sucks for me, but it has to be done!!
On the right hands side of this webpage you will see a SAL Forums Hot RSS Feed which are basically forum posts that I promoted to the Main Forum Page >>  Sort of a Best Of type area!! The Forums Area >> has all the topics and threads that you would normally expect to see on a forum. I also have a User Albums Area >> where you can upload your high res photos for free, and then easily share them on the forums: How To Upload and Share Photos >>
Sony Alpha Forum Stats:
Thread Count = 536
Post Count = 1,594
Members = 241
Active Members = 83
Closing Remarks:
That is about it for now, and I really look forward to hearing about your new gear and review requests!! I will also be hanging out on the forum if you have any other questions or want to share some pics, ect..
Fellow Authors, please let us know what other gear you have and/or plan on reviewing anytime soon!
Are you interested in becoming a SonyAlphaLab Author?? If so, please visit the Contact Us page and send me your Portfolio for review and consideration 😉  Lots of requests coming in these days, so please consider your website and social network status as part of your portfolio!!
Have a Happy New Year and great weekend everybody!!
Jay
Your support is greatly appreciated as we run this site in our spare time and are not paid. We can however, make a small commission if you click a product link that your interested in. That click will then give us credit if you choose to purchase any given item. This has no effect on the cost of the product, and is a simple way to give back to SonyAlphaLab.com for the effort and info we provide.
Tip Jar: https://www.paypal.me/SonyAlphaLab
Support SonyAlphaLab by becoming a | Patreon
Also, be sure to keep following us on Google+ | Twitter | Facebook |
Direct Shopping Links – Thanks for your Support!!
BHPhotoVideo | Amazon – US | CA | UK
Thanks,
Jay
About the Author

Jay
Hello, I'm the owner and operator of SonyAlphaLab.com. Please check out the About page for a full background on myself and the Lab ;)
Google+
|
Twitter
|
RSS-feed
|
Email Updates!!