We got two more lenses coming to the Lab including the Tamron 17-50mm f/2.8 XR Di II LD Lens and the Sigma 50mm f/1.4 EX DG HSM Prime Lens!!
I also put together all the Real World HD Video I've taken so far using the the Sony A57 and the Sony 24-70mm f/2.8 Carl Zeiss Lens. I have a bunch of different scenes covered in the sample hd footage including: Poor indoor tungsten lighting, Outdoor lighting, Back-lit lighting, Moving subjects, focus tracking, SteadShot On/Off, and Wind Noise Reduction On/Off.
Check out the HD Video Sample Footage below the new lenses that are coming courtesy of BHPhotoVideo.com.
Two New Lenses On the Way
Tamron SP AF17-50mm f/2.8 XR Di II LD Aspherical [IF] Lens
The Tamron SP AF17-50mm f/2.8 XR Di II LD Aspherical IF Lens is a lightweight, compact, fast standard zoom lens designed exclusively for digital SLR cameras. The focal length of this lens is equivalent to approx. 26-78mm in 35mm format.  I really think this lens will complement the A57 very well with the 17mm wide angle end and fast f/2.8 aperture!! The optics are also top quality for Tamron so we shall see 🙂
Full Feature Set and Overview
The Tamron SP AF17-50mm f/2.8 XR Di II LD Aspherical [IF] is a lightweight, compact, fast standard zoom lens designed exclusively for digital SLR cameras. The focal length of this lens is equivalent to approx. 26-78mm in 35mm format.
This lens offers an f/2.8 maximum aperture throughout the entire zoom range, to ensure stress-free photographic shots at all focal lengths and distances. Additionally, a broader photographic expression through the use of faster shutter speeds as a result of the maximum aperture offers enhanced photographic pleasure.
Note! Di-II lenses cannot be used with digital SLR cameras using image sensors that are larger than that of an APS-C size imager, or with 35mm film SLR cameras.
Optimized for Digital SLR

The use of XR (Extra Refractive Index) glass optimizes the overall distribution of optical power, and also reduces various aberrations to the absolute minimum while achieving remarkable compactness. In addition, suitable positioning of two hybrid aspherical elements serves to maintain imaging performance and to shorten and compress the entire optical system.
LD Glass

An LD (Low Dispersion) glass element is used to accomplish effective compensation of on-axis and lateral chromatic aberrations, a critical factor for enhancing optical quality in digital photography, in order to achieve outstanding optical performance over the entire zoom range.
Enhanced Peripheral Illumination

Peripheral light fall-off is minimized when compared with that of conventional lenses for film cameras, so images are uniformly bright from the center to the periphery.
Internal Surface Coating to Reduce Ghosting and Flare

By employing "Internal Surface Coatings" (i.e., multiple-layer coatings on cemented surfaces of plural elements) and multiple-layer coating technology on ordinary elements, ghosting and flare due to the reflections that occur when light enters through the front element and reflections caused by the imagers themselves are reduced to the absolute minimum.
Zoom Lock Mechanism

The Zoom Lock prevents unwanted barrel extension when carrying the lens/camera combination.
Specs
Construction
13 Groups/ 16 Elements
Diaphragm: 7 blades
Angle of view
78° 45′ – 31° 11′, (APS-C size equivalent)
F stop range
2.8- 32
Closest Focusing Distance
10.6in. (0.27m)
Maximum Magnification
1:4.5
Maximum Aperature: f/2.8-4
Filter Size
67mm
Dimensions (Length x Diameter)
L: 81.7 x D 74.0 mm / 3.2″ x 2.9″
Weight
14oz. (398g) appx.
Price: $499.00 @ BHPhoto (Click Here)
Sigma 50mm f/1.4 EX DG HSM Autofocus Lens
The Sigma 50mm f/1.4 EX DG HSM Lens is another killer lens that I've been wanting to try for some time. This lens is particularly good for Portrait work as the effective focal length of ~75mm works out perfect!! It also has the HSM (High Speed Focus Motor) which is awesome for video and focusing in general for that matter. It's fairly reasonably priced at $499 considering it's full feature set.
Full Feature Set and Overview
The Sigma 50mm f/1.4 EX DG HSM Autofocus Lens is a standard lens that provides a large maximum aperture of f/1.4. It is the ideal prime lens for use with all Sony or Minolta Maxxum digital or film SLR cameras. When used on Sony digital SLR cameras with the smaller APS-C size sensor, the equivalent focal length of this lens will be 75mm, which makes it an excellent choice as a bright medium telephoto lens. Its large f/1.4 aperture allows for sharply defined contrasty images against a nicely blurred background. The lens offers superior peripheral brightness even at the maximum aperture, and corrects for possible flare.
The improved DG lens design corrects for various aberrations. This lens is specially coated to get the best color balance, while cutting down on ghosting caused by reflections from the digital image sensor. The lens provides the utmost correction against lateral chromatic aberration, which is a serious problem for digital SLR cameras.
This lens also incorporates HSM (Hyper Sonic Motor), which ensures a quiet and high-speed AF as well as full-time manual focus override.
Large Aperature, standard prime lens, has superior peripheral brightness and corrects the sagittal coma fare
Standard lens with large maximum aperture of F1.4.
Creates sharp images with high contrast and ensures superior peripheral brightness
Incorporates molded glass aspherical lens, perfectly correcting coma aberration and creating superior image quality.
Super multi-layer lens coating reduces fare and ghosting.
Hyper Sonic Motor (HSM) ensuring silent, high-speed AF.
* If the camera body does not support HSM, auto focus will not be available.
Specs
Minimum Focusing Distance:
45cm/17.7in
Focusing:
HSM (Hyper Sonic Motor) quiet, high-speed AF
Full-time manual focus override
Focal length:
50mm
Maximum Aperture
f/1.4
Minimum Aperture
f/16
Angle of View
46.8°
Lens Construction
6 groups 8 elements
Maximum Magnification Ratio
1:7.4
Filter Diameter
77mm
Diaphragm Blades
9 pcs
Standard Accessory
Hood, Case
Weight:
520g/18.3oz.
Dimensions:
84.5mm x 68.2mm / 3.3in x 2.7in
Price: 499.00 @ BHPhoto (Click Here)
Sony A57 Real World HD Video Sample
Be sure to select the 720P option in the video player quality settings for the Sharpest viewing experience!!
Closing Remarks:
Overall I think the video is awesome as expected, and in combination with a killer lens the focus is very fast and accurate. I had a blast shooting the video, especially that camel some dude down the road has?? I will get a ton more video with the new lenses that are on the way, so stay tuned for that. I really want to get some flowing water and some good portrait shots with the 50mm in particular!!
Michele and I are planning on going to Bushkill Falls next week for a few hours, so we should get some killer video footage and photos as the place is a waterfall park just made for photographers!!
Check out a few pics from Bushkill Falls the last two times Michele and I went. The place is a lot of fun and a lot of stairs!!
2008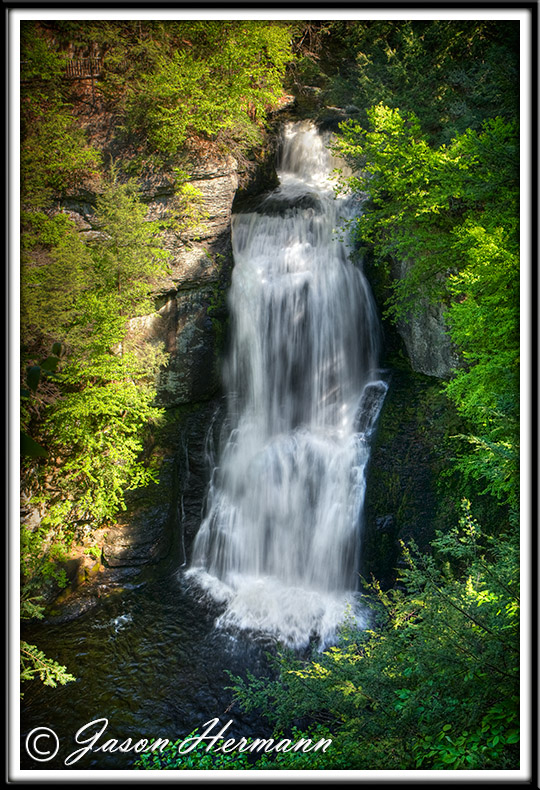 2007
As always, if you have any requests, please feel free to fire away below in the comments.
Jay
Your support is greatly appreciated as we run this site in our spare time and are not paid. We can however, make a small commission if you click a product link that your interested in. That click will then give us credit if you choose to purchase any given item. This has no effect on the cost of the product, and is a simple way to give back to SonyAlphaLab.com for the effort and info we provide.
Tip Jar: https://www.paypal.me/SonyAlphaLab
Support SonyAlphaLab by becoming a | Patreon
Also, be sure to keep following us on Google+ | Twitter | Facebook |
Direct Shopping Links – Thanks for your Support!!
BHPhotoVideo | Amazon – US | CA | UK
Thanks,
Jay