I received the new gear about 5 minutes ago as I type this and a lot of equipment arrived!  The Samsung NX300 w/20-50mm II kit lens and the NX 60mm Macro lens.
I also received the New Sony Cyber-shot RX100 II (DSC-RX100M), and the E-Mount Touit 30mm f/1.8 lens which I will review using my Nex-6.
Last but not least, the Sony 16mm wide-angle conversion lens (VCL-ECU1) is back for a quick "Lab Test"/ comparison to the Zeiss Touit 12mm f/2.8 lens that I recently reviewed.
That test should prove interesting and was requested by a SAL reader.
Full Previews of the New gear below, but first some updates on all the issues as of late:
Macbook Pro is Down Hard!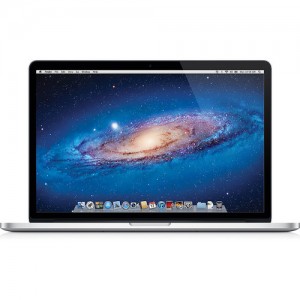 I love my Macbook Pro, and I do everything on that one machine! It has recently failed me however and I have been working with a half working Mac for about two weeks now. I got it repaired once last week (battery and disk repair), but when I got home the machine locked up as soon as I launched Photoshop CS6, or any other hardcore program. It's brutal to say the least and now the website is suffering, because I can't edit anything or process video etc…  so I apologize for that.
The update from the Mac genius today is, I need a new logic board and hard drive. I have everything backed up, so that is not an issue, it's getting the photos and all the other stuff up on SAL that will be delayed, and that sucks. I'm using my wife Michele's iMac currently, but it has outdated software, so none of the raw files or current cameras are supported. If I update the software I'm going to run into other issues I really don't have time to deal with to be honest. You saw the list of gear that just showed up, and I need to start testing!
How Much Downtime??
The logic board had to be ordered unfortunately, so were looking at 3-5 days I was told. They were nice enough to upgrade my hard drive to 750GB (from a 500gb) for free, do to the inconvenience and repeat issue etc.. It's also 100% covered thanks to the protection plan I have and I highly recommend getting if you ever purchase a MacBook and have the option.
In the end, it's not a big deal. I have a ton of gear to play with and study. My Mac is being repaired and upgraded, and Michele and I are going to check out some Steam Trains on Saturday if all goes well 😉 Oh yeah!! I'm bringing the pro Canon gear I have also for a few images I want to capture at top image quality possible for large prints. The 5d Mark II and L Glass is the best stuff I have personally, although the Zeiss Touit 35mm should do an awesome job in the right scene. I will test all the gear on the trains don't worry 😉
Website Issues
Unfortunately SonyAlphaLab.com is not running very efficiently and I need to do a lot of work apparently. This type of thing is mostly advanced server side PHP code manipulation and knowledge that I have very limited abilities with. Can anybody help me out with some of this stuff by any chance? I do everything myself and this stuff is just to complicated and time intensive to learn myself in order to fix. It's way to much knowledge to learn in fact and I was hoping we might have an expert that could share a few tips on some scripting compression and file paralleling, plus cash leveraging and other issues. I have read several articles on a lot of theses issues, but most of them lead down the path of manipulating php files and stuff like that. If you make a mistake the website and server can go down. I recently upgraded to a VPS which is supposed to be much faster and is, if the website is optimized. SAL is not, and it's not simple fixes unfortunately. Worst case I will have to bit the bullet and hire somebody, but that is proving to be very difficult. Anybody know of a good person or reputable firm to handle this type of task?? I'm clearly not up for it and don't have the time more importantly. Thanks in advance for any help/ info!
New Review Gear Previews:
First the Samsung NX300 which I am honestly most exited about. The features and image quality appear to be fantastic, and I have two lenses to use which should really test the camera out to satisfaction. Here is the Samsung gear in detail if you want to brush up on the features and specs before you see the images in a few days.
Samsung NX300
Samsung NX300 Quick Overview
The Samsung NX300 Mirrorless Digital Camera from Samsung is the flagship NX compact system mirrorless camera. It offers a 20.3MP APS-C CMOS sensor and the DRIMe IV image processing engine for sharp, low-noise images with accurate colors and is combined with the compact 18-55mm zoom lens and a hot shoe mount flash unit. The DRIMe IV image processing engine enables fast performance and provides support for the camera's Full HD 1080p 60fps video capture and wide ISO range of 100-25600. In addition, thanks to the DRIMe IV, the NX300 is capable of 3D photo and video capture when used with the new 45mm f/1.8 2D/3D lens.
The NX300 features a fast Hybrid Auto-focus system that combines phase-detection AF with contrast-detect AF. It's capable of continuous burst shooting of up to 9 frames per second and a shutter speed as quick as 1/6000 of a second. A large, tiltable 3.3″ OLED screen provides accurate and well-defined 800 x 480 resolution images for live view composition and playback and the LED is capable of touch screen menu control and touch auto focus control.
With fast dual-channel Wi-Fi, instant image sharing is possible via the Samsung SMART CAMERA App. Simply download the app to your smartphone or tablet and the NX300 will automatically detect your device and instantly transfer images to your phone or tablet for sharing. The SMART CAMERA App also allows for functions like Direct Link which send photos directly fro m your camera to social sites like Facebook and Remote Viewfinder which allows you to use your smartphone as the camera's viewfinder.
A retro viewfinder form factor makes this a handsome camera and its dimpled, ergonomically designed grip offers comfort and easy access to its controls. The NX300 is compatible with the complete line of NX mount lenses. This kit includes the Samsung Compact 18-55mm f/3.5-5.6 OIS Zoom Lens is created to be the new go-to lens for any of the Samsung NX compact cameras. With its classic look, simple design, portable size and standard zoom focal range this is the use-it-everyday lens for the impressive Samsung NX camera line. This is an intuitive i-Function lens, which means that all of your camera's manual functions can be accessed by simply turning the lens ring. And more, your adjustments can be previewed in real time so you know what your shot will look like before you take it. This is not only a great tool for precise image control, but a wonderful learning device to improve your photography.
With Samsung's lens-shift optical image-stabilizing technology, sharp photos will be produced even if the camera moves a bit when shooting. Even with little available light, the optical image stabilizer uses tiny lens-shifts to cancel out motion blur. And since the image is being stabilized in the lens, what you see through the viewfinder – and on the display – is perfectly clear. Optimized to be quick and accurate with Samsung's compact NX system, the auto focus on this lens can reach focus in an incredible 0.17 seconds.
Easy to use in both auto and manual modes and providing fast focus and sharp images, this is the perfect compact lens with which to delve into the world of mirrorless photography.
Also included with the NX300 is the SEF-8A flash unit which mounts to the camera's hot shoe. This compact flash, with a Guide Number of 8, flips up to turn on and flips back down to turn off.
Features
 New 20.3MP sensor in the NX300 offers sharp imaging and accurate colors in a range of lighting conditions
The DRIMe IV image processor provides fast performance, lifelike color reproduction and low noise imaging when utilizing high sensitivity ISO settings. It also provides support for the camera's 1080p HD video and 3D photo and video capability
The Samsung Compact 18-55mm f/3.5-5.6 OIS Zoom Lens is created to be the new go-to lens for any of the Samsung NX compact cameras. With its classic look, simple design, portable size and standard zoom focal range this is the use-it-everyday lens for the impressive Samsung NX camera line.
Also included with the NX300 is the SEF-8A flash unit which mounts to the camera's hot shoe. This compact flash, with a Guide Number of 8 at ISO 100, flips up to turn on and flips back down to turn off
In combination with the new Samsung 45mm f/1.8 2D/3D lens, the NX300 can capture and process 3D photographs and videos. The single 45mm lens can adjust between standard 2D and 3D modes to provide realistic 3D imaging that can be viewed on 3D-enabled viewing devices
With fast dual-channel Wi-Fi, the NX300 utilizes the Samsung SMART CAMERA App to transfer images to your Android or iOS smartphones or tablets for instant sharing
A large, clear 3.31″ LED screen provides composition and playback viewing with 800 x 480 resolution
The NX300 features a fast and accurate hybrid auto focus system that combines a phase and contrast detection auto focus
Full HD 1080p Video is available at 60 frames per second as is 3D video when utilizing the 45mm f/1.8 2D/3D lens
A wide ISO range offers low-noise imaging in all lighting conditions
The NX300 allows for continuous shooting of up to 9 frames per second and a shutter speed that ranges from 30 seconds to 1/6000 of a second
A handsome retro viewfinder design and ergonomic grip provide easy handling and access to controls as well as a stylish look
Specs
Lens Mount
Samsung NX
Camera Format
APS-C (1.5x Crop Factor)
Pixels
Actual: 21.6 Megapixel
Effective: 20.3 Megapixel
Max Resolution
20.0MP: 5472 x 3648 at 3:2
Other Resolutions
10.1MP: 3888 x 2592 at 3:2
5.9MP: 2976 x 1984 at 3:2
5.0MP: 2736 x 1824 at 3:2
2.0MP: 1728 x 1152 at 3:2
16.9MP: 5472 x 3080 at 16:9
7.8MP: 3712 x 2088 at 16:9
4.9MP: 2944 x 1656 at 16:9
4.1MP: 2688 x 1512 at 16:9
2.1MP: 1920 x 1080 at 16:9
13.3MP: 3648 x 3648 at 1:1
7.0MP: 2640 x 2640 at 1:1
4.0MP: 2000 x 2000 at 1:1
1.1MP: 1024 x 1024 at 1:1
Sensor Type / Size
CMOS, 23.5 x 15.7 mm
File Formats
Still Images: JPEG, RAW
Movies: MPEG-4 AVC/H.264
Audio: AAC
Memory Card Type
SD
SDHC
SDXC
Video Recording
Yes, NTSC/PAL
Resolution
1920 x 1080: 60 fps
1280 x 720
640 x 480
320 x 240
Aspect Ratio
1:1, 3:2, 16:9
Audio Recording
With Video, Stereo
Focus Type
Auto & Manual
Focus Mode
Single-servo AF (S), Manual Focus (M)
Viewfinder Type
LCD Display
Display Screen
3.3″ Rear Screen Tilting Live Preview LED (768000)
Screen Coverage
100%
Live View
Yes
ISO Sensitivity
Auto, 100-25600
Shutter
30 – 1/6000 seconds
Metering Method
Center-weighted average metering, Multi-zone metering, Spot metering
Exposure Modes
Modes: Aperture Priority, Auto, Manual, Program, Shutter Priority
Compensation: -3 EV to +3 EV (in 1/3 or 1/2 EV steps)
Burst Rate
Up to 9 fps
Flash Modes
1st Curtain Sync
Auto
Fill-in
Forced On
Off
Red-eye Reduction
Second-curtain Sync
Built-in Flash
No
External Flash Connection
Hot Shoe
Continuous Shooting
Up to 9 fps
Self Timer
2 sec
Custom: 2-30 sec
Connectivity
HDMI D (Micro), USB 2.0
Wi-Fi Capable (w/Optional Transmitter)
Yes
Battery
1x BP1130 Rechargeable Lithium-Ion Battery Pack1130mAh
Focal Length
18 – 55 mm
Comparable APS-C Focal Length: 27.7 – 84.7 mm
Aperture
Maximum: f/3.5 – 5.6
Minimum: f/22 – 22
Angle of View
75.9deg. – 28.7deg.
Minimum Focus Distance
11.02″ (0.28 m)
Magnification
3x
Groups/Elements
9/12
Diaphragm Blades
7
Autofocus
Yes
Image Stabilization
Yes
Filter Thread
Front: 58 mm
Dimensions
Lens: Approx.2.48 x 2.56″ (63 x 65.1 mm)
Camera: 4.8×2.5×1.6″ / 121.9×63.5×40.6mm excluding extension
Weight
Lens: 0.44 lb (0.199 kg)
Camera: 9.88oz / 280g without battery
NX Mount – Samsung 60mm f/2.8 Macro ED OIS SSA Lens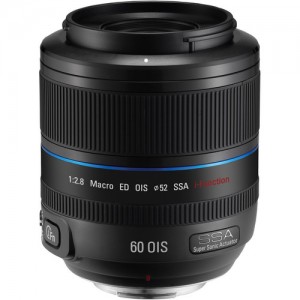 The Samsung 60mm f/2.8 Macro ED OIS SSA Lens (For NX Cameras) is a fast f/2.8 macro lens for NX cameras that's capable of 1x magnification. Because it's an i-Function lens, you can access manual settings such as shutter speed and aperture right on the lens–no need to take your hand off the lens, or your eye off the action. A built-in optical image stabilizer eliminates camera shake for low-light photos (especially important when shooting extreme close-ups, where every little tremor will show). A supersonic actuator delivers fast, silent and precise auto focusing, and with full-time manual focus in AF mode, you'll always have sharp focus exactly where you want it. This lens is designed for use with NX mount cameras–the NX10 and NX100.
Perfect Pictures at Your Fingertips
This i-Function lens is perfect for novices and experts alike. If you're a beginner, shoot confidently like a pro with Lens Priority Mode. This allows your camera to instantly recognize the type of lens you've attached. Now, it will serve up optimal scene modes with i-Scene, while i-Setting optimizes all the settings for the perfect shot. If you're already a pro, you can cycle through and adjust shutter speed, aperture, ISO and more – all without taking your fingers off the lens, and your eyes off the shot – simply by pressing the i-Function button and turning the value ring to the desired settings.
Supersonic and Super Quiet
Here's a lens ready for its close-up: the Samsung 60mm macro lens. It comes equipped with a supersonic actuator for fast, silent and precise auto focusing – perfect for the amateur entomologist looking to capture an amazing image of a fluttering butterfly. And thanks to its internal focusing system, the lens barrel remains fixed. So you can get right up close to your tiny little subjects without startling them and capture stunning details that can't be seen with the naked eye.
Expert Focus on Amazing Details
The lens autofocus (AF) mechanism sets you up for the perfect shot every time, but sometimes, it's just not the perfect shot you wanted. The Samsung 60mm macro lens allows full-time manual focus in AF mode so you can quickly fine-tune your shot without having to switch modes. This gives you instant and total control over what to focus on and what to blur out in your macro shots.
Optical Image Stabilizer for Clear, Sharp Images
Create beautiful images that move you, even if you jostle the camera. The 60mm macro lens comes equipped with lens-shift optical image-stabilizing technology. Samsung's optical image stabilizer uses tiny lens-shifts to cancel out motion blur, even in low exposure shots. And since the image is being stabilized externally in the lens, what you see through the viewfinder – and on the display – is perfectly clear.
Next, check out this awesome piece of ultra compact large sensor goodness!
Sony Cyber-shot DSC-RX100M2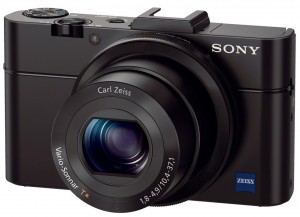 Sony announced a new updated version of the RX100 called the RX100M2. Featuring an updated Exmor sensor for better low light performance, an articulating rear lcd screen, and standard hot-shoe, the RX100MII is certainly worth consideration if your need more power and flexibility!
The Sony DSC-RX100M2 with its 1-inch sensor , the Sony DSC-RX100M2. offers several more advanced features and claims improved image quality over the RX100, which will continue to be available. While it physically looks the same as the RX100 (which will continue to be available), the Sony DSC-RX100M2 adds Wi-Fi sharing, and a new imaging sensor that Sony saes will deliver better image quality and less noise in low light. The Sony DSC-RX100M2 also addresses one of the major knocks against the original Sony DSC-RX100, which was a lack of a hot shoe/data port to accomodate an electronic viewfinder and/or flash.
Sony DSC-RX100M2 Key features:
• New 1″ 20.2 MP Exmor R® sensor
• Bright F1.8 Carl Zeiss® Vario-Sonnar T* zoom lens Simple connectivity to smartphones via Wi-Fi® or NFC
• ISO range 160-12800, advanced noise reduction
• Up to 0.13 seconds with high speed AF
• P/A/S/M operating modes via control ring
• JPEG and RAW
• Multi-interface Smart Accessory Shoe
• Full HD movies at 60p/24p with full exposure control
• Tiltable, 1,229k dot, 3-inch LCD
Sony DSC-RX100MII Features
20.2 MP Exmor 1″ CMOS sensor – extreme low-light shots
Bright F1.8 Carl Zeiss Vario-Sonnar T* lens w/3.6x zoom
Simple connectivity to smartphones via Wi-Fi® or NFC
Up to ISO 12800 sensitivity w/ advanced noise reduction
Focus as fast as 0.13 seconds with high speed AF
P/A/S/M operating modes with smooth precise control ring
Record your photos as JPEG files, RAW files, or both
Multi-interface Smart Accessory Shoe for system accessories
Full HD 1080/60p video w/manual control and dual record
Large tiltable 3″ display w/ bright whites & true blacks
Wi-Fi features
In addition to Wi-Fi support for connecting to smartphones, the DSC-RX100M2 also supports NFC (near field communication) – a first for Sony digital cameras – providing "touch connection" operation when transferring images to Android smartphones and tablets. Users touch devices to connect; no complex set-up is required. When using Smart Remote Control – a feature that allows shutter release to be controlled by a smartphone – the connection between the DSC-RX100MR and the smartphone can be established by touching devices.
Zippy AF claimed
To improve focusing speed and sensitivity, Sony says the Exmor R® CMOS sensor uses its rapid throughput to deliver high-quality image signals to the camera's BIONZ® processor, which provides intelligent response data to a new high speed actuator motor in the lens. Sony claims fast, DSLR-like focusing speeds even in low light.
New Shoe
A Multi Interface Shoe (Sony's proprietary version of a hot shoe) will accommodate an external flash, stereo microphone, or electronic viewfinder. This is an important addition; rather than forcing you to rely exclusively on the LCD monitor (which may be difficult in bright sunlight and other shooting situations) you will be able to use an EVF to frame images by holding the camera up to your eye, which is a more comfortable way of shooting for many photographers.
Control Ring
The control ring around the lens can be assigned to adjust various features (at various values), from basics like zooming and aperture to creative functions like Picture Effect.
More cool features:
• A customizable function button can be assigned one of seven different functions.
• Optical Steady Shot uses 3-way digital image stabilization to avoid rolling, clockwise and anti-clockwise rotation, a useful thing for video.
• HDR up to 6 stops is available and can be captured in a split second, although a tripod is recommended.
• Auto Object Framing zooms in on a person in a horizontal photo and crops to a vertical, recognizing the face in the scene. * 15 Picture Effect Modes, 6 creative styles.
Sony DSC-RX100MII Specs
Lens Type
Carl Zeiss Vario-Sonnar T*
Aperture
F1.8-4.9
Optical Zoom
3.6x
Digital Zoom
20M approx. 14x / 10M approx. 20x / 5M approx. 28x / VGA approx. 54x
Focal Length (35mm equivalent)
Still 16:9 29-105mm / Still 4:3 30-108mm / Still 3:2 28-100mm / Still 1:1 36-127mm / Movie 16:9 29-105mm (Std), 33-120mm (Active) / Movie 4:3 36-128 mm (Std), 41-146mm (Active)
Lens Construction
7 elements in 6 groups ( including AA lens)
Aperture Blade
Iris diaphragm (7 blades)
Clear Image Zoom
7.2x
Focal Distance
AF approx. 5cm to infinity (W), approx. 55cm to infinity (1)
Steady Shot Mode: Active
[Still image] Optical [Movie] Active Mode, Optical type with electronic compensation (Anti-rolling)
Metering Modes
Multi segment / Center weighted / Spot
Exposure Compensation
+/- 3.0EV, 1/3EV step
Imaging Sensor
Imaging Sensor : 1.0″ (13.2 x 8.8mm) Exmor CMOS sensor, aspect ratio 3:2
Pixel Gross: 20.9MP (approx.)
Effective Picture Resolution: 20.2MP (approx.)
Drive System
Shutter Type: iAuto (4-1/2000) / Program Auto (1-1/2000) / Manual (Bulb, 30-1/2000) / Aperture Priority (8-1/2000) / Shutter Priority (30-1/2000)Continuous Shooting Speed: 10 fps at 20.2MPSelf-timer: 10sec. / 2sec. / Self portrait / Self timer Cont.
Scene Modes
Portrait, Anti Motion Blur, Sports Action, Pet, Gourmet, Macro, Landscape, Sunset, Night Scene, Hand-held Twilight, Night Portrait, Fireworks, High Sensitivity
D-Range Optimizer
Off, Dynamic Range Optimizer (Auto/Level), Auto High Dynamic Range: Auto exposure difference, Exposure difference level (1.0-6.0EV, 1.0-EV step)
ISO
Auto ISO 125-6400 select w/upper/lower limit, 125/200/400/800/1600/3200/6400 expand to 80/100, Multi Frame NR:Auto ISO125-25600 equiv. 200/400/800/1600/3200/6400/12800 4/25600
Creative Style
Standard, Vivid, Portrait, Landscape, Sunset, Black & White
White Balance Mode
Auto/Daylight/Shade/Cloudy/Incandescent/Fluor (Warm White)/Fluor (Cool White)/Fluor (Day White)/Fluor (Daylight)/Flash/C. Temp., Filter/Custom
Picture Effects
Toy Camera, Pop Color, Posterization, Retro Photo, Soft High-key, Partial Color, High Contrast Monochrome, Soft Focus, HDR Painting, Rich-tone Monochrome, Miniature, Watercolor, Illustration
Convenience Features
Still Image Playback Options: Control for HDMI, Slideshow
LCD Display
LCD Type: 3.0″ (7.5cm) (4:3) / 1,229k dots / Xtra Fine / TruBlack / TFT LCDBrightness Control: Auto / Manual (5 steps) / Sunny Weather mode
Advanced Features
Sweep Panorama: Sweep Panorama
Face Detection: 8 Faces (Auto / Off / Child Priority / Adult Priority / Face Registration)
Image Stabilization: Optical SteadyShot with Active Mode Image Stabilization
Intelligent Auto: Yes
Background Defocus: Yes
Superior Auto: Yes
Photo Creativity: Yes
Still Image Mode
JPEG, RAW (Sony ARW 2.3 format)
Still Image Size
Still Image Size 16:9 : L: 17M (5472×3080); M: 7.5M (3648 x 2056); S:4.2M (2720 x 1528)Still Image Size 3:2 : L: 20M (5472 x 3648; M: 10M (3888 x 2592); S: 5.0M (2736 x 1824)Still Image Size 4:3 : L: 18M (4864 x 3648); M: 10M (3648 x 2736); S: 5.0M (2592 x 1944); VGAPanorama Still Image Size : [3:2] L: 20M (5472×3648)/M: 10M (3888×2592)/S: 5.0M (2736×1824)
Video Format
AVCHD Ver2.0, MP4
Video Mode
AVCHD: 28M PS (1920×1080, 60p/50p) / 24M FX (1920×1080, 60i/50i ) / 17M FH (1920×1080, 60i/50i) MP4: 12M (1440×1080, 30/25 fps) / 3M VGA (640×480 30/25 fps)
Photo Capture from Movie
Yes
Focus Control
Focus System: Single-shot AF (AF-S) / Continuous AF (AF-C) / Direct Manual Focus (DMF) / Manual FocusAF Modes: Multi point AF (25 points) / Center weighted AF / Flexible spot / Flexible spot (tracking focus) / Flexible sport (face tracking)
Flash
Flash Modes: Auto/Fill-flash/Slow Sync/Rear Sync/OffFlash Coverage: ISO Auto 0.30m to 17.1m (W)/0.55m to 6.3m (T) (Approx.1′ 3/4″ to Approx.56′ 1 3/4″) (W) ISO 6400 up to 24.2m (W)/8.9m (T)
Memory Card Slot
Dual compatibility slot: Memory Stick PRO Duo/Pro-HG Duo/PRO-HG HX Duo media – SD, SDHC and SDXC memory card
NFC
Yes (NFC Forum Type 3 Tag compatible, One-touch remote, One-touch sharing)
Wi-Fi
Yes
HD Output
HDMI (Type D micro)
USB Port(s)
USB 2.0 Hi-speed (mass-storage, MTP)
BRAVIA Sync
Yes, via HDMI® with compatible BRAVIA HDTV (link menu)
PhotoTV HD
Yes, with BRAVIA Sync enabled HDTV and HDMI® cable
Microphone Input
Via MI Shoe + Optional ECM-XYST1M
Remote Commander
Yes, via RM-VPR1
Accessory Shoe
Multi Interface Shoe
DC IN
Yes, via AC-UB10 AC charger and USB cable
Tripod Mount
Yes (1/4″ diameter, 20 threads per inch)
Power
Battery Type : LITHIUM ION NP-BX1 (supplied)
Power Consumption (in Operation) : Approx. 1.5W
Dimensions WxHxD
4″ × 2-9/32″ × 1-1/2″ (101.6 x 58.1 x 38.3 mm) excluding protrusions
Weight
With battery and Memory Stick PRO Duo Approx. 9.9 oz. (281 g)
Weight(Approx) (Main unit only)
7.8 oz. (222 g)
Sony Cyber-shot DSC-RX100M2 Price: ~$748 US
Compare Sony DSC-RX100M2 Prices @ BHPhotoVideo | Amazon | Ebay
E-Mount Zeiss Touit 32mm f/2.8 lens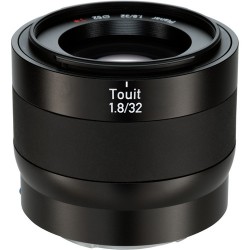 A compact standard lens with autofocus, especially designed and constructed for compact system cameras like the Sony Nex Series cameras. A lens that makes it so easy to spontaneously capture your special moments and preserve them in perfect pictures.
The best of two worlds. Just like a 50 mm lens in 35 mm photography, the Touit 1.8/32 offers the same angle of view as the human eye. However, optimised for use with APS-C format sensors, it is simultaneously a lens that is so light and compact that it can be taken along simply anywhere and everywhere you go. Whether you are shooting portraits, landscapes or spontaneous snapshots, you will never cease to be amazed by what a Touit 1.8/32 can tease out of your camera. It is quite simply the ideal companion for capturing perspectives and colour- and lighting moods in perfect pictures.
Zeiss Touit 32mm f/1.8 Lens Features
Innovative product design: The unmistakeable product design is based on an integrative concept and focuses on essential functional elements. Even the lens hood, typically an accessory, is seamlessly integrated into the overall design.
Full compatibility: The lenses are fully-compatible and support all camera functions, including autofocus.
Ideal aperture characteristics: he Touit lenses feature a nine-blade iris that closes to create an almost perfectly circular aperture. The effect of this is the creation of a particularly harmonious effect in the out of focus areas of the image ("Bokeh").
Smooth and reliable AF action: The focusing system of the Touit lenses is designed to guarantee robust and smooth autofocusing without any need for compromises or limitations in their optical design.
Carl Zeiss T* anti-reflective coating: The optical elements of ZEISS lenses feature T* anti-reflective coating on all surfaces and an optical design that guarantees images of superior brilliance at all times, even in unfavourable lighting conditions.
Zeiss Touit 32mm Lens Specifications
| | |
| --- | --- |
| Focal length | 32mm |
| Aperture range | f/1.8 – f/22 |
| Focusing range | 1.21 ft / 0.37m to infinity |
| Elements/Groups | 8/5 |
| Angular field, diag./horiz./vert. | 48° / 40° / 29° |
| Coverage at close range | 214 x 142 mm (8.43 x 5.59″) |
| Filter Size | 52mm |
| Dimensions (with Caps) | 2.83 x 2.99″ / 72mm x 76mm |
| Diameter of Focusing ring | 2.56″ / 65mm |
| Weight | 0.44 lb / 200g |
Price: $900
Zeiss Touit 32mm f/1.8 Lens @ BHPhotoVideo | Amazon | Adorama | Ebay
Sony VCL-ECU1 – Wideangle Conversion Lens
18mm – (35mm equivalent)
Works with 16mm lens
Lens Groups-Elements: 3 groups, 3 elements
Weight (Approx.) : 4.4oz (125g)
Price: ~$99
Compare VCL-ECU1 Prices @ BHPhotoVideo | Amazon | Ebay >>
Closing Remarks:
That is about it for now, but if you want to check out some quality reviews of the Samsung NX300(click Here) and Sony Cyber-shot RX100 II (Click Here), be sure to check out AllYourCameraReviews.com. I still have tons and tons of cameras to add, so please be patient as that website grows with more content over time, if your a fan of it that is 😉 In the meantime I have some awesome new gear to review here and I can't wait to get started 🙂
Catch up with you ASAP everybody, and sorry for the down time and crazy website outages/ issues!
Thanks again for checking in 😉
Jay
Your support is greatly appreciated as we run this site in our spare time and are not paid. We can however, make a small commission if you click a product link that your interested in. That click will then give us credit if you choose to purchase any given item. This has no effect on the cost of the product, and is a simple way to give back to SonyAlphaLab.com for the effort and info we provide.
Tip Jar: https://www.paypal.me/SonyAlphaLab
Support SonyAlphaLab by becoming a | Patreon
Also, be sure to keep following us on Google+ | Twitter | Facebook |
Direct Shopping Links – Thanks for your Support!!
BHPhotoVideo | Amazon – US | CA | UK
Thanks,
Jay