I Ordered My Sony Nex-6 Camera with the 16-50mm Power Zoom lens as a kit. (NEX6L/B), and it's arriving at SonyAlphaLab Today!!
I have the UPS guys Cell Number and he is the man, so I'm going to give him a call around 9am and my time and see where is at. Then I might just drive to meet up at his convenience as I really want to record the Open Box Video and get that battery charging so I can use the NEX-6 ASAP.
I also want to take the product photography photos downstairs in the Mini Studio I have set-up at the moment. The Full Studio (Lab), encase your wondering, is much closer to completion thanks to the efforts of my Dad and myself yesterday. We ran the rest of the 3/4 inch Pex pipe for the base board heat and got the electric heat wired up to the Studio electric panel. We also added another outlet in the Studio area for convenience purposes as I noticed a gap near the stairs where I might need a plug for laptop tethering purposes.  I have outlets everywhere!! I have heavy duty commercial grade 20 amp outlets in the entire studio ceiling spread out so I can easily run high wattage constant studio lights if I ever want. I can also keep the power wires off the floor as they naturally become tripping hazards. I still have to finish up connecting the heat to the boiler which requires soldering the Pex to Copper fittings on. It's easy to do, but I left that for another day as I have several connections to make throughout the sytem and a Zone Valve to replace on the boiler. Miles well do all the soldering at once 😉 I need to buy the zone valve still!
Back to the Nex-6!!
I can't wait to get it, and I unfortunately have to go to the Dentist today first, then meet the UPS guy, then get hope and record the Open Box video!! We shall see how the day actually pans out in time 😉 Stay tuned for some Open Box Nex-6 Video Footage later today, and possible a few sample pic!! Be sure to check on the Forum for up to the minute info!! I'm trying to keep SonyAlphaLab.com itself for the more professional quality articles these days. The Sony Alpha Forum has a lot more short posts, links to Sony reviews and tons of Photography to check out if your interested!! I'll Catch up with you later, and be sure to check out the Preview of the Nex-6 Below.
Sony Nex-6
The Nex-6 is a slightly refined and less expensive version of the Sony Nex-7. It has a built in viewfinder which is a must for bright daylight shooting, and a killer swivel screen. It doesn't flip up 180degrees like the Nex-5r, but unlike the Nex-5r it does face all the way down for easy over head shooting.
The Nex-6 features a New 16mp sensor with built in Phase detection AF sensors. This enhances the Native contrast autofocus by speeding things up significantly. This is great for both video and regular photography!! The Sony Nex-6 also features a standard hot show, which will make it a breeze to use with studio lights, regular flash units, or other hot shoe mountable devices!.
Key Features:
Pocket camera with professional-grade performance
16 MP APS-C sensor with up to 10 fps shooting and Full HD video
Fast Hybrid AF includes phase-detection for DSLR-like focus
Bright XGA OLED viewfinder for 100% coverage
Wi-Fi sharing and downloadable camera apps
DSLR-like operation with new intuitive Quick Navi controls
Multi-interface Smart Accessory Shoe for system accessories
Built-in Guide Number 6 flash brightens the scene
11 exciting Picture Effects for stills and videos
Photo Creativity for easy image adjustments
Sony Nex-6 Feature Breakdown
16.1 MP APS-C size HD image sensor: The same sensor format that Sony builds into the full-sized ? DSLRs. With 13 times the area of the typical point-and-shoot image sensor, APS-C makes the difference between "snapshots" and "photographs," delivering an exceptional combination of high resolution, high sensitivity and gorgeous, blurred backgrounds.
Fast Hybrid AF: Sony's advanced Fast Hybrid AF combines two technologies for outstanding performance: Phase detection AF for quick response that is ideal when tracking fast-moving subjects and contrast-detection AF for added precision. A perfect match that delivers optimal Auto Focus for fast, precise focusing in any scene.
XGA Tru-Finder OLED: This eye-level, through-the-lens, viewfinder begins with 2359K dots for amazing resolution and high contrast ratio for incredible depth. OLED reduces motion blur to a bare minimum. You can also see the results of camera adjustments in real time with superb color and detail.
Wi-Fi Sharing: Wi-Fi capability – a first for Alpha-series – lets users transfer photos directly to smartphones and tablets with the PlayMemories Mobile app. Wi-Fi capability allows for sharing, viewing and saving photos for expanded photo-shooting enjoyment. Photos can be easily transferred to smartphones and tablets, or viewed on TV/PCs.
Advanced Control Dial: Mode control dial and Quick Navi assure quick an intuitive operation comparable to DSLR cameras Control dial, Fn (function) button and touch screen (including touch shutter function) combine to greatly facilitate operation and speed getting the shot.
New Multi-Interface Shoe: Unlike conventional cameras, the NEX-6 features a newly developed Multi-Interface Shoe that dramatically expands compatibility with Handycam accessories, thus raising the potential for photo/movie shooting.
Built-in GN6 Pop-up Flash: A built-in Guide Number 6 flash is located on top of the camera. It is ideal for dimly lit settings and can be used as a fill flash when shooting in bright sunshine or to produce catch lights in portraits. The flash combines with ultra-high ISO 2500 and a large APS-C HD CMOS sensor for stunning low-light photos.
Picture Effect mode: The Photo Creativity interface enables creative expression of SLR-quality digital imaging without the complicated settings. Changes can be easily made using the control dial with results seen in real time on the LCD. Settings include; Background Defocus, Brightness, Color, Vividness and most Picture Effects.
Auto Portrait Framing: Simply photograph a person and Auto Portrait Framing will save an additional, optimally framed image in portrait or landscape orientation. Combining Face Detection and By Pixel Super Resolution technologies with rule of thirds, Auto Portrait Framing provides beautifully composed and full resolution portraits.
Clear Image Zoom: Utilizing Sony's exclusive By Pixel Super Resolution Technology, Clear Image Zoom increases the effective focal length of your lens up to 2x by digitally magnifying the center of your image with nearly imperceptible degradation. It virtually doubles the effective focal length of whatever lens you're using.
Convenient USB charging: Easily recharge the camera via USB charging. Simply connect the bundled USB cable and recharge the battery without removing it from the camera, either via AC outlet or PC connection.
Full HD Movies at 60p/60i/24p: Capture HD Movies in your choice of super-smooth 60p, standard 60i or cinematic 24p, all at Full HD 1920×1080 resolution. AVCHD codec delivers stunning picture quality. MP4 codec offers smaller files for easier upload to the web.
Auto HDR built into camera: High Dynamic Range (HDR) photography captures more scene contrast than a single exposure can handle by combining the best highlight detail from one shot and the best shadow detail from another for one incredible shot. Handles severe backlighting and other high-contrast scenes. Captures in a split second.
6-image layering: The camera leverages the large, APS-C image sensor and captures six images in a fraction of a second. The camera then combines the data from the 6 different images up to ISO 25600 to create a single image. This helps control blur in Anti-Motion Blur mode or to get cleaner nighttime pictures in Hand-held Twilight mode.
Sweep Panorama Technology: Capture expansive landscapes automatically. Press the shutter, sweep vertically or horizontally. The camera does the rest, continuously shooting images and stitching them together. Up to 23 MP image size. Up to 202 degrees maximum sweep angle (16mm focal length).
Anti Motion Blur mode: Corrects for subject movement to capture amazingly clean and sharp images in low light. The camera leverages the large, APS-C image sensor and captures six images in a fraction of a second. Combining the data from all six creates a single image that minimizes subject blur.
Intelligent Auto Focus: Pre-focuses as you compose the shot, further reducing focusing time to a bare minimum.
Peaking AF display: The Peaking AF display makes precise manual focusing much easier by highlighting the edges that are in focus in your choice of three colors (white, red, or yellow). This is especially helpful during macro or portrait photography where your focal plane can make or break your shot.
Manual Focus Assist: Greatly magnifies the viewfinder image when you touch the focus ring, making it easy to get razor-sharp images. Works with E-mount lenses only.
Enhanced Tracking Focus: Tracking Focus continuously tracks a user-designated subject and is now more effective at tracking people. If the subject turns away from the camera, face-detection tracking automatically switches to subject tracking and continues tracking.
Face Detection technology: The camera can automatically detect up to eight individual faces and adjust focus, exposure, white balance and flash to help deliver crisp, properly lit images of family and friends. Can prioritize children or adults.
Smile Shutter technology: Captures a smile the moment it happens. Simply select the Smile Shutter mode and the camera takes the picture automatically. You can prioritize children or adults and adjust the smile sensitivity.
D-Range Optimizer (DRO): Improves results with backlit subjects and recovers details hidden in shadows. Settings include Auto, Level with a choice of five operating levels and Off.
Creative Styles (6 modes): Control how the camera processes your images with six finishing styles: Standard, Vivid, Portrait, Landscape, Sunset and B&W. You can even fine- tune contrast, saturation, and sharpness to your personal taste.
PhotoTV HD compatibility: Optimizes compatible BRAVIA® televisions for gorgeous display of digital pictures.
MS Duo/ SD slot: For cost-effective, convenient storage and sharing of your images, the camera accepts Memory Stick PRO Duo/Memory Stick PRO-HG Duo and SD/SDHC media (Class 4 or higher recommended), (Memory card is required, all are sold separately).
Anti-dust sensor: Anti-Dust Technology helps keep the CMOS sensor clean, resulting in consistently clear pictures. First a static-free coating on the sensor's low-pass filter helps repel dust. Then vibration automatically dislodges dust from the sensor.
Sony Nex-6 Specifications
Camera Type
Sony E-mount interchangeable lens digital camera with built-in flash
Lens Compatibility
Sony E-mount lenses
Imaging Sensor
Imaging Sensor: Exmor APS HD CMOS sensor (23.5 X 15.6mm)
Anti Dust: Charge protection coating on Optical Filter and ultrasonic vibration mechanism
Pixel Gross: Approx. 16.7 megapixels
Effective Picture Resolution: Approx. 16.1 megapixels
Focal Length Conversion Factor: 1.5x
Color Filter System: RGB primary color filters
Optics/Lens
Lens Mount Type: Sony E-mount lenses
Digital Zoom: Approx. 4x (still images and movie) Smart Zoom (M: approx. 1.4x, S:approx. 2x)
Smart Zoom Technology: M: approx. 1.4x, S:approx. 2x
Lens Compensation
Peripheral Shading, Chromatic Aberration, Distortion
Viewfinder
Eye point: Approx. 23mm from the eyepiece, 21mm from the eyepiece frame at 1m (diopter)
Brightness control: Auto, Manual (3 steps between -1 and +1)
Display: Display basic info; Levels; Histogram
Number of dots : 2,359,296 dots
Type: 1.3 cm (0.5 type) Electronic viewfinder
Diopter Adjustment: -4m-1 to +1.0m-1 (diopter)
Field of View: 100% coverage
Print Compatible Standards
Exif Print, Print Image Matching III, DPOF setting
Flash Sync Speed
Flash sync speed: 1/160 s
Metering System
"Exmor" APS HD CMOS sensor
Continuous Shooting
No. of frame recordable (approx.): Fine: 15 frames, Standard: 16 frames, RAW:11 frames, RAW&JPG: 10 framesSpeed (approx., max.) : Continuous mode: max. 3 fps; Speed Priority Continuous shooting: max. 10 fps
Auto Portrait Framing
Still images: Yes
Drive Mode
Single-shot, Continuous shooting, Speed Priority continuous shooting, Self-timer (10/2s delay selectable), Self-timer (10/2s delay 3/5 exposures selectable), Bracketing, Remote Cdr
Self-Timer
2s or 10s delay (single, continuous 3 or 5 frames)
Shutter Speeds
Still images: 1/4000 to 30s (Bulb)
Movies: 1/4000 to 1/4 (1/3 steps) up to 1/60 in AUTO mode (up to 1/30 in Auto slow shutter)
Shutter Type
Electronically-controlled, vertical-traverse, focal-plane type
Focus System
Fast Hybrid AF (phase-detection AF/contrast-detection AF) with "Exmor" APS HD CMOS sensor
Focus Points
99 points (phase-detection AF), 25 points (contrast-detection AF)
AF Modes
AF-S: Single-shot AF, AF-C: Continuous AF
Focus Area
Multi Point (99 points(phase-detection AF), 25 points(contrast-AF)), Center-weighted, Flexible Spot
Focus Sensitivity
0 EV to +20 EV (at ISO100 conversion with F2.8 lens attached)
Manual Focus Assist
Yes MF assist (4.8x, 9.6x)
Focus Features
Predictive control, Focus lock, Eye-Start AF (with LA-EA2(Sold separately)
AF Illuminator
Built-in, LED type (with a range of approx. 0.3-3.0m (with E PZ16-50mm F3.5-5.6 OSS attached)
Interface
Multi Interface Shoe: Yes Accessory Shoe: Yes (with the adaptor ADP-MAA (Sold separately). Multi Interface Shoe
HD Output : HDMI (TypeC mini), BRAVIA Sync, Photo TV HD
PhotoTV HD : Yes
Media Type
Memory Stick PRO Duo, Memory Stick PRO-HG Duo, SD memory card, SDHC memory card, SDXC memory card
Color Space
sRGB, AdobeRGB
Still Image Mode
JPEG (Standard, Fine), RAW, RAW+JPEG
Still Image Size 16:9
L: 4912 x 2760 (14M)
M: 3568 x 2000 (7.1M)
S: 2448 x 1376 (3.4M)
Still Image Size 3:2
L: 4912 x 3264 (16M)
M: 3568 x 2368 (8.4M)
S: 2448 x 1624 (4M)
Panorama Still Image Size
Horizontal Wide: 12,416 x 1,856 (23M)
Vertical: 5,536 x 2,160 (12M)
Horizontal Std: 8,192 x 1,856 (15M)
Vertical Std: 3,872 x 2,160 (8.4M)
Video Format
AVCHD Ver. 2.0 (Progressive), AVCHD, MP4
Video Mode : AVCHD
PS – 1920 x 1080/60p@28Mbps
FX – 1920 x 1080/60i@24Mbps
FH – 1920 x 1080/60i@17Mbps
FX – 1920 x 1080/24p@24Mbps
FH – 1920 x 1080/24p@17Mbps
MP4: HD – 1440 x 1080/ 30fps@12Mbps
VGA – 640 x 480/30fps@3Mbps
Audio Format
Dolby Digital (AC-3) / MPEG-4 AAC-LC, 2ch
Microphone/Speaker
Built-in stereo microphones / Built-in, monaural speaker (volume settings in 8 steps between 0 and 7)
Still Image File Format
JPEG (DCF Ver. 2.0, Exif Ver.2.3, MPF Baseline compliant), RAW (Sony ARW 2.3 format)
Picture EffectS
11 types (15 variations): Posterization (Color, B/W), Pop Color, Retro Photo, Partial Color (R,G,B,Y), High Contrast Mono, Toy Camera, Soft High-key, Soft Focus, HDR Painting, Rich-tone Mono, Miniature
Auto Exposure Lock
AE is locked when the shutter button is half pressed (ON/OFF is available in MENU)
Creative Style
Standard, Vivid, Portrait, Landscape, Sunset, B/W (Contrast (-3 to +3steps), Saturation (-3 to +3steps), Sharpness (-3 to +3steps)
Exposure Bracketing
With 1/3, 2/3, 1, 2, 3EV increments, 3 frames
Exposure Compensation
Still images: +/- 3.0EV (1/3EV steps), Movies: +/- 2.0EV (1/3EV steps)
Exposure Settings
iAUTO, Superior Auto, Programmed AE (P), Aperture priority (A), Shutter-speed priority (S), Manual (M), Sweep Panorama, Scene Selection
ISO
Still images: Auto (ISO 100-3200), Selectable (ISO 100-25600)Movies: Auto (ISO 100-3200), Selectable (ISO 100-6400)
Metering
1200-zone evaluative metering
Metering Modes
Multi-segment, Center-weighted, Spot
Metering Sensitivity
0EV-20EV, (at ISO 100 equivalent with F2.8 lens)
Noise Reduction
Long Exposure NR: (On/Off, available at shutter speeds longer than 1 second) High ISO NR: (High/Normal/Low)
Scene Modes
Portrait, Landscape, Macro, Sports Action, Sunset, Night Portrait, Night View, Handheld Twilight, Anti Motion Blur
White Balance Mode
Auto WB, Daylight, Shade, Cloudy, Incandescent, Fluorescent, Flash, C.Tem (2500 to 9900K), C.Filter (G7 to M7,A7 to B7), Custom
AF Micro Adjustment
Yes, with LA-EA2 (sold separately)
LCD Display
LCD Type: 7.5cm (3.0-type) wide type TFT (921,600 dots)
Angle Adjustment: Up: Approx. 90 degrees, Down: Approx. 45 degrees
Brightness Control : Manual (5 steps between -2 and +2), Sunny Weather mode
Real-time image adjustment display : On/Off
Peaking : Yes (Level setting: High/Mid/Low/Off, Color: White/Red/Yellow)
Customization : Graphic display/Display all info/Big font size display/No display info/Levels/Histogram/Viewfinder
Advanced Features
Face Detection: On/On (Regist. Faces)/Off, Face Selection (maximum 8 detectables)
Smile Shutter: selectable from 3 steps
Tracking Focus: object tracking
Advanced User Interface: Yes
Anti Motion Blur: 6-image layering
Auto High Dynamic Range: Auto Exposure Difference, Exposure difference Level (1.0-6.0 EV at 1.0 EV step, off)
Shooting Tips: Yes
Sweep Panorama: Horizontal (Wide/Standard), Vertical (Wide/Standard)
Convenience Features
Still Image Playback Options: Single, 6/12-frame index view, Enlarged display mode, Panorama (Standard), Panorama (Wide): 34x), Auto Review, Image orientation, Slideshow, Panorama scrolling, Folder selection, Delete, Protect
Video Playback Options : Forward/Rewind
Flash
Flash Compensation: +/- 2.0EV (1/3EV steps)
Flash Coverage: FOV coverage up to 16 mm (in the focal length)
Flash Modes: Autoflash, Fill-flash, Rear sync., Slow sync., Rear Sync., Flash Off, Wireless (with external flash sold seperately)
Flash Type: Built-in flash. Sony System Flash (Compatible with Multi Interface Shoe and Auto-lock accessory shoe with the adaptor (ADP-MAA (Sold separately)
Guide Number: 6 (in meters at ISO 100 equivalent)
Recycling Time: Approx. 4 sec
Other Features
Help guide: Yes
Area Setting: Yes
Clock Function, Setting: Yes
Eye-Fi ready: Yes
Shop Front Mode: Yes
Wi-Fi
PlayMemories Camera Apps: Yes
Send to Computer: Yes
View on Smartphone: Yes
View on TV: Yes
Operating System Compatibility
Windows XP SP3, Windows Vista SP2, Windows 7 SP1, Mac OS X (v10.3-10.8)
Battery
Battery Type : InfoLITHIUM NP-FW50 (7.2V)
Number of Still Images
Approx. 270 images (Viewfinder), Approx. 360 images (LCD screen) (CIPA standard)
Power Consumption (in Operation)
Still images:approx. 2.5W (w/ E PZ16-50mm F3.5-5.6 OSS lens attached)
Movies: approx.3.9W(w/ E 18-55mm F3.5-5.6 OSS lens attached)
Power Consumption (ViewFinder Operation)
Still images: approx. 3.3W (with E PZ16-50mm F3.5-5.6 OSS lens attached)
Movies: approx.4.1W(with E 18-55mm F3.5-5.6 OSS lens attached)
Dimensions WxHxD
4.7 x 2.6 x 1.7″ (119.9 x 66.9 x 42.6mm)
Weight
Approx. 10.1 oz (287g) excl battery & media
12.2 oz (345g) w/battery & media
Nex-6 Price: ~$898 (body Only)

Nex-6 (body only) ~$898 US @ BHPhotoVideo >> | Amazon >> | Adorama >>
Nex-6 w/16-50mm lens ~$998 US @ BHPhotoVideo >> | Amazon >> | Adorama >>
Sony 16-50mm F3.5-5.6 OSS (Pancake) Zoom Lens – SELP1650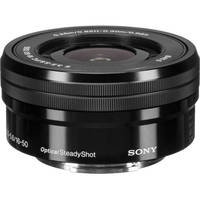 Measuring just 1.17″ (29.9mm) when fully retracted, this SEL-P1650 retractable zoom lens is super compact and easy to carry so you can quickly whip out your camera and spontaneously grab shots as they occur. It's perfect for traveling and other scenarios that require a lightweight, compact camera and lens combo. It covers a 16mm to 50mm range (35mm equivalent = 24-75mm) for flexible shooting, and is equipped with one ED (extra-low dispersion) and four aspherical elements, resulting in a high-performance lens that is surprisingly compact.
Key Features:
Compact and lightweight design for excellent portability thanks to retract-ability down to a mere 29.9 mm
POWER ZOOM for smooth zooming with superb operability and quietness
ED glass and Aspherical lens elements for excellent performance with reduced aberrations
Built-in image stabilization
SELP1650 – Full Specs
| | |
| --- | --- |
| Lens Type | E-mount 16-50mm F3.5-5.6 |
| Lens Mount | Sony E-mount |
| Lens Construction | 8 groups, 9 elements (4 aspheric surfaces) |
| Focal length (35mm equivalent) | 24mm-75mm |
| Angle of view | 83° – 32° |
| Aperture blade | 7 blades (Circular aperture) |
| Aperture (Max.) | F3.5-F5.6 |
| Aperture (Min.) | F22-F36 |
| Maximum Magnification | 0.215x |
| Minimum Focusing Distance | 9.8″ (0.25m) |
| Filter Diameter | 40.5mm |
| Image Stabilization | Optical SteadyShot |
| Mount Material | Metal |
| Exterior Finish | Black |
| Dimensions (Max. Diameter x Length) | 2.54″ x 1.17″ (64.7 x 29.9mm) |
| Weight | 4.1 oz (116g) |
Full Feature Breakdown
Compact and lightweight design
Despite a 3x magnification ratio covering 16 mm to 50 mm (24-75mm 35mm eq.), the SEL-P1650 is thin and lightweight thanks to a retracting mechanism that reduces the lens to just 1.17″ (29.9 mm). It truly enhances the portability of E-mount cameras, giving users the means to capture spontaneous moments when on trips with a light and compact camera/lens combination.
ED glass and Aspherical lens elements
The SELP-1650 is equipped with one ED and four Aspherical elements, resulting in a high-performance lens that is surprisingly compact. The elements correct for curvature of field on the wide-angle side and spherical and chromatic aberration on the telephoto side for beautiful, accurate, high-contrast reproduction across the entire image.
POWER ZOOM for smooth zooming
The SEL-P1650 is the first lens with an electrically driven zoom me chanism. As soon as the camera is powered on, the lens extends and is instantly ready for shooting. A dual-function control ring is used for both zooming and manual focus.
Built-in Optical SteadyShot image stabilization
The built-in Optical SteadyShot image stabilization system provides a 4-stop (approx.) shutter speed advantage, making it significantly easier to achieve crisp, blur-free images and video.
Price: ~$348
Compare Prices @ BHPhoto (Click Here) Amazon (Click Here) Adorama (Click Here)
Your support is greatly appreciated as we run this site in our spare time and are not paid. We can however, make a small commission if you click a product link that your interested in. That click will then give us credit if you choose to purchase any given item. This has no effect on the cost of the product, and is a simple way to give back to SonyAlphaLab.com for the effort and info we provide.
Tip Jar: https://www.paypal.me/SonyAlphaLab
Support SonyAlphaLab by becoming a | Patreon
Also, be sure to keep following us on Google+ | Twitter | Facebook |
Direct Shopping Links – Thanks for your Support!!
BHPhotoVideo | Amazon – US | CA | UK
Thanks,
Jay