I've found more and more cool Accessories for the Sony Nex Camera System lately, so I decided to put an article together on the subject 😉 I also get lots of questions about batteries, filters, cases, camera bags, tri-pods, you name it.. I have several dedicated guides for accessories Here >>,  but it can be overwhelming if you don't know what you're looking for exactly.
In this article I will give you the low down on the good stuff with direct links of course to the best venders on the web!!  I wanted to start with some Nex Camera Accessories that are available from Sony first, then I will move on the the world of aftermarket goodies!!
Most Popular Sony Nex Accessories
If you know of any other cool Nex Accessories worth mention, please let me know, or just drop a link in the comments area so we can all check it out!!
LA-EA1, and LA-EA2 Lens Adapters
| | |
| --- | --- |
| | One of the most powerful accessories for the Sony Nex camera system is the LA-EA2 lens adapter!! This adapter allows you to use Alpha Mount lenses on your Sony Nex camera, and have full phase detection autofocus, pretty much turning your Nex camera into a DSLR!! Hence the hefty price tag of  ~$279 US. The LA-EA1 lens adapter does the same thing as the LA-EA2 except it doesn not have the Phase Detection module and translucent mirror technology built-in. Therefore it's a much cheaper alternative for using A-Mount lenses on the Nex E-Mount camera system. It will only use the native contrast detection Autofocus though which is much slower than the full PDAF that the LA-EA2 offers. The LA-EA1 goes for ~$140 US. |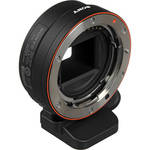 Old School Lenses and Lens Adapters
Lens adapters for Old school lenses are also extremely popular and I have a few myself for adapting the Minolta MD/MC lenses and Canon EF lenses to my Nex. I have a pretty solid guide for these adapters and lenses here >>, but I own the RainbowImagining and Fotodiox adapters if you are wondering 😉
Ebay Auction Quick Links for most common adaptable Lenses:
 OLED Viewfinder
The OLED electronic viewfinder fits the NEX-5N, Nex-5R and Nex- F3 Cameras, and is a must have for shooting sports, or anything fast-moving for that matter 😉 I used the OLED (FDA-EV1S) with the Sony Nex-f3 and it made taking photos in the bright sun a breeze. I could not see the screen to focus, so without the viewfinder would have been a crap shoot. This is why I opted for the Nex-6 with the built-in viewfinder 😉 The OLED also flips 90 degrees upwards so you can look downward into the viewfinder from the top of the camera.
Nex Flash Options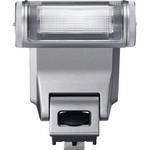 Some of the Nex cameras like the Nex-7 and Nex-6 have built-in flash units, but the Nex-5n, 5r, and F3 do not. They have an accessory port that accommodates lots of things, including the basic flash that comes with the camera. It's worth considering the upgrade to the HVL-20S if you want to double your effective flash range! It also has a bounce option which can be much more effective for indoor use. If you're pimping the Nex-7, you're going to have to look at the alpha mount model flash units, like the HVL-20AM.
With the Nex-6 having the standard hot shoe, you can upgrade and get really awesome performance with the HVL-F60M flash unit. At $548 US it's not cheap, but you get what you pay for as it has a video monitor light on it as well as top quality power and features. Metz (click here) also makes a few flash units that work really well with Sony alpha cameras for a more affordable price than some of the Sony models. I've never tried one of these Metz flash units myself, but several readers and forum users have and seem to them!!
There are also a ton of really cheap aftermarket Nex Flash Adapter options Here on Amazon >>
Protective Cases
Cases for the Nex cameras are really starting to come down in price and become widely available. The also range in quality from the thick leather style to the cell phone case style covers. Take a look at a few I found on Ebay!
This first case below is a cheaper imitation leather one I found on Ebay (Click Here), but it looks pretty nice for the money I must say!! Only $21.00 US, but the shipping will take a pretty long time coming from China direct at 10-20 business days per the item description. Great feedback rating though so take it for what it's worth!!
Leather Explorer also makes a nice case for the Nex-6 and Nex-7 and can be found on Ebay (Click Here)
Next we have the Gariz cases which are very high quality!! Here is the link to all the Sony Cases on Ebay (Click Here)>>
Check out the quality of this fine leather Gariz case for the awesome Sony DSC-RX1!
Gariz also makes a pretty nice leather lens cap sticker that dresses up the cap to match your case, but also has a tether so you don't lose it every other second like I do 🙂 (Click Here) on Ebay
Cool Lens Hood/Cap
I saw this really cool lens hood the other day from Hoocap for the Sony Nex Kit Lens that works as a lens hood and cap in one. It's also retractable and much faster than doing it the old-fashioned way. I have not tried this product, but I may order one just to check it out as it seems really function to me!! Check it out below and (Click Here) on Ebay!!
Extra Batteries
I got a set of those popular aftermarket batteries from Wasabi on Amazon for Christmas and so far I'm pretty happy with them. They claim the same power as the stock Sony NP-FW50, but they give me about 75% of what I get out of the stock battery. However, you still get two and a charger for almost the same as the stock battery!!
Other Accesories
Standard accessories like lens filters, tri-pods, camera bags, ect can all be found in the main SAL Accessory Guide Area Here >>
Quick links to all accessory guides below:
Closing Remarks
I hope you guys got something out of this quick article on Sony Nex Camera System Accessories, and be sure to let me know in the comments area below what your favorite accessories are!!
Thanks, Jay