In my last article for Sony Alpha Lab I shared some of my thoughts on landscape photography and I also shared a Lightroom trick I use to make your skies look a deeper color of blue. In this article I'll be sharing a few more tips to improve your landscape and travel photography. With my landscape and travel photography articles I like to share techniques I use that doesn't cost much money. If you have a camera you can get started and that's one of the things that's so great about this kind of photography.
Start Small
If you're new to landscape and travel photography things may seem overwhelming. You might travel to a scenic location and see an over-the-top photographer (like me) using a remote cable release to trigger a large looking camera fitted with a crazy big lens sitting on a very sturdy looking tripod. Another thing you won't see is that same photographer sitting in front of their computer monitor spending hours working to get the final image exactly how they want it to look. But it's important to know that the photographer with all the expensive gear and the vast Photoshop knowledge probably started small. I know I did. What's important when you're just starting out is to have a camera, the desire to capture an image, and willingness fail from time to time as you learn to improve. With photography the gear can be pretty important but it's not as important as your personal vision, having a willingness to travel, waking up early and learning to get the most from your gear.
If you find that you enjoy this kind of photography then investing in items like a tripod, a remote triggering system, a high resolution camera and some killer software for processing your images are the next steps. There's always room to grow but some of the biggest improvements to your photography can come from using some simple techniques. Here's a few that work great and won't cost you any money.
Shooting During Golden Hours
One of the things you'll hear a lot from landscape photographers is that they capture images during golden hours. I've heard it said that the best photographs are captured in just two hours of the day. The "golden hour" right around sunrise and the "golden hour" right around sunset. Those are great times to be shooting and I try to take advantage of those times of day for most of my shooting. Golden hour shooting has been one of those special techniques that always helps me take more interesting pictures.
To show what a difference the time of day can make I'd like to share two shots that illustrate what a difference an hour can make in your photography. First here's a shot of the US Capital Building (in Washington, DC) that I captured just minutes before sunrise: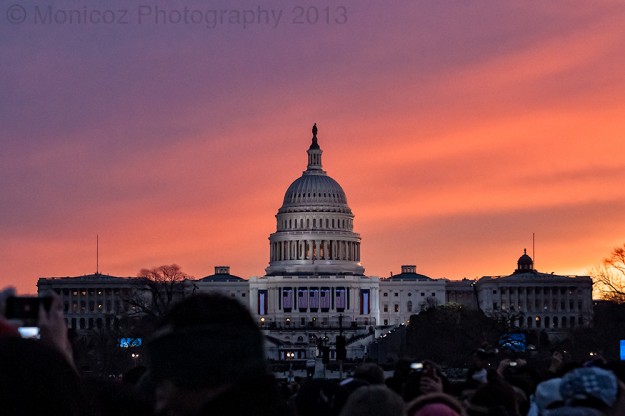 I captured this image on the morning of the 2013 Presidential Inauguration from the National Mall. According to the file metadata I took this shot at 7:19am. This time of the morning is just before sunrise and it's called civil twilight. There's some really great online resources to help you know when civil twilight and sunrise begins each day. I like to use the US Naval Observatory website to help me plan my landscape and travel photography trips.
Now lets take a look at the same shot, captured at the same place with the same camera and lens but one hour later.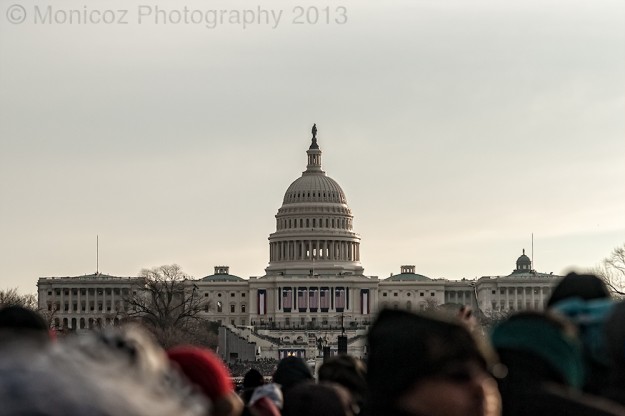 Technically this is a fine looking shot but it lacks the colors of the civil twilight shot. And the only difference is that it was captured one hour after the first shot. If you ask me that's a pretty good example of what a difference an hour can make for your photography.
Shooting in the Dark
Golden hour shooting can get you some pretty spectacular looking colors but you can also capture some pretty interesting shots before civil twilight and after the sun sets for the night. When you have a cool looking subject like the US Capital building (and it's being lit up) having the black of night for a background can really put a viewers attention on your subject (in this case the building). Here's a look at the exact same shot of the US Capital Building that I captured before civil twilight: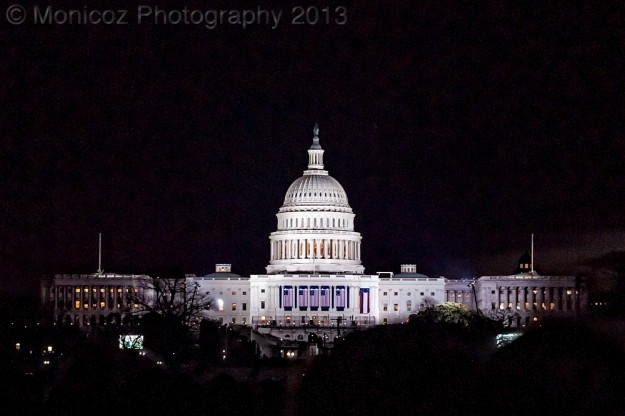 This shot was captured about an hour before my civil twilight shot (around 6:30am). My camera was manually set to 1/125th of a second, f4 and ISO 1600 to capture this shot without a tripod. I was in the middle of a pretty large crowd of people so a tripod and optimum settings wasn't going to happen. But the point I wanted to make by sharing these three shots is that there is a world of difference in images captured at different times of the day. And the least exciting of the three shots is the one captured after sunrise (when the sky looked boring).
Landscape and travel photography tip: images captured early in the morning or late at night often have more interesting colors
Here's another example. I captured this shot in the early evening on a visit to the Shenandoah Mountains: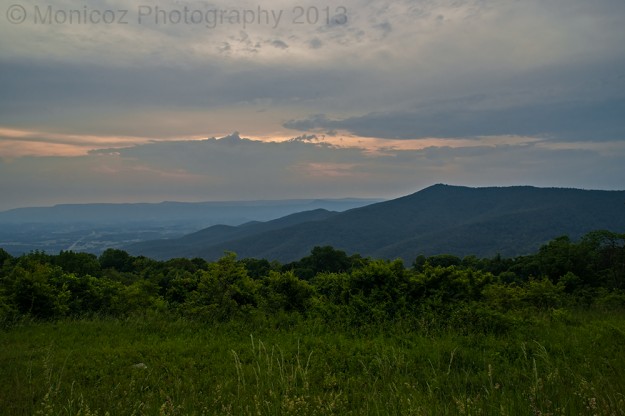 According to the metadata this shot was captured a little after 7:00pm and it's technically fine looking. But it's lacking the colors that happen closer to sunset. To give you an idea what I'm talking about here's another shot I captured on the same day but one hour later: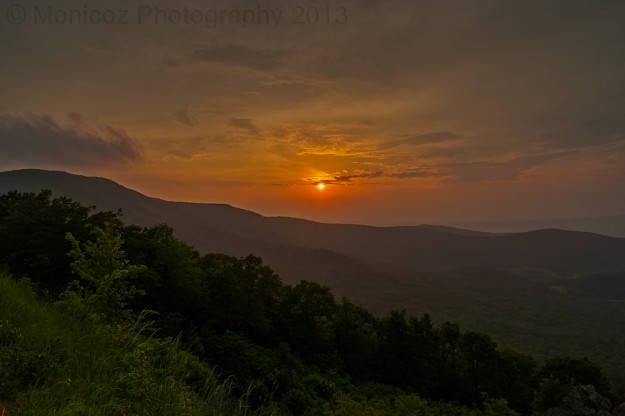 What a difference an hour makes! This image was captured at 8:00pm and when you look at it you can understand why it's called "golden hour". To me the shot of the setting sun is the better shot and the only thing that changed was the time of day. You don't always get killer colors just because you're shooting during golden hours and that leads me to my next tip for getting better landscape shots.
Come Back to Your Favorite Scenic Locations
Here's a sentence I hear all the time:
"I've been to that same place but my pictures sure don't look like that."
When I reply by asking how many time they've visited that location the answer I usually get is:
"Just once."
One of the reasons my pictures look different is because I like to return to locations time after time until I capture the images that I share. When someone views one of my shots they are not seeing the countless images that I captured over years of shooting a location. When I find a location I like I shoot it a lot. I shoot it in the morning, during the day, in the evening, at night, in all seasons and in all kinds of weather. I study the history of a location and I try to become an expert about the location. My favorite shots of a location almost never happen on my first visit.
Landscape and travel photography tip: when you discover a location that you love to photograph return often to learn the best times for great light and experiment with different angles to shoot from.
This sounds like a simple tip but it's something I hear from a lot of the top landscape photographers. If you find a location that you like you must return to it time and time again. You need to try capturing images at different times of the day, in different months of the year and in all kinds of weather. I believe that when you find a photography location/subject you should become an expert on it. Shoot that location/subject so much and in so many different conditions that people seek you out to find out about the images you capture there.
Why do I recommend shooting the same thing so many different times? I have many reasons. The biggest is that it's easy to be overwhelmed by what you're photographing on that first visit. I see this all the time and I've experienced it myself. I'm someplace incredible and it's taking my breath away. I break out my camera and the first shots I capture end up looking just like every other picture ever captured of that place. Washington, DC has that effet on me every time I visit. Here's an example of a shot that I took of the Jefferson Memorial (in Washington, DC):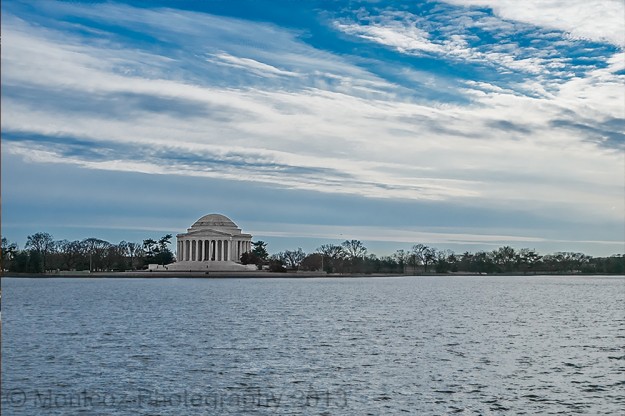 This image was captured from the banks of the Tidal Basin and it's a pretty good looking shot. But it's also the exact same image that millions of people have taken over the years. Long story short – it's nothing special. Now here's a shot of the same building but from a different time of the day and in the spring instead of the winter: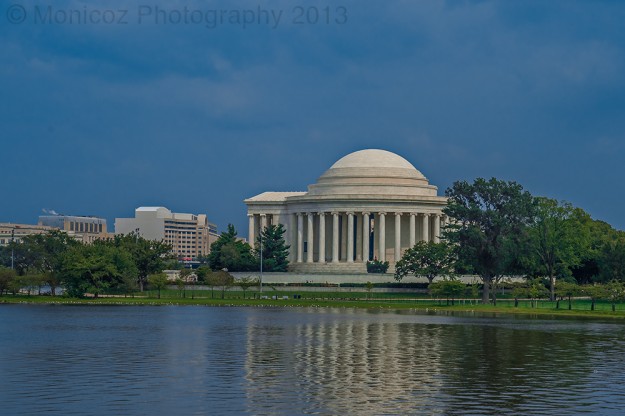 Getting a side shot was a different look then the straight on shot and having the green grass and leaves on the trees helped to give the shot a much warmer feel (even though most of the shot is dominated by cold colors). By walking around the Tidal Basin I started to see different compositions and that gave me ideas for returning to shoot a similar image during the anual cherry blossom festival. Here's a shot from a similar angle but taken during cherry blossom festival: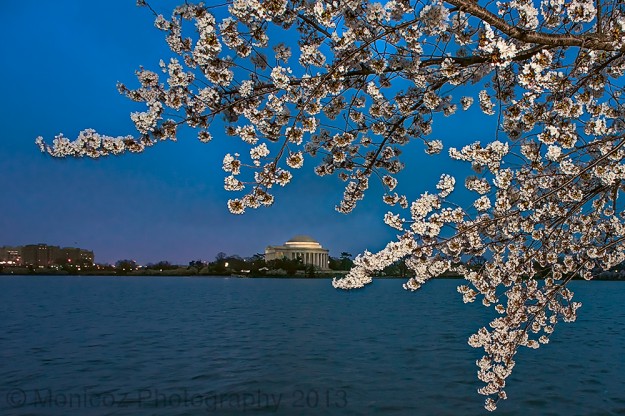 Same building but captured at a different time, at a different date. I captured this image when the DC Cherry Blossoms were blooming and even though the weather wasn't perfect I was building on my knowledge of the location and capturing different looks. If you ask me this is a much more interesting image and there's far fewer people who have an image of the Jefferson Memorial that looks like this. As photographers we want to show images that others are not capturing and when we visit a location for the first time it's super easy to capture the standard tourist images.
I liked the above cherry blossom shot but the one thing that didn't work out for me was the weather. I planned my visit and I arrived hours before sunrise to get ready for the colors of civil twilight. I was ready to go but the rainy weather meant golden hour was anything but golden. And that's why you might need to return to a great location several times until you catch that perfect morning (or evening) when the skies cooperate completely. Here's another shot of the cherry blossoms that I captured from a similar angle but in a different year: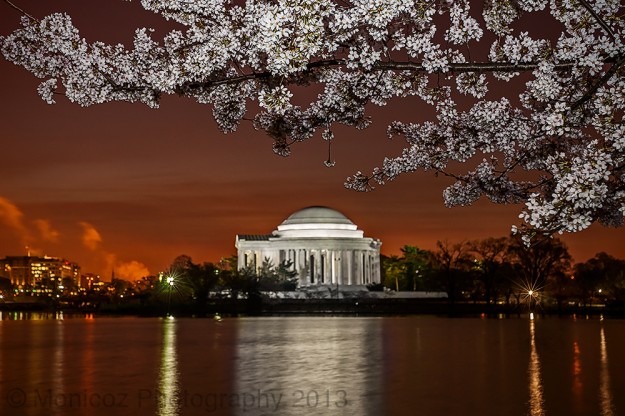 When I took this shot I really got some golden hour color in the sky. I've shot the DC cherry blossoms for years and every time I go I capture something different. On each return trip I experiment with something (location, lens choice, adding in flash, etc.) and that helps me to take better pictures every time I come back. I continue to visit my favorite locations like parks, memorials, lakes, battlefields and even theme parks where I like to capture landscape and travel images. And with every new visit I learn a little more about getting better shots at that location.
It's not uncommon to make a first visit to a great location only to capture some pretty standard looking shots. But after that first visit we feel free to capture different shots (because we already captured the standard stuff back on that first trip). With each successive visit to an old location we should be trying new angles, new compositions, different settings, new focal lengths and different times of the day to capture images. Over time we build a library of images that helps us to become more knowledgable about capturing the kind of shots that become our own style of photography.
One final thought about making numerous trips to a location you enjoy shooting. I can remember shooting on film and back then I used to take lots of notes about the time, date, location, film choice and camera settings for my shots. Thankfully those days are behind me with with digital photography. Todays cameras store lots of information about every shot you take (as metadata) right in the image file. When I need to figure out something specific about a location I'm visiting I can look up an older picture that I like and from the metadata I can find the time and date the picture was captured. With software like Lightroom you can search for images and organize them by time and date. I know plenty of photographers with GPS accessories that pinpoint the exact location where a shot was taken from (which is awesome for location scouting). That sure beats bringing a notepad and a pen.
Summing Up
In this article I shared some techniques for improving your landscape and travel photography that didn't cost a thing. When you get to know a location and you start shooting at times when you get incredible light you'll increase your chances of capturing images that can't be recreated with super expensive gear used in a poor location at the wrong time of day. Don't misunderstand what I'm saying – having good gear is great and it can help you take better pictures, but to get the most from your equipment it's super important to use proper techniques. I know some incredible photographers who can capture amazing images with little more than a camera phone because they understand lighting and composition. Just imagine the images you can create when you combine good technique and top quality equipment.
I pay particular attention to the time of day, the day of the year and the places I choose to set up my camera. By doing these thing you'll be capturing some really incredible images in no time. Persistance, determination, patience and a willingness to occasionally fail (while learning from your experience) don't cost a penny and when you possess the right attitude  you can do more for your photography than spending thousands of dollars on a new piece of gear. When you have  a great attitude, an awesome location and a good alarm clock (if the weather cooperates) then adding in some good gear can help you make even better pictures. If you made it this far I think you already have the right frame of mind so I encourage you to think about a great location, wake up super early and get out there shooting. While you're there think about when your schedule will open up for a return visit. When you apply proper techniques and the tips in this artilce your landscape and travel photography will certainly improve.
In a future article for Sony Alpha Lab I'll start talking about the gear I'm currently using and how I'm getting the most from it when I'm out shooting landscapes or vacationing. I'm also planning to talk about how I add people to my golden hour landscape shots.
If you're interested in seeing more of my Washington, DC images from the 2013 Presidential inauguration you can see them on my personal blog here.