As a long time user of Adobe Lightroom and Photoshop I thought I'd take a few minutes to talk about the brand new Lightroom 5 (public beta version) and share a Mini Review of this killer piece of software. Lightroom 4 is an important part of my personal photography workflow and when I think about what it does to improve my images (and keep all of my images organized) I consider the current price of $149.99 a bargin.
It's important to note that I'll be talking about the same version that is now available as a free download directly from the Adobe Labs website. It's a public beta version of a piece of software that was designed specifically for photographers. As a public beta this isn't a finished piece of software. It is, on the other hand, a full version of Lightroom that doesn't limit functionality like a typical 30 day trial version. You don't have to worry about some features being unavailable (greyed out) or a huge ugly watermark appearing on your final image. I recommend downloading and trying Lightroom 5 (public beta), but don't forget that you should only be using final release software for your important projects (what I call: "production work"). If you're a full-time photographer and you're on deadline you should stick with your existing workflow and software of choice. I view beta software as an opportunity to try out a new piece of software and to be a positive contributor to the software maker as they fine tune an upcoming product.
Library Module Improvements 
Let me begin by saying that Lightroom is awesome (and it does considerably more than I take advantage of). Before Lightroom 5 public beta was released I was working on a series of articles that talked about Lightroom 4 and how I like to use it. I'll still be sharing those articles but I put that project on hold to talk about some of the newest features that are part of Lightroom 5.  I've used almost every part of Lightroom but right now I focus on how it can help me and my workflow (which uses other programs like Photoshop, Perfect Effects and Nik Collection by Google). Every picture I take comes into Lightroom and it all starts with the Library module.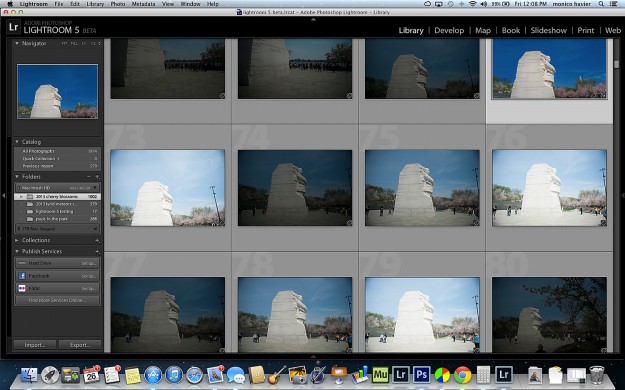 The image above is a screen capture of the Lightroom 5 (public Beta) library module after I imported a series of images. These shots are from a recent trip I took into Washington, DC.
I always begin by importing my images into Lightroom and adding important information like copyright info and keywords to help my images be easier to locate. Once everything is imported I can create collections and quickly review (and rate) the images. By rating the images I can quickly and easily decide which images will be further developed (super important when you're shooting thousands of images).
Smart Previews
One of the coolest new features of Lightroom 5 is the ability to create a "smart preview" of an image (or many images). If you store your images on a separate hard drive (like I do) then this is absolutely awesome. For me, I take a lot of pictures and I use a laptop for my editing. With only 500GB of onboard storage I rely on external hard drives to keep me from filling my system hard drive. I bring new images onto my laptop computer for editing but after the project is closed I'll move my RAW files to external hard drives. With "smart preview" I can keep a small version of an image stored on my laptop that is editable and exportable (in a reduced size). This is great when you need a small print or you have to export an image to use on a website, blog or social media site. And when you connect your external hard drive all your changes will be transfered to the full sized file. Awesome! I can't wait to create a full collection of smart previews when the final version of Lightroom is released.
To create a smart preview you just click this icon to open the smart preview dialog.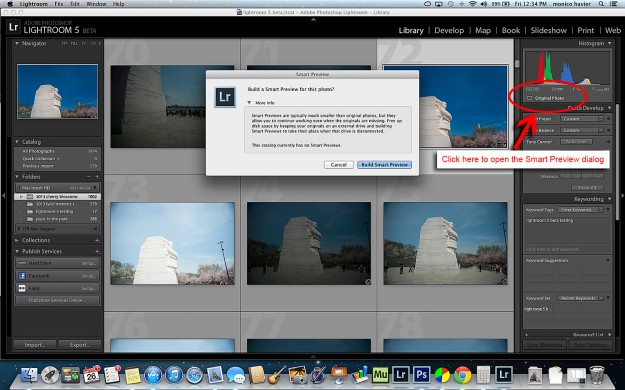 I think this is a great addition and I can't wait to take full advantage of it.
Develop Module Improvements
The develop module received a majority of the headline upgrades. Most of my time in Lightroom is spent working in the Develop module and any additional tools or upgrades here are are always welcome. Among the biggest improvements is a brand new way to use the spot removal tool.
The New Spot Removal Tool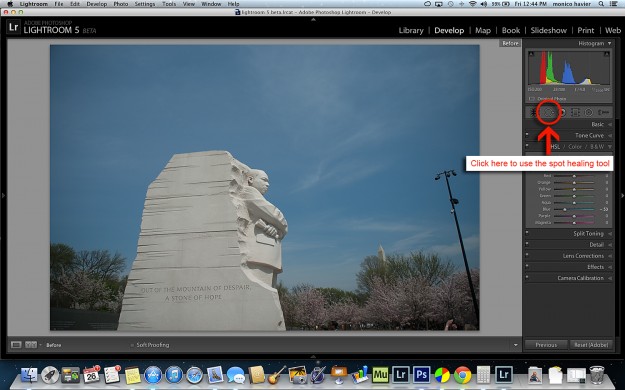 Users of earlier versions will recognize this tool and they know that it was a great way to remove dust spots from your landscape images or blemishes from your portraits. But it was limited because it could only "fix" a circular area. if you had something you wanted to remove like the light pole in this image you had to go over to photoshop and use the patch tool, content aware fill or the clone tool (and sometimes all three). The newest version of Lightroom gives you the ability to brush your fix across a larger area (like the healing brush in Photoshop). Here's a look at the spot healing brush being used to remove the light pole from my image: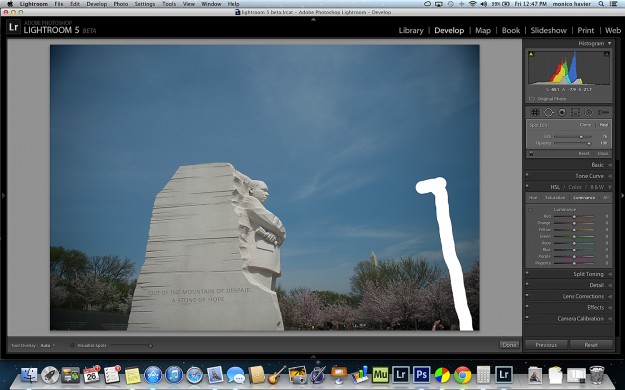 Now when you finish brushing (selecting the area to fix) with the spot removal tool Lightroom looks at the image and tries to make a best guess for an area to sample for the fix. You can see here that Lightroom removed the light pole and did a pretty good job of choosing where to get the information from: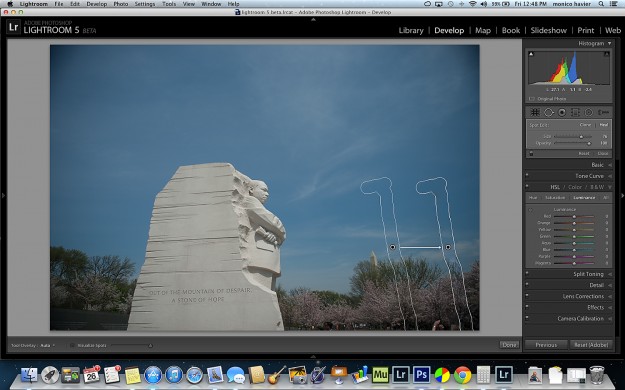 Is it perfect? No it isn't but it's way better than what you could do with Lightroom in the past. Here's a close up look at the fix: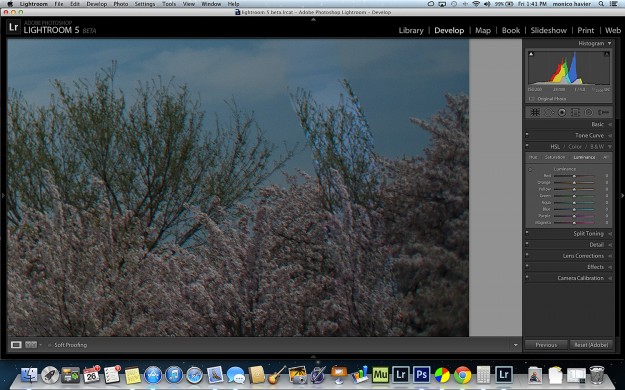 Up close it doesn't look very good but trust me when I say that it's better than having a big distracting light pole in your shot. With a little playing around I can make it look much better but for this article I wanted to share what Lightroom did. The point here is that you can do a pretty big fix to a picture and if you're exporting the image at a small resolution for posting on the internet (or a small print) nobody will see the trouble spot. The main focus of the image is on the other side of the shot and without the light pole most people won't be looking for problems. If you want the fix to be perfect you really need to take the image over to Photoshop. And remember, older versions of Lightroom couldn't even come close to a fix that looks this good.
Visualize Spots
Here's a new feature I absolutely love. New to Lightroom 5 is an easy way to locate dust spots in your image. Dust spots usually happen when you're shooting and you need to change lenses. There are things you can do to minimize dust getting on your sensor but it still happens. The Lightroom spot removal tool is a perfect way to take care of most of these problems. And the best part of fixing dust spot in Lightroom is that because dust spots don't usually move  you can fix one image and apply that fix to numerous pictures (this is done by selecting images and "syncing" the fix across all the selected images).
Unfortunately, dust spots aren't always easy to find in Lightroom. If you opened the image in Photoshop you could invert the image and that would really help you see where the dust spots were. If that didn't work you could create a custom curve adjustment layer and create a crazy looking curve to make every last dust spot easy to find. Now Adobe has added a killer new way to find dust spots without leaving lightroom. Here's a look at another image and where the new feature is located (note – you need to have the spot removal tool active to see this option):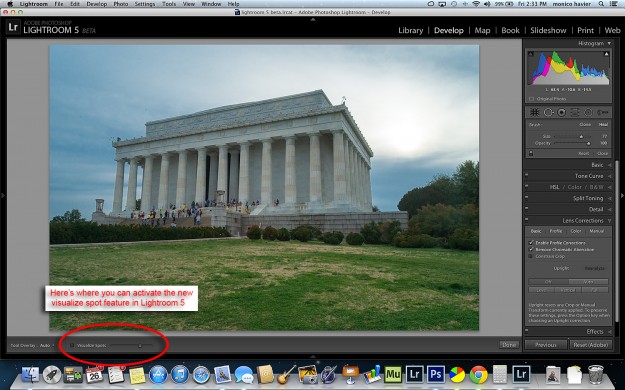 Before I show what happens when you turn visualize spots on let's look at an area of this image that I know has some dust spots: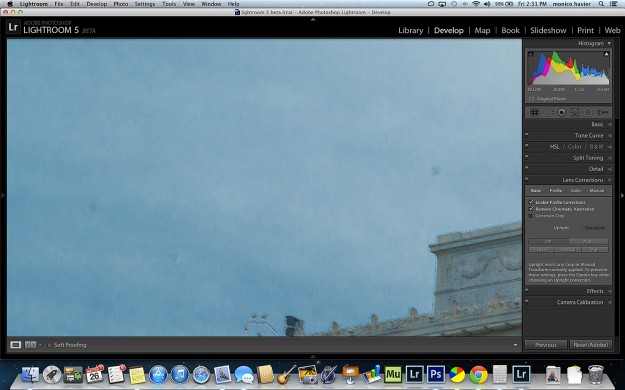 If you look close you can definitely see some dust spots when you zoom all the way in. Now lets turn on the new visualize spots tool and see if it helps to see the spots: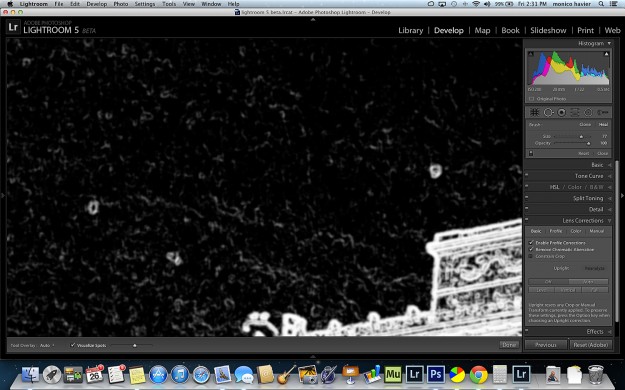 If you're having difficulty seeing the spots here they are circled in red: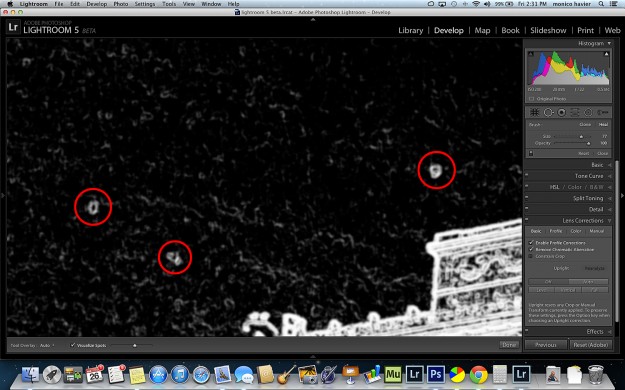 These spots were pretty easy to find but if you have a spot in a white cloud it's much tougher to locate. That's when you can move the slider to the right to get a more detailed look at your image with the spot visualizer. I've tried it with numerous images and I'm happy to say that it works great!
Upright
Here's another new feature that some people will love. "Upright" is a brand new application of content-aware technology that looks at an image and tries to correct for some of the geometric problems you have when photographing things like buildings. The way lenses work you can't look up at a tall building without distorting the image (unless you're using a super expensive "tilt-shift" lens). Personally, I don't mind a little geometric distortion but sometimes I need to deliver images to clients that have vertical lines perfectly vertical. In Lightroom 4 there's plenty of distortion great adjustments you have access to in the lens correction panel. If you want to get even more advanced you should to go to Photoshop where you have even more powerful tools (like the Adaptive Wide-Angle filter in Photoshop CS6). With Upright in Lightroom 5 Adobe has created a one click option that does a pretty good job of (intelligently and automatically) making some difficult geometric corrections. Here's where the new upright controls are located: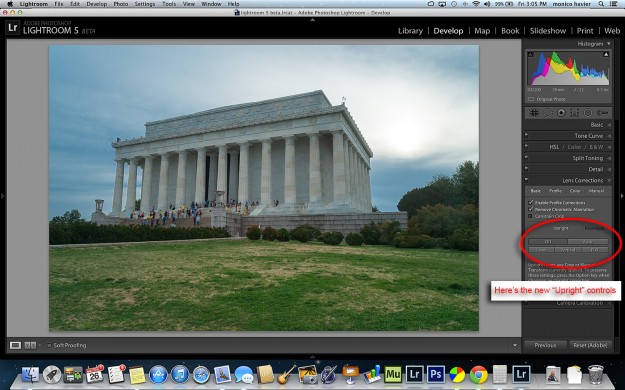 To use this new feature just click the "Auto" button and watch as Lightroom fixes vertical and horizontal lines in your image. Here's what it did with my Lincoln Memorial image: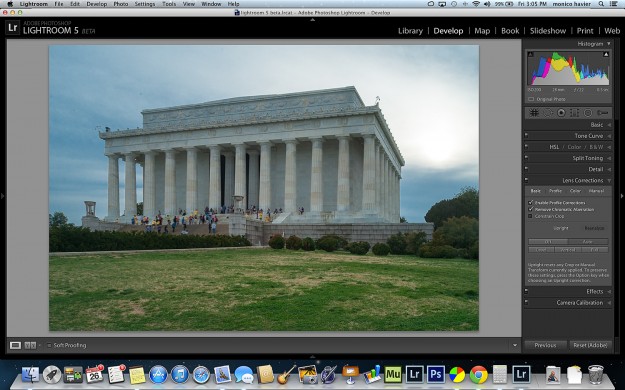 Is it perfect? Not at all. But I chose this picture because I shot it from a location and angle that would really make the geometric distortion obvious. The columns are actually good but the problem I see is that it makes the monument look a little "squished" (something that's pretty easy to fix in Photoshop with "free transform"). I'm impressed with what it's doing but this particular image looks better with a bit of geometric distortion (not perfectly vertical columns). With some pictures it did a great job for a one-click solution.
The Radial Filter
Here's another addition to Lightroom 5 I'm super excited to see. It's called the "Radial Filter" and it's a perfect tool for darkening parts of your image or brightening others. Photographers have always used something called "vignette" to direct a viewer of an image to the center of the picture. Viewers naturally seek out the brightest parts of an image first and darkening the edges of a shot helps to keep your attention in the middle of an image.
Currently Lightroom has a great effect you can add called: "post crop vignette". By using this effect you can easily adjust the darkness of the edges on your shot. It works great but you're limited to a circular shape for your vignette and it is always centered. The new "Radial Filter" lets you create circular shapes (including elongated oval shapes) anywhere on your image. Plus you can use it to lighten your selected area to create effects that you could only make with lighting or Photoshop. Here's a look at where the new Radial Filter is located: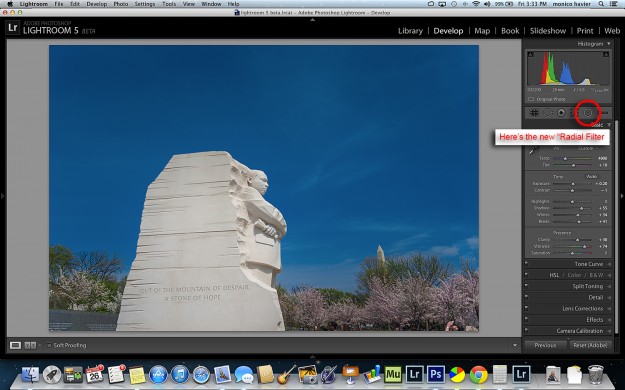 Here's an example of how I'd use this new filter. By creating an oval around the MLK memorial I've selected an area to protect. Here's a look at my selected area: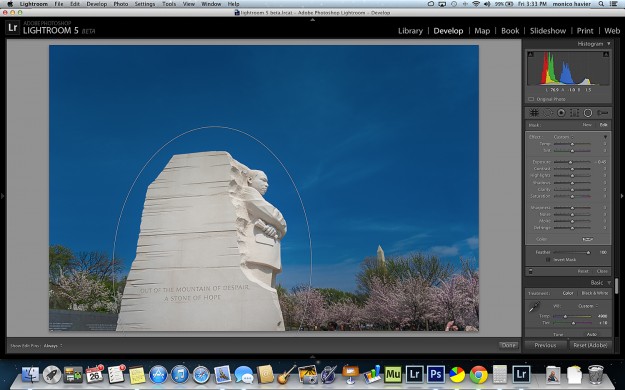 With my selection made I can apply any of the adjustments that I've always used with the Lightroom adjustment brush tool. AWESOME! Here's an example of what the image would look like if I dropped the exposure of the Radial Tool: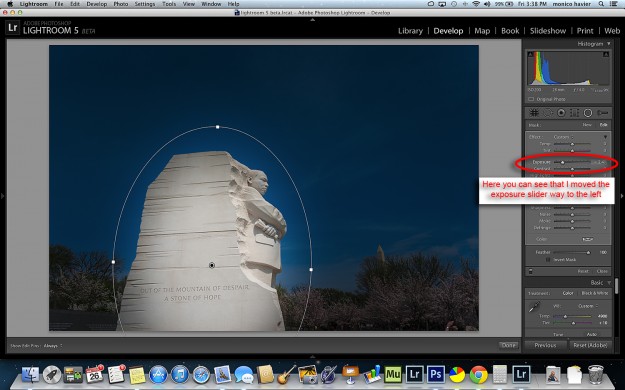 This was a lot more than the shot needed but it does show how it's darkening outside the oval selection and leaving the MLK Memorial alone. That's pretty cool if you ask me. For this next image I moved the exposure slider of the Radial Filter back to a normal number. Doing this makes the statue look a little brighter than the rest of the image (and that should bring your eye there first when you look at the shot):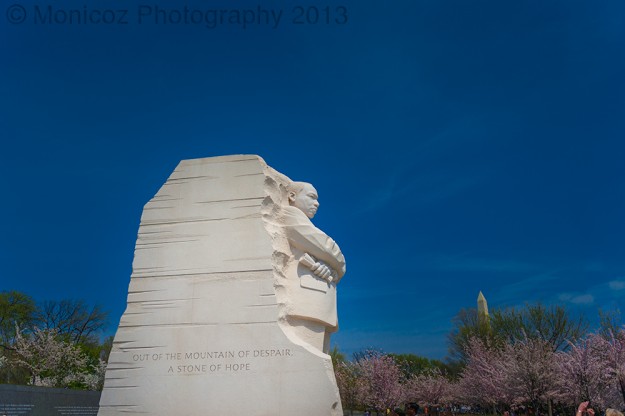 This is the final image completely processed in Lightroom 5 (public beta). Is it perfect? No, but if I wanted perfect I would have done some things in Photoshop (like the light pole removal). Overall I like how much Lightroom 5 could do quickly and easily and without having to go over to another program.
What Else is New
Along with everything I've mentioned above there's a lot of other additions that are part of Lightroom 5.
Here's a short list of new features:
Improved Slideshows with Videos and Still Images
Improved Photo Book Creation
PNG file support
True Full Screen Mode
Configurable grid overlays
Additional search criteria for filters and smart collections
Direction field in EXIF metadata panel
Integrity verification of DNG files
LAB color readout
persistent clipping indicators between Lightroom sessions
Crop overlay aspect ratios
Transparent buttons for improved Text creation in Books
and more…
Conclusion
So is this version of Lightroom perfect? Not quite yet. It's the best version of Lightroom I've seen so far but right now there's still some bugs (most have already been reported and should be fixed when the final version is released). If you upgrade your software with every version like I do then you'll be happy when the final version of Lightroom 5 is released. And when it is released I'm sure Photoshop CS7 will not be far behind.
If you want to try out Lightroom 5 stop by adobe labs to take advantage of this free public beta. If you've never used Lightroom before then this is a great chance to give it a try. Don't forget – this is not a final release version so I don't recommend using it for your production work.
Here's the link:
And if you do try out Lightroom 5 (public beta) be sure to share your thoughts about it here in the comments below.