I've been doing a lot of thinking the past few days about where the industry is heading in regards to photography, cinematography, and technology in general. It seams to me everything is moving so fast and towards Internet based means. So what does this mean? I don't know, but it sure seems like the point and shoot is officially dead and replaced with the modern smartphones. It took about ten years, but I think the sales have dropped enough and I really don't see anybody using them anymore. Almost everybody uses the smartphone in the real world or a more expensive looking bridge style camera, or DSLR like camera. Sometimes I will see people with a high quality RX100 style camera, but that is even pretty rare.
Sony and many other manufactures are trying to bridge the gap between video cameras and photography cameras. So basically what they are doing is giving the photography cameras some of the video cameras features, but of course not all of them. Sony in particular is holding the quality codecs hostage, and only allows for AVCHD when writing to the memory card. This is really the biggest bottle neck in quality today with the Sony photography cameras video quality. How the information is read off the sensor also makes a huge difference, and the processor itself also has a lot to do with it.
| | |
| --- | --- |
| | The Sony A7s for example has the killer S-Log2 Gamma codec, which increases dynamic range and overall information is increased. I really hope the Sony RX10 gets a firmware update to allow for this codec as well. That would be a really good move on Sony's part and the loyal customers would be extremely happy with that upgrade! It would really push me over the edge on getting that camera once I have a few pennies to spare. |
So where can the technology possible go from here? Organic sensors, curved sensors, Stacked sensors, new lens cameras concepts, it's really hard to say!
The Family Update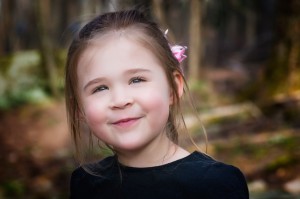 Some of you regular readers may recall I mentioned awhile back about having some financial issues and some other personal things I could not talk about, and I finally wanted to update you on the behind the scenes personal stuff. My wife Michele and I are having another baby and it's a boy this time! 🙂
So, we had to make some changes around the house, which obviously costs money, so I went from definitely getting the A7r to I can't afford it anymore without a good explanation. I did not want to mention this early, because you know how that can be in the early months sometimes and so on.. In any event Layla is going to have a baby brother soon and my computer room is now Layla's room and Layla's old room will be the new baby's room. The downstairs got all my photography and computer gear plus the large table I was using for our computers upstairs.
We are very excited and sorry for keeping you all in the dark, but I'm sure you understand why I don't share everything all the time with my personal life 😉 Clearly I show you a lot and pretty much tell you everything that is going on, so I honestly felt bad not letting you all know sooner.
So why the heck did I end up with the Sony Alpha A7r anyway then?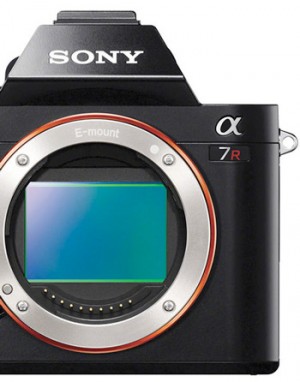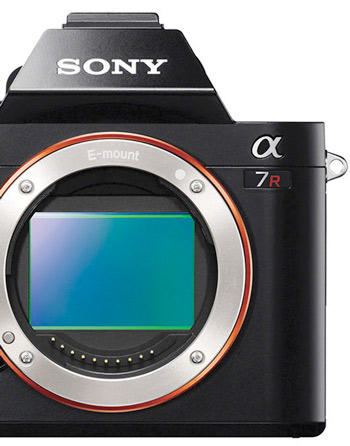 Now this is a bad news story unfortunately, but hopefully it will turn into a good one! So normally I review the photography gear and then send it back to BHPhoto a few weeks later, but if I damage the gear in any way I have to buy it, or pay for it to get fixed, etc.. That is part of the deal and part of the risk I take reviewing the gear. It's cost me over the years like when I broke the Nex-7 and had to purchase that pile of electronics that was left. I had to buy a Tamron E-Mount 18-200mm lens I broke, and most recently had to purchase the Sony Alpha A7r, because I damaged it 🙁 I scratched the rear lcd screen by accident and it's really not that bad at all, but BHPhoto can't send it back to Sony like that, so I had to either fix it our buy it. So, a serious credit card charge later and now I own the A7r even though I could not afford to spend the money due to the family situation.
So how did I scratch the screen? Well, I was pulling the power cord to one of my lights out of the ceiling outlets that I have in the studio. I tugged on the cord and it unplugged, which allowed for the power prongs to swing downward and hit the rear lcd screen directly. It put a small scratch the size of power cord plug lead pretty much. It honestly does not effect anything, but is visible to the naked eye.
Anybody want to make an offer?? I will get a photo up of the  small scratch asap!
The Lab Update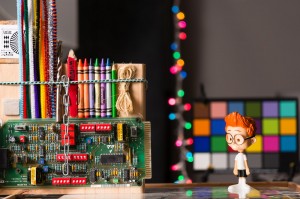 As you can see from the past few reviews I have made some improvements to the Lab and studio area downstairs. I now have a pretty permanent Lab setup that I'm overall satisfied with finally, but I will still improve upon in the detail and depth department of the scene as time goes on. I have ideas from time to time and usually they don't work out so well. Some ideas will take a lot of time to execute and that is why it's not done 😉 Like making a better 3-dimmensional rig to support all the detail items like the circuit board and so on. I have several designs in mind, but it's so hard to justify the time without really testing it out first. In any event it's a lot of fun coming up with new ideas and I would love to hear your thoughts and suggestions if you have them. I am always open to feedback good or bad and greatly appreciate it.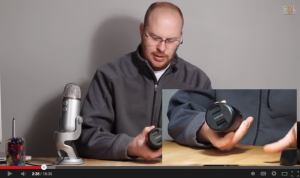 The large table is setup like a newscaster station pretty much with the plan to go green screen at some point in the near future. I'm still ironing out the wrinkles with the video lights and camera locations, but so far I'm pretty happy with the armature video review results 😉 What I really need is another two hands attached to rubber arms so I can start and stop the cameras by myself easily! Like I said, still ironing out the details and will figure it all out over the next few review cycles hopefully. Again, suggestions and feedback always welcome, because I want to produce the best reviews humanly possible! I've learned a lot about video recording, syncing up audio with video in post, and just video editing and filming in general. Clearly I have a lot more to learn, but the process has really been a lot of fun with lots of trial and error.
| | |
| --- | --- |
| | If you are wondering what lights I'm using it's the super affordable Impact 1250watt 3-light Mini-Boom kit from BHPhoto (Click Here) The extra light allows me to record video at much lower ISO levels and have more depth of field as well. I was using 2 x 100 watt halogen spot lights before and it totally sucked. The lighting was so dark I had to use ISO 3200 and f/4 most of the time which resulted in poor shadows and overall quality. Or I would use natural light which was also hard to find and also not very good for what I'm doing. Now with the new light kit I'm at ISO 400, f/5.6, 1/50sec, and using 1080/24p quality in manual mode for reference. The kit goes for ~$220 US and it was worth every penny in my opinion! I'm also using the Revo 47″ Camera Track Slider (Click Here), which makes it possible to get those cool panning video clips. |
The Forums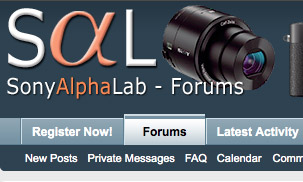 The forum has been pretty stable for some time and is getting lots of views based on the numbers I'm seeing. So, if you would like to join and share your work I would love to have you 🙂 I need to setup the user accounts manually, so just reply here if you would like to join and I will happily set you up with an account. If you want your work to get some exposure, it's not a bad spot! Also, if you are new to photography and are looking for a place to post and get some feedback on how to make the shots better or what settings to use for a certain look, etc., then the Forum is a great place because I will help you and the other users on the forum are all great people. No jerks to worry about on my forum, as everybody just wants to learn and share. It's not the most active forum though due to the low number of users, but I personally like it that way and we can build it together one member at a time 😉
Just take a look at what our newest member Yarnim just shared and some of the feedback/ advice I offered: http://sonyalphalab.com/forums/showthread.php?509-Took-while-hiking
Closing Remarks
That is about it for now everybody, but I really just want to take a moment to thank all of you again for the terrific support over the years and helping me create one of the best Sony camera and review websites on the web! With so many options and choices on the Internet to chose from it really makes me proud to see how far SonyAlphaLab.com has come over the past few years. Fighting through all the challenges such as hackers, website upgrades, sever upgrades, the building of the Lab, and the evolution of my reviews to the point they are at now. My first review was not to bad, but totally sucked compared to what I'm putting out nowadays. There is always room for improvement though, so bring on the feedback please!
A special thanks to those who recently donated as well! I only added the donate button on the top right of the website about a week ago and I already received two very generous donations! I am extremely grateful to say the least, and I will put all that money towards my next equipment purchase, whatever it may be. I'm thinking I need a new printer, but I also want that darn RX10 so bad.. I really need to sell the Sony A7r first though before I do anything really.. I will not bother you guys anymore with this support talk for a while. It's getting old and I really hate asking..
Take care everybody and sorry if the rambling was too much for you, but I really like to clear the air every once and a while with all of you. Now I feel better and can move on knowing I'm not "hiding" anything for lack of a better word..
Jay
Your support is greatly appreciated as we run this site in our spare time and are not paid. We can however, make a small commission if you click a product link that your interested in. That click will then give us credit if you choose to purchase any given item. This has no effect on the cost of the product, and is a simple way to give back to SonyAlphaLab.com for the effort and info we provide.
Tip Jar: https://www.paypal.me/SonyAlphaLab
Support SonyAlphaLab by becoming a | Patreon
Also, be sure to keep following us on Google+ | Twitter | Facebook |
Direct Shopping Links – Thanks for your Support!!
BHPhotoVideo | Amazon – US | CA | UK
Thanks,
Jay