So I received and email this morning about a killer deal on the Sony Nex-6! Only $524 US with the kit lens @ BHPhoto (Click Here) and Amazon (Click Here)
I own the Sony Nex-6 and can;'t really say enough good things about the camera. Image quality is fantastic and the hybrid sensor works really well in almost all conditions. Very low light it's a little weak for sure, but overall excellent for a mirrorless camera and I still use mine almost everyday. Occasionally it will sit for a week or so while I review something, but then it's either filming, testing a lens, or coming with me on a family fun day.
The bottom line is the Sony Nex-6 is one of the best mirrorless cameras ever made and is on a crazy one day sale for only $524 US! Take advantage if you're the type to not get the latest and greatest every time it comes out. The A6000 I'm referring to of course 😉
Killer Deal on the Sony Nex-6
$524 US with the kit lens and $497 (body Only) @ BHPhoto (Click Here) and Amazon (Click Here)
Save up to $200 on select Sony Lenses
Save up to $100 on select E-Mount Sony Lenses and $200 on A-Mount Lenses @ BHPhoto (ClickHere)
Sony 16GB SDHC Class 10 UHS-1 Memory Card for only $12.49 US @ BHPhoto (Click Here)
Mothers Day Ideas:
Mothers Day Deals and Ideas @ BHPhoto >> | Amazon >>
Latest Sony Rumors
Courtesy to SonyAlphaRumors for the latest on the New Sony RX100 III and Sony Alpha A77 II. Finally some concrete looking specs!

Sony RX100 III
20MP sensor (same as
RX100M2 model
)
ISO 125-25600
24-70mm f/1.8-2.8 lens
Built in View finder (SVGA OLED Tru-Finder 1440k dots)
Tiltable screen (180 degrees up)
Record in
XAVC S format
(Same format of the Sony A7s but with no 4K output option).
Almost same size and weight as the current RX100/M2 models.
I have been told all other specs are the same of the current RX100II model.
Price is said to be around 800-850 Euro in Europe. Should be around
$800-850 in USA
(US price is my guess)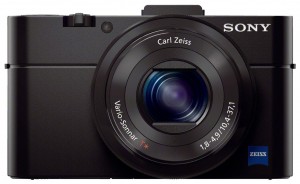 This sounds awesome if you want that killer RX image quality in the smallest package possible. It now has a significantly faster lens on the tele end, which makes this an even better low light shooter, especially for video! The new video Codec is much better quality than AVCHD and the built in viewfinder and 180 degree flip screen completes the package. It has everything all in one tiny deck of cards sized package! I can't wait to try this out asap 😉 Sony RX100 II Review This Way >> | Sony RX10 Review This Way >>
Sony A77 II
A77 II Pre-orders now available from $1198 US @ BHPhoto | Amazon
New 24MP Sensor
79 af points, 15 cross points
very Fast Tracking performance
12fps up to 60 Frames/ 25 frames RAW & JPG, RAW 26 frames
Low light AF, f/2.8 vertical line sensor, new algorithm
This also sounds good and perhaps they put in an hybrid sensor to make the A77 II more like the A99 as it pertains to the AF-D mode? just a guess I really have no idea, but sounds like it could be the case. 79 af points sounds like it's on the sensor to me and the 15 cross points are the regular PDAF sensor module style which are used via the translucent mirror. Not sure about the new algorithm, but hopefully low light performance is significantly improved over the previous model is all I can say 😉
Closing Remarks
That is about it for now, but stay tuned as I wrap up the Sony Vario-Tessar T* E 16-70mm f/4 ZA OSS Lens, and wait patiently for the new Alpha A6000 to come in! The crop factor lens is a better performer than the full frame version I can tell you that for sure! Check out the highly detailed Sony Vario-Tessar T* FE 24-70mm f/4 ZA OSS Lens Review (Click Here)
Have a good day and please feel free to continue the conversation below by asking questions or speculating about the rumors etc..
I you feel like saying thank you, or giving back in a more tangible way, I just added a donate button to SonyAlphaLab on the top right of the website and also in the sign off message below. Your continued support is greatly appreciated and helps improve the quality of the gear and reviews. Thanks again!
Jay
Your support is greatly appreciated as we run this site in our spare time and are not paid. We can however, make a small commission if you click a product link that your interested in. That click will then give us credit if you choose to purchase any given item. This has no effect on the cost of the product, and is a simple way to give back to SonyAlphaLab.com for the effort and info we provide.
Tip Jar: https://www.paypal.me/SonyAlphaLab
Support SonyAlphaLab by becoming a | Patreon
Also, be sure to keep following us on Google+ | Twitter | Facebook |
Direct Shopping Links – Thanks for your Support!!
BHPhotoVideo | Amazon – US | CA | UK
Thanks,
Jay