Today I want to talk about landscape and travel photography and share some tips and tricks to help improve your landscape and travel photography. Even though I make my living as an assignment, event and a portrait photographer I love to photograph landscapes. For me shooting landscapes allows me to relax and just enjoy photography. There's no deadlines and no expectation of delivering perfect images. Long story short – there's no pressure to perform because shooting landscapes is not how I earn my living. Photographing landscapes (and post processing the images you capture) can really have a positive effect on all of your photography – especially your travel photography. For this article I don't want to talk about camera settings or gear. I want to share a few tips and tricks that helped me to take my landscape and travel photography to the next level.
Some great benefits of landscape photography
I've been photographing landscapes for over thirty years now. Back when I first started I was just a kid taking pictures of Alaska from one of the Marine Highway ferries with a 110 film camera. Those shots aren't what I'd gall "great" but after years of practice and learning I've picked up a few techniques that helped me improve. I also discovered a lot of real benefits to being a landscape shooter.
One thing I love about Landscape photography is getting to go see some truly breathtaking sights. To capture great landscape shots you really should be going to places with incredible views. This means going out to scenic locations like lakes, mountains, historic places and parks. I'm a big fan of America's National Parks and I'm super lucky to live pretty close to one. Here's a shot I took at from one of the scenic overlooks of the Shenandoah National Park: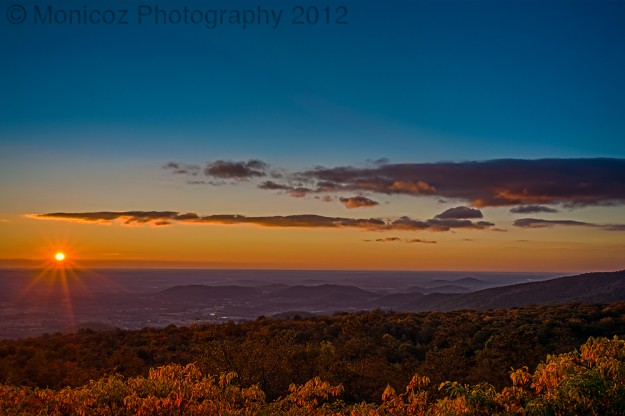 To get this kind of shot you really need to go to scenic places. That's awesome because it might mean traveling to someplace you've never been before. I happen to love traveling to new places and getting to experience natures beauty with my eyes first and my camera second. It's peaceful, quiet and the air's fresh. The pictures I capture can remind me of my experience years later.
Getting yourself in shape
Here's another really great benefit to being a landscape shooter. You're going to get some exercise. Getting the best landscape shots means getting to a scenic location and bringing your gear along. A lot of my favorite places to shoot from are only accessible by foot so I find myself hauling a camera, a tripod and other miscellaneous gear pretty long distances. A few climbs up to a mountain lookout with a pack of photo gear will get your heart rate up and the muscles in your legs burning in no time. You're certain to get a work out.
After you make a couple of mountain hikes you'll learn a lot about what to bring. As I get older I try  to only bring what I really need (so I can save some weight). You can learn important lessons from books, blogs and seminars but when you walk up a mountain with 75lbs of gear you learn a real lesson about bringing too much gear. That's something that doesn't sink in until you make the mistake yourself. I'm not too proud to say that I've been up a mountain with too much gear and it sure taught me the importance of packing light.
Packing light is important but be sure not to go overboard. When you start thinking minimalist with your gear it's easy to go too far and leave something behind. I know I've made it to many scenic locations just to realize I forgot something important. Just remember that it's totally cool to make some mistakes. Making mistakes is a great way to learn what not to do. After years of traveling and shooting I've become pretty skilled at packing exactly what I'll need (and not too much extra). Practice and planning can really help you improve your pictures (and save your back).
So what happens when you take a hike up the side of a mountain with some camera gear? You can capture shots like this: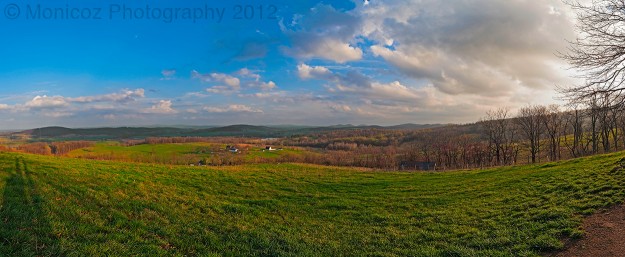 To get this shot I carried my gear almost a mile up the side of this mountain. I brought a sturdy tripod, a full frame camera with a wide angle lens, a cable release and some empty sandbags to steady my tripod (I fill them with dirt when I arrived at my destination and empty them when I'm done shooting). You definitely get a workout when you hike to a scenic location with some photography gear.
The best benefit of shooting landscapes
But here's the best part of shooting landscapes. You can make pretty good money with your landscape shots. I sell thousands of dollars of prints every year and I license images for use on websites and in advertising campaigns. That's great because I never go up a mountain with the expectation of selling the pictures. It's just a side benefit since I don't actively market my images. But I did learn that if you stick with it and you build up a solid collection of landscape shots you can earn pretty good money. I know plenty of photographers who use the money earned from print sales to purchase new gear. If you sell more prints you can buy more gear! How cool is that?
Creating better landscape pictures
I'd like to share two tips that really helped me to take better landscape pictures. Above I mentioned that you need to go to scenic places and that's a seriously good start. But if you want to make the most of that scenic location you have to be prepared to get to your location super early and stay kind of late. The reason you need to do this is because the world just looks better during the two golden hours of the day.
Shooting During Golden Hours
What is a golden hour? It's the time just before, during and immediately after sunrise and sunset. Unfortunately it's not always an hour and it's not always golden. Depending on the weather you may not get anything exciting at all. But I can say this – your odds are 50/50 that you'll get beautiful colors and less people in your shots if you are shooting at sunrise and at sunset. You get zero chance of capturing exciting colors in the middle of the day.
My personal preference is to capture images early in the morning. I've found that it's less crowded and I prefer the look of sunrise more than sunset (your results may be different). I also like the peace and quiet of the early morning. Here's a shot of me preparing to capture a sunrise from up in the Shenandoah Mountains: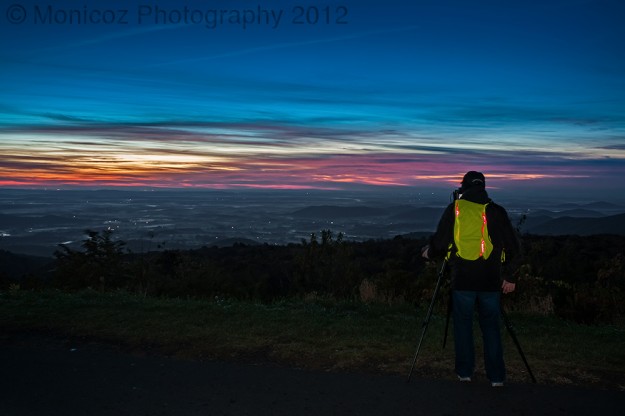 I was out the door before 4:00am to arrive at my location before sunrise. Along with my photography gear I bring plenty of water, flashlights, extra batteries and a nifty little bear bell  (because it is a national park after all). It might look bright in the picture above but believe me when I say that it's super dark when I arrive (I was filled in by the pop-up flash in this shot). Once I'm set up I just relax and enjoy nature as the sun begins to rise. Here's a look at one of the images I captured just before civil twilight from the above location: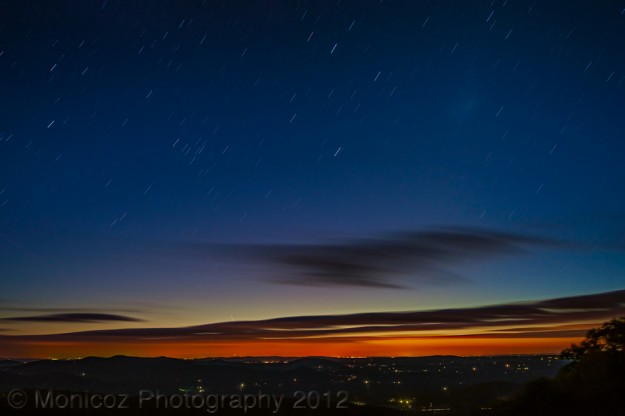 I've seen thousands of sunrises in my life and even though I don't always bring home great pictures I do get to start my day in a way that most people never will.
Golden Hour Isn't Just for National Parks
One of my ongoing projects is photographing the National Cherry Blossom Festival in Washington, DC. Every year I drive into Washington, DC to see the incredible beauty of the Yoshino Cherry Trees in full bloom. To capture shots that are different from what every other tourist captures I prefer to shoot during golden hour. To give you an idea what I'm talking about here's a look at one of my most popular shots.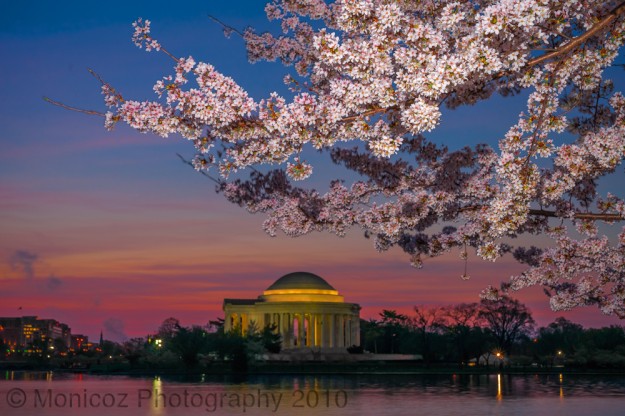 I arrived at my location an hour before sunrise (which meant being out the door before 4:00am) to get this shot. It was one breathtaking sunrise and 30 minutes after I took this shot the sky looked totally boring. It's anything but golden but it was captured in the morning golden hour.
After I capture my sunrise images I pack up my gear and watch as the area changes from having less than a few dozen photographers to being packed with thousands of visitors (all with cameras). It really pays to wake up early and beat the rush.
Landscape photography tip #1 – Find a scenic location (and scout it if you can), keep track of what the weather will be like and on the day of your shoot try to arrive before sunrise to get the best chance of capturing some incredible morning colors in the sky.
Post-process your landscape images so they look their best
Post production is what separates average landscape shots from spectacular landscape shots. I use Lightroom 4, Photoshop CS6 and onOne Perfect Effects to process my RAW files and I'd like to share a few techniques I use to make my landscape images really sing.
Go for deep blue skies
Not all landscape shots are captured during golden hours. Sunrise and sunset are my favorite times to shoot but they are not the only times I'm out with my camera looking for shots. If you have perfect weather you can capture some deep blue skies filled with interesting looking clouds. Unfortunately digital cameras have their limits so sometimes I need to get that deep blue color in my post production. There's just something about a deep blue sky that makes any landscape shot look better and I have a Lightroom technique that usually does the trick.
My post-production secret weapon
It's not uncommon for me to see an incredible blue sky at a scenic location. Unfortunately it's also common for me to arrive home to review pictures without the blue sky I remember. Whenever this happens I know that I'll have to restore that killer sky with some RAW file processing. There's plenty of ways to do this but I have a super fast technique that usually does the trick.
How do I turn boring skies into awesome skies in post production? I do it by taking advantage of  the HSL panel in Lightroom. HSL stands for Hue, Saturation, Luminance and with 24 separate sliders you can really work some magic. For photographers who are interested in manipulating colors this is one of the best places to make some serious moves. Most people don't take full advantage of this powerful panel but once you see what you can do I'm willing to bet that you'll use my "blue sky technique" on every landscape shot you process. I'll start by bringing up a picture from my most recent Disney World vacation in Lightroom.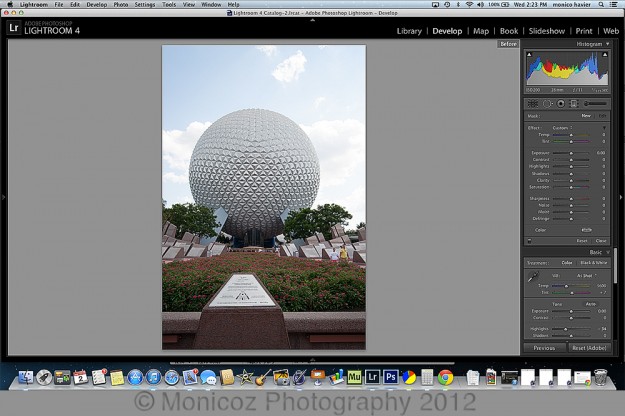 This is an OK shot but I know I can make it better. I begin my processing by making all of my usual Lightroom adjustments including: Lens correction, noise removal, highlight control, opening the shadows, boosting vibrance and adding clarity. To get my deep blue skies I move over to the HSL panel where I select the Luminance sliders. Here's a look at the HSL panel in Lightroom 4: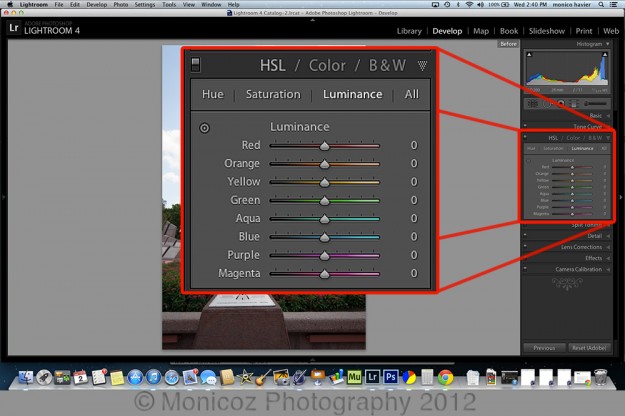 To quickly access the HSL panel you can hit command + 3 on your Mac or CTRL + 3 on your PC. Once I have the HSL panel open I click the word Luminance at the top of the panel. Doing this gives me sliders that control the lightness and darkness of the individual colors. At this stage I drag the blue slider to the left (darker) and that brings out the deep blue color I want my landscape shots to have. Here's a look at the same shot but with the blue luminance slider moved to the left: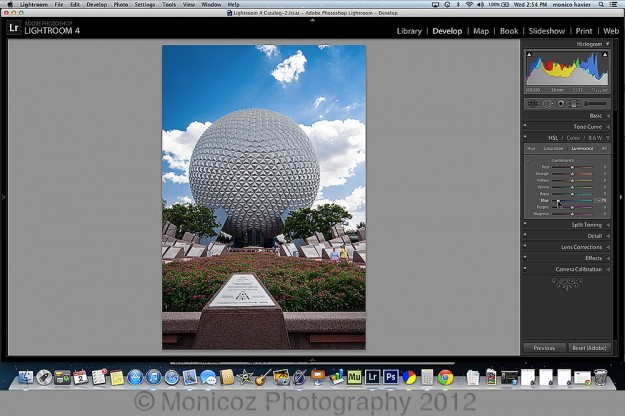 How awesome is that? By getting more deep blue into the sky you instantly make your landscape and travel shots look better. You also make the sky darker than other elements in your shot and that helps to bring a viewers attention to more important elements. When the sky is washed out the shot loses life but with the deep blue sky you add depth and interest to your shots. And  this technique is done by moving just one slider!
Beware of the unintended consequences
So now we have a killer looking sky. That's great! But it's important not to miss what else took on some deep blues when you make that move. Look at the supports for the Epcot dome (circled in red):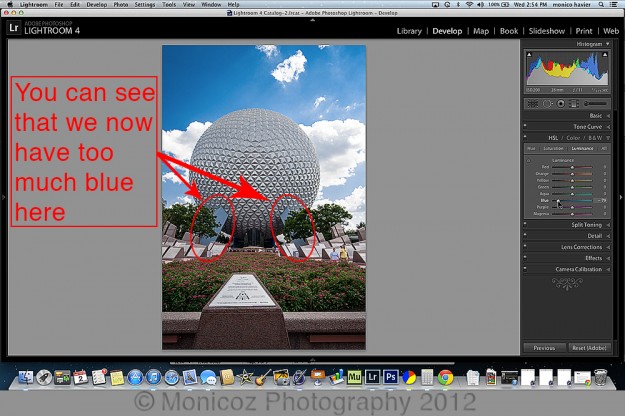 I wanted a deeper blue sky but Lightroom doesn't know what in the image is sky and what's not. When you darken blue with Lightroom you'll bring extra blue into shadows and other areas of your image. That may not sound like a big deal but for me it's the difference between an OK shot and a great shot. The quick fix for removing extra blue with Lightroom is to use the adjustment brush to paint in a color temperature correction on areas where you have a blue color cast. Here's a look at where I applied the adjustment brush on this image to remove the excessive blue: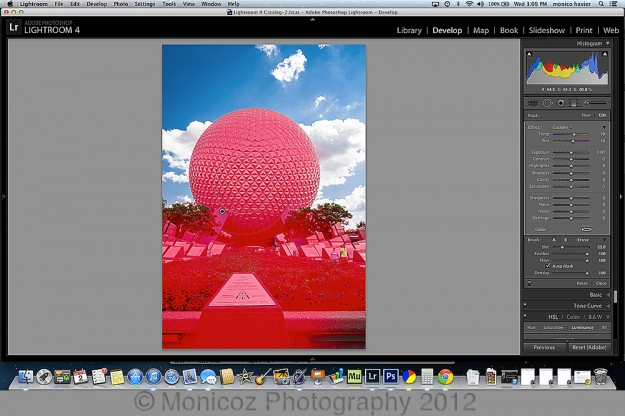 To see where I'm painting I use the overlay feature (press the "O" key to toggle the red overlay Mask on and off). Once I finish painting where I don't want extra blue I moved the temperature slider away from blue (moving it to the right) until I was happy with the result. I don't want to remove all the blue but I don't want a distracting color cast. When you're happy you can go ahead and close the adjustment brush panel by clicking the "close" button. In this case I used values of +19 temp and +14 hue to correct the blue cast.
With the sky a deep blue and the color casts under control you can proceed to add more enhancements such as sharpening, contrast and any artistic touches like a vignette.
Landscape photography tip #2 – Take advantage of post production software to get the most from your landscape and travel shots
What else can you do in the HSL panel??
Darkening skies isn't the only thing you can do in the HSL (Hue, Saturation, Luminance) panel. I have two more moves I like to make to help problem areas of a shot. The first move is to improve the color of blue in the skies when darkening the luminance just isn't enough. The easy way for me to make this fix is to click the word Hue at the top of the HSL panel and I'll move the aqua slider to the right. This move will change a light blue color sky into a deeper blue. You don't always have to do this but sometimes it can get you out of a jam.
The second trick is to improve the color of grass (and other greens). When you make a saturation boost in an image greens can sometimes go a little out of control. This usually happens because you are boosting the color yellow that is in the grass. To get the grass looking a deep green I click the word saturation at the top of the HSL panel and I'll lower the yellow slider until I'm happy with how green looks. Be sure to give this trick a try to see if it helps your images.
One final tip I'll leave you with is that using the HSL panel and adjustment brush can really help you with your HDR images. By having sliders for each color you can go in and attack some of the crazier color casts that HDR images sometimes contain. You'll have to experiment since every shot is a little different but once you get used to what the sliders do you'll be able to make super fast corrections to your images. And with Lightroom these adjustments aren't destructive. If you go too far with a slider you can always go back and readjust the slider.
Lets take a look at the before and after images of the Disney World picture so you can see what using the HSL panel did to improve my shot: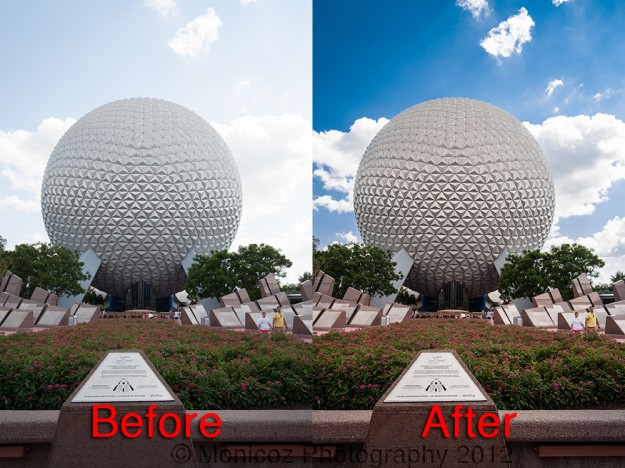 I think that's a pretty substantial improvement.
Some final thoughts
For the post processing tips I showed Adobe Lightroom 4 but most of the moves will work with earlier versions of Lightroom and Adobe Camera RAW (included with Photoshop). The post production moves work best with RAW files but they can also be helpful with jpegs.
Practice and planning are your best friends with this kind of photography. My cherry blossom at sunrise shot (shown above) was captured on my third trip to DC to photograph them. It took me three years to get that shot in 2010 and I continue to go back every year to try to improve. Practice as often as you can and when you can't be out shooting you can always think about how you might improve your landscape shooting. The DC cherry blossoms are only in bloom for a week or two so when the flower petals are all gone I have 50 weeks to think about my next trip to see them and take better shots of them.
As you improve your landscape shooting your other styles of Photography will also improve. When I'm on a location portrait shoot I find myself using what I learned from shooting landscapes to make sure my backgrounds look their best. And shooting landscapes really helped my travel photography to improve.
So if you're not shooting landscapes I encourage you to give it a try. You can always try on your own or you can look for workshops in your area taught by an expert instructor. You'll get some exercise, see some beautiful sights and you might get some great shots you can print and sell. How awesome is that?
If you're not using Lightroom I highly encourage you to see how it can help your photography. It's a powerful image editor and organization tool (along with many other great features). You can purchase a full version of Lightroom here.
Are you interested in learning more about Lightroom? Some of my favorite books about Lightroom are written by Scott Kelby and you can purchase his newest Lightroom book here.
And for more tips, tricks and stories from my travel and landscape adventures be sure to stop by my personal blog here.