I'm lucky enough to have the best gal on the planet, and she got me the GoPro HD Hero2 for my Birthday!! I really think Michele was concerned about the Sony cameras getting strapped to the quad or dirt bike, although I could be wrong 😉 lol I really don't care why she got it for me though, as it's an incredible awesome gift and I'm totally pumped about it!! Thanks Michele!!
In any event, I've wanted one of these super small High quality HD video cameras for a while now, so I can show Michele and friends the ride we went on or something really cool in the woods that I just don't want to lug the expensive gear out to shoot. I also have a tendency to crash on the machines as you may have seen in this video Here >>. I just get carried away I guess, so needless to say I'm not going to wear a backpack on the machines with $10,000+ worth of equipment to get "cool" videos or pics. It's just not worth it to me. The GoPro HD Hero2 however, is just perfect for this type of stuff. It's very rugged, waterproof, super small, mountable to anything, and has excellent HD Video Quality, and it's relatively in expensive at $299 for the motocross kit I got.
The GoPro HD Hero2 actually does a lot more than just video I found out when I read the manual. It can take photos in a few different resolution including 11mp which is not bad at all. It can shoot a bursts of pics at 10fps which is awesome for wide angle action shots. In addition to that it offers Time-lapse photography options with a bunch of different time intervals to meet any need as far as I can tell. This sucker can also turn the video upside down for when mounting upside down so your video ends up correct. In the event you have the GoPro Hero 2 mounted in a dark area, but recording something bright, like aimed out a window for ex, you can enable spot metering. This is an awesome feature and I was surprised it could do that!! For even more info on the Hero2 specs and features, just click the + toggle below.
GoPro HD Hero2 Full Specs and Features:
Optics
Sensor
11 Megapixel 1/2.3″ CMOS
Lens
Fixed Focus
f/2.8 1
Recording
Recording Media
SD/SDHC Up To 32GB Video/Image
Recording Time
SD/SDHC
1080p30: 4 Hrs with 32GB SD Card
960p30: 6 Hrs with 32GB SD Card
720p60: 4 Hrs with 32GB SD Card
720p30: 6 Hrs with 32GB SD Card
WVGA 120: 4.5 Hrs with 32GB SD Card
Video Format
High Definition
MPEG AVC/H.264
1920 x 1080p, 1280 x 960p, 1280 x 720p (30/30/60 fps)
Standard Definition
WVGA
848 x 480 (60 fps) 2
Still Image Resolution
JPEG: 11 Megapixel
JPEG: 8 Megapixel
JPEG: 5 Megapixel 3
Audio Format
1-Channel Mono 4
Display
Display Type
LCD
Screen Size
Not Specified By Manufacturer
Features
Lux
.84 (V/lux-sec)
Built-in Mic
Yes
Input/Output Connectors
Inputs
1x Microphone In 3.5mm Stereo Mini-Jack
Outputs
1x Mini-USB
1x HDMI C (Mini)
1x Composite Video (out) 5
Microphone Input
Yes 6
The GoPro HD HERO2 Motorsports Edition is specifically designed for shooting HD video while you're riding the trail, the road or the track. You can capture 1080p at 30 frames per second (fps), 960p at 48 or 30 fps, and 720p video at 30 or 60 fps, as well as 5, 8 or 11 megapixel digital still photos. The HD HERO2 Motorsports Edition comes with a suction cup mount, J-Hook, three curved adhesive mounts, two flat adhesive mounts and a three-way pivot arm. This makes the HD HERO2 Motorsports Edition the easiest action camera to use and mount to practically any frame. Plus, plenty of optional accessories can be used with the camera for shooting in a variety of other settings.
In addition to giving you shooting capabilities almost anywhere, the HD HERO2 Motorsports Edition features an integrated battery warmer for longer battery life in colder temperatures, Wi-Fi BacPac / Wi-Fi Remote compatibility, and an easy-to-use LCD interface. Plus, the camera has LED lights viewable from any angle and can support shooting bursts of 10 photos per second. You can recharge the battery while you record via USB cable and enjoy time-lapse photography every 0.5, 1, 2, 5, 10, 30 or 60 seconds. The HD HERO2 Motorsports Edition even supports live streaming from the web, as well as Wi-Fi video preview and playback on your smartphone, tablet, laptop or desktop computer.
Designed for Motorsports Recording

The HD HERO2 Motorsports Edition provides you with the waterproof housing and mounts you need to record in any conditions. The waterproof, polycarbonate housing is removable, and in the event of extreme destruction can be replaced easily with an optional housing. Plus, the camera comes with a suction cup mount, a J-Hook, three curved adhesive mounts, two flat adhesive mounts and a three-way pivot arm
Other Features
Simple language-based user interface
2X sharper professional glass lens
2x faster image processor
11MP, 1/2.3″ CMOS image sensor
Full wide 170°, medium 127° and narrow 90° FOV (Field of View) in 1080p and 720p
Professional low light performance
11MP, 8MP and 5MP photos with full 170° and medium 127° FOV
Shoot stills in 10 photo per second bursts
Shoot one photo every 0.5, 1, 2, 5, 10, 30 or 60 seconds with Time-Lapse photo mode
Natural and high wind audio modes
3.5mm Stereo external microphone input
Wi-Fi BacPac and Wi-Fi Remote Control compatibility
Long range remote control of multiple cameras
Integrated battery warmer enables long battery life in cold temperatures
Wi-Fi Video Preview + Playback on Smartphone / Tablet / Computer
Live streaming to the web
Photos:
I apologize for not photographing this myself yet, but the Studio downstairs is in the drywall phase, and I had to breakdown the "Lab" for product photography I had set-up. The provided images are pretty solid though, and I will have some good shots pretty soon showing off the camera mounted to various toys!!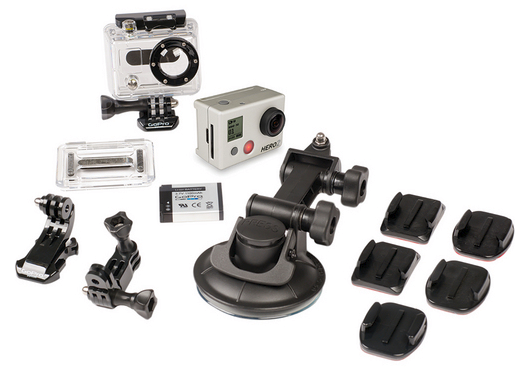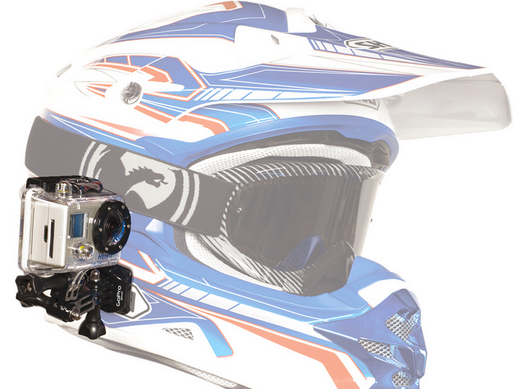 My GoPro HD Hero2 First Sample Footage:
In this 720p HD video you will come along for a ride with me through out the day 😉 Including the ride to work, back home in the snow, and a Quick quad ride around the block once I got home!! Honestly nothing crazy cool, but some pretty solid quality sample footage. It's nice and sharp and very smooth!! I used the suction cup mount set-up just like the image above to attach to various windows in my car including the sunroof, windshield, and driver side window. I then used one of the curved adhesive mounts for my helmet for the footage on the quad.
Overall I'm very happy with my B-day present and can't wait to get some killer footage on the Banshee, Dirt Bike, Snowboard, Mountain bike, and whatever else I can find to mount it on 🙂
Make sure you Select the 720p HD option in the player window!!
Official GoPro HD HERO2 Trailer, Must Watch!!!
Here is the official GoPro HD HERO2 Trailer which is a must watch if you have not seen it yet!! Make sure you select the 1080p HD option in the player window.
Your support is greatly appreciated as we run this site in our spare time and are not paid. We can however, make a small commission if you click a product link that your interested in. That click will then give us credit if you choose to purchase any given item. This has no effect on the cost of the product, and is a simple way to give back to SonyAlphaLab.com for the effort and info we provide.
Tip Jar: https://www.paypal.me/SonyAlphaLab
Support SonyAlphaLab by becoming a | Patreon
Also, be sure to keep following us on Google+ | Twitter | Facebook |
Direct Shopping Links – Thanks for your Support!!
BHPhotoVideo | Amazon – US | CA | UK
Thanks,
Jay
BHPhotoVideo.com Links>>

Amazon Links: