I was recently on the New B&H Photography Podcast titled "Get Off Your Fat Blog and Take a Photo". It was an awesome experience, and I think the podcast came out really well. The podcast was about Photography Websites and what goes on behind the scenes pretty much. It was myself as a guest and the other guest was Kevin Raber from Luminous-Landscape. If you are not familiar, it's one of the best photography websites on the web and I have referenced their reviews many times on various Sony cameras and more.. Luminous-landscape is run by extremely experienced veteran photographers, so the knowledge is vast, in-depth, and on point. Speaking from that much experience gives you a perspective that is clearly going to be different than most
The main podcast host was Allan Weitz and creative director John Harris was also participating in the conversation. They are both respected long time photographers and did a great job keeping the conversation going in a planed direction with several key talking points.
The experience as a whole was awesome I must say, and I really hope you listen to the podcast and enjoy it as much as I did.
B&H Photography Podcast
I have the podcast embedded below so you can just click to listen if you like. Or you can go to to the Soundcloud Streaming Page Here >>
Despite poking a little fun with this episode's title, we are big fans of photography websites and camera blogs, and if you are reading this, you probably are, too. On this week's podcast, we are fortunate to have Kevin Raber and Jason Hermann, proprietors of Luminous Landscape and SonyAlphaLab, respectively. Have you ever wondered how sites like these operate, are funded, get gear to review and deal with the, shall we say "experts," who populate the comment sections? In this very animated, on-point conversation, Raber and Hermann talk specifically about their sites, the proliferation of gear chat, and the camera industry in general.
Guests: Kevin Raber and Jason Hermann
To listen to this week's episode: Listen to or download on SoundCloud, or subscribe to the B&H Photography Podcast on iTunes; Stitcher; SoundCloud; or via RSS.
About the Podcast and People
I really enjoyed spending time with Kevin, Alan, and John plus learned a lot during the podcast. Kevin shared some very good information and inspired me to kick things back up into high gear to the best of my ability. I have let things go due to the family obligations and serious lack of sleep over the past two years or so. Please stay tuned as I rev things back up over the next few months here at SonyAlphaLab!
We discussed a number of topics and I tried my best to share what I do here and how I try and make things work on the back end. It's pretty interesting to here how things work at SAL, and how Luminious-Landscape does things was a serious eye opener. Obviously LL is a monster website in comparison to this little Sony blog, but a lot of the common sense strategies can be applied to help make this a better place for everybody. Basically, I just need to do a much better job since I'm the sole guy that does everything. I need to figure out how to streamline my production and website maintenance without sacrificing quality in any way. This is critical! I believe it can be done if I put in the hard work and time needed. I just have to do it is the bottom line, and I know I can! The only way to get better at something is to practice, and I am working on some stuff behind the scenes that should help me in this regard…
Now, lets take a look some photos!
Photography
Kevin shared a few photos from his collections and they are nothing short of jaw dropping! 😉 Be sure to check out his website and portfolios for inspiration and knowledge!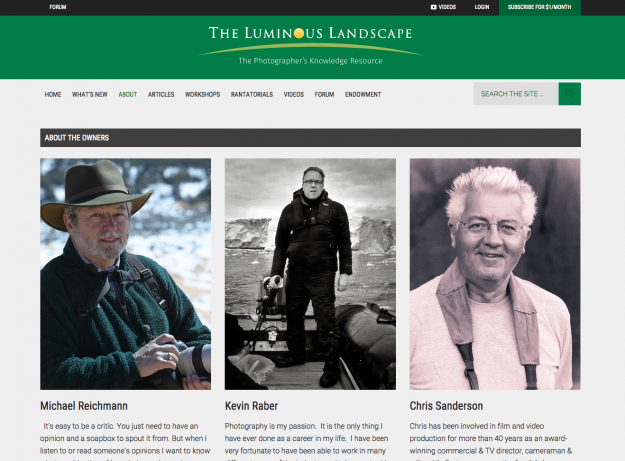 Some Of My Photos
Some of my favorite Sony Photography via my Flickr Page >> I really need to put together a better portfolio style website at some point, but for now flickr has been that for me. I let my Jason Hermann Photography website go when I decided to stop doing Pro work several years ago shortly after Layla was born. Things are starting to come back to order now though, and I may fire that back up at some point soon…
Closing Remarks
That is about it for this article and I really hope you enjoyed the podcast and sample photography above. I really appreciate you guys checking out the website and be sure to check out the Forums for the latest Sony News, Rumors, Tutorials, Q&A, Killer user photography, and much more… For example, I just put up a poll on what features you would like to see most in the future Sony A7000 if they decide to produce it (Click Here)
Have a great day and please feel free to leave your thoughts below in the comments section. I always enjoy reading them and try to reply as fast as possible.
Jay
New Sony A6300 Pre-Order Links Live! @ BHPhoto | Amazon
All New Sony Gear That is available for Pre-Order @ BHPhoto
Current Sony Rebates @ BHPhoto
Your support is greatly appreciated as we run this site in our spare time and are not paid. We can however, make a small commission if you click a product link that your interested in. That click will then give us credit if you choose to purchase any given item. This has no effect on the cost of the product, and is a simple way to give back to SonyAlphaLab.com for the effort and info we provide.
Tip Jar: https://www.paypal.me/SonyAlphaLab
Support SonyAlphaLab by becoming a | Patreon
Also, be sure to keep following us on Google+ | Twitter | Facebook |
Direct Shopping Links – Thanks for your Support!!
BHPhotoVideo | Amazon – US | CA | UK
Thanks,
Jay