Fujifilm officially announces the X-M1 and Two New X-Series Lenses. This extremely high quality mirrorless camera system is not only competition to the Sony Nex Camera system, but it's awesome as well. The build quality is solid like a brick, and that is not a joke as you can see in my Fuji X-Pro 1 Review Here >>
The Fujifilm sensor technology is also no joke, because they developed a new pixel pattern on the sensor that eliminates the need for a low pass filter. The results are sharper images with less moire' and chromatic aberrations. The technology works and the image quality off  that sensor is awesome based on my review above.
Fujifilm also announced a new 16-50mm kit lens with the X-M1. The XC 16-50mm lens consists of 12 all-glass elements in 10 groups including 3 aspherical elements and 1 ED element. It will be available in black or silver to match your preferred camera color choice.
In addition to that Fujifim announced the launch of the new "FUJINON XF27mmF2.8" lens for the Fujifilm compact system cameras. A new pancake lens similar to the SEL20F28 I just reviewed Here >>
How Much for the X-M1?
The Fujifilm X-M1 is going for $699 US(body only), and $799 with the XC 16-50mm kit lens.
Fujifilm X-M1 Glamor Shots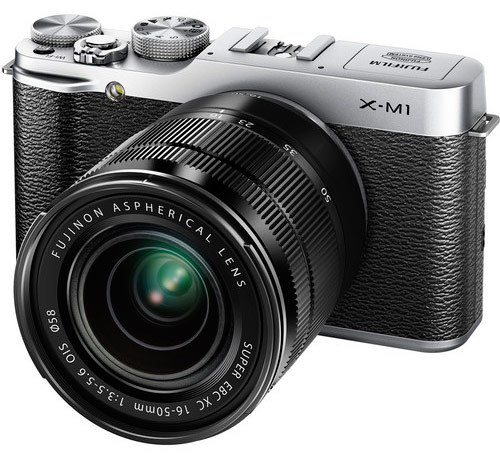 Fujifilm X-M1 Key Features:
16.3 megapixel APS-C X-Trans CMOS sensor (same sensor as X-Pro1 / X-E1)
Hi-speed EXR Processor II
Start-up time of 0.5 secs*, shutter lag of 0.05 secs and a maximum burst speed of 5.6 fps(max. 30 frames**)
Compact and lightweight body
Tiltable 3-inch LCD (920K dot high definition)
Built in flash with FUJIFILM's Super Intelligent Flash technology
ISO200-6400 in 1/3 step increments (and extended range of ISO100, ISO 12800 to 25600 at reduced resolution)
Full HD Video recording at 30fps
49 point AF
Art filters: 8 Advanced Filters plus 5 Film Simulation modes
In-camera RAW processing
Q button for list view of frequently-used menus and smooth configuration
Hot shoe
Wireless image transfer to smart phones and tablet PCs via FUJIFILM Camera app
Cool retro design, available in three colors: Black, Silver and Brown
Fujifim X-M1 Specifications
Image Sensor
APS-C (23.6 x 15.6mm) X-Trans CMOS with primary color filter
Total Pixels
16.5MP
Effective Pixels
16.3MP
Sensor Cleaning System
Ultra Sonic Vibration
Storage Media
SD, SDHC, SDXC memory cards (including UHS-1)
Still Image File Format
JPEG (Exif Ver 2.3), RAW (RAF), RAW+JPEG
Movie Format
File format: MOV
Compression: H.264
Audio: Linear PCM Stereo
File Size
3:2
L: 16 MP: 4896 x 3264
M: 8.0 MP: 3456 x 2304
S: 4.0 MP: 2496 x 1664
16:9
L: 13.5 MP: 4896 x 2760
M: 6.7 MP: 3456 x 1944
S: 3.5 MP: 2496 x 1408
1:1
L: 10.7 MP: 3264 x 3264
M: 5.3 MP: 2304 x 2304
S: 2.8 MP: 1664 x 1664
Lens Mount
Fujifilm X-mount
Sensitivity
Auto, ISO 200-6400 (expandable to ISO 100-25600)
Exposure Control
TTL 256-zones metering: Multi, Spot, and Average methods
Exposure Mode
Programmed AE, Shutter-Priority AE, Aperture-Priority AE, Manual
Exposure Compensation
+/-2 EV in 1/3 steps
Mode Dial
Advanced SR AUTO/P/S/A/M/C/Portrait/Landscape/ Sport / SP?Scene Position?/Adv./AUTO
Shutter Type
Focal plane shutter
Shutter Speed
30-1/4000 sec., bulb (up to 60 min.)
Advanced SR AUTO mode: 1/4-1/4000 sec.
Flash Sync Speed
Up to 1/180 sec.
Continuous Shooting
Up to 5.6 fps (JPEG: max. 30 frames, RAW/RAW+JPEG: max. 10 frames)
3.0 fps (JPEG: max. 50 frames, RAW/RAW+JPEG: max. 10 frames)
Auto Bracketing
AE or ISO bracketing: 1/3, 2/3, or 1 EV
Film Simulation bracketing: 3 types of film simulations selectable
Dynamic Range bracketing: 100%, 200%, 400%
Focus Mode
Manual, Area AF, Multi AF, Continuous AF, Tracking AF, Face Detection
Focus Type
TTL contrast AF (AF assist illuminator available)
Autofocus Frame Selection
Area AF (49 areas with 7 x 7), changeable AF frame size
White Balance
Auto, Custom, Fine, Shade, Fluorescent light (Daylight, Warm White, or Cool White), Incandescent light
Self-Timer
10- or 2-sec. delay
Built-In Flash Type
Super Intelligent manual pop-up flash; guide number: 23′ / 7m at ISO 200
Flash Modes
Red-eye removal off: Auto, Forced Flash, Suppressed Flash, Slow Synchro, Rear-Curtain Synchro, Commander
Red-eye removal on: Red-Eye Reduction Auto, Red-Eye Reduction and Forced Flash, Suppressed Flash, Red-Eye Reduction and Slow Synchro, Red-Eye Reduction and Rear-Curtain Synchro, Commander
Red-eye removal is active when Face Detection is set to ON
External Flash Connection
Hot shoe; dedicated TTL flash compatible
Monitor
3.0″ 920k-dot tilting TFT-LCD monitor with approx. 100% coverage
3:2  aspect ratio
Movie Recording
1920 x 1080 or 1280 x 720 at 30p
Maximum Movie Clip Length
1080p: Approx. 14 min.; 720p: Approx. 27 min.
Film Simulation Modes
Provia (Standard), Velvia (Vivid), Astia (Soft), Monochrome, Sepia
Dynamic Range Setting
Auto (100-400%), 100%, 200%, 400%
Advanced Filters
Toy camera, Miniature, Pop color, High-key, Low-key, Dynamic tone, Soft focus, Partial color (red, orange, yellow, green, blue, purple)
Additional Settings/Functions
Setting (Color, Sharpness, D-range, Gradation), Multiple exposure, Depth of Field display, Histogram display, Framing guideline, Frame No. memory, Monitor Sunlight mode, Focus Peak Highlight, Date stamp, Fn button setting, PictBridge, Exif Print, Language selection, Time difference, Quick start mode, Silent mode
Wireless Connectivity
IEEE 802.11 b/g/n (standard wireless protocol)
Access mode: Infrastructure
Wireless functions
Geotagging setup, Image transfer (Individual image/Selected multiple images), View and Obtain Images, PC Autosave
Playback  functions
RAW conversion, Image rotate, Auto image  rotate, Red-eye reduction, Photobook assist, Erase selected frames, Image search, Multi-frame playback (with micro thumbnail), Slide show, Mark for upload, Protect, Crop, Resize, Favorites
Interface
USB 2.0, HDMI mini  (Type C, output), Remote release terminal for optional RR-90
Power Supply
NP-W126 rechargeable lithium-ion battery (included)
Start-Up Time
Approx. 0.5 sec. when QUICK START mode is ON
Approx. 1 sec. when QUICK START mode is OFF
Operating Temperature
32-104°F / 0-40°C
Operating Humidity
10-80% (no condensation)
Dimensions
4.6 x 2.6 x 1.5″ / 116.9 x 66.5 x 39mm
Weight
11.6 oz / 330 g (with battery and memory card)
9.9 oz / 280 g (camera only)
Full Press Release:
FUJIFILM Corporation (President: Shigehiro Nakajima) is proud to announce the launch of the FUJIFILM X-M1, the third premium interchangeable-lens camera from the company. Compact and lightweight, the X-M1 offers enhanced operability whilst bringing the outstanding design, picture quality and performance of the multi-award-winning FUJIFILM X-Pro1 and X-E1 cameras not only to photo enthusiasts but also to a broader scope of users.
| | |
| --- | --- |
| | Featuring the same internationally-acclaimed proprietary multi-award-winning 16.3 megapixel APS-C X-Trans CMOS Sensor as the FUJIFILM X-Pro1 and FUJIFILM X-E1 |
The FUJIFILM X-M1 is equipped with a large APS-C X-Trans CMOS Sensor, which offers picture quality comparable to that of full-frame sensors. The sensor's unique colour filter array minimises moiré and chromatic aberration without the need for an optical low pass filter, while dramatically boosting resolving power even at identical pixel counts to deliver sharp and texture-rich pictures.
The design draws out the potential of high-performance lenses to the maximum. It delivers clear images with stunningly low noise even in low-light conditions at night and indoors where high sensitivity would usually be required. The sensor faithfully reproduces the warm tones of human skin and the vivid colors of the sky from deep blues to the red hues of the setting sun.
Users can set the sensor sensitivity from the regular ISO200 to as high as ISO6400 in 1/3 step increments, and can even take advantage of the extended range of ISO100, ISO12800 and ISO25600 to obtain incredibly clear and low-noise images even under clear sky and in low-light or at night.
Fast response thanks to EXR Processor II
The EXR Processor II offers a stress-free photo shoot with a start-up time of 0.5 seconds*, shutter time lag of 0.05 seconds and a maximum burst speed of 5.6 frames per second (max. 30 frames**).
Designed to enable one handed operation with intuitive and quick selection of functions for casual shooting with beautiful results
All of the adjustable buttons and dials are positioned on the right-hand side of the camera's rear LCD panel in pursuit of optimum operability and ease-of-use for casual shooting. When holding the camera with just your right hand the placement of the buttons has been designed to allow you to access all functions and adjust the settings easily.
The Mode Dial allows you to select the optimum scene setting with access to the [Advanced SR Auto] mode, which automatically recognises a scene type for fail-safe photography, and the [Advanced Filter] function for artistic photography.
The camera is equipped with two Command Dials, allowing users to adjust the aperture, shutter speed and exposure compensation quickly with their thumb. Individual buttons are also provided to access frequently-used functions such as White Balance, Burst Mode and Macro, so that you don't have to go to the menu screen for each change of setting, enabling an intuitive and quick operation.
Sporting a compact and lightweight body, with its cool, retro design inherited from the FUJIFILM X-Pro1 and X-E1
The X-M1 has a classical and elegant feel just like the popular FUJIFILM X-Pro1 and X-E1 cameras. Furthermore?its compact and lightweight design enable users to casually carry it in a bag without having to worry about the bulk.
The X-M1 weighs just 330 grams*** despite incorporating a large APS-C CMOS sensor, a tiltable high-definition LCD monitor, a built-in flash, Wireless image transfer and a hot shoe.
The X-M1 will be available in three colors: Black, Silver and Brown.
Featuring a 920,000 dot high definition tiltable 3-inch LCD for creative and multi-angle shots
The 3-inch high-definition LCD screen tilts up and down, facilitating ground level shots of flowers and pets as well as high up shots over a crowd of people. It is also suited to tripod-mounted video shooting to broaden your shooting style.
Fujifilm's Super Intelligent Flash technology which regulates flash intensity according to the scene
The X-M1's high-precision built-in flash, rated at the equivalent of Guide Number 7 *4, uses Fujifilm's Super i-Flash technology to regulate the amount of light it fires dependent on the scene. In low-light indoor portrait shots or for close-ups of accessories / plates of food, the flash controls its output to reduce highlight blowout. It also provides the perfect fill-in flash when photographing people in backlit conditions or under intense sunlight casting strong shadows on the face.
Wireless image transfer allowing you to instantly transfer high quality images to a mobile device or computer
The wireless image transfer function allows users to transfer their shots immediately to their smartphone or tablet PC. It broadens the enjoyment of photography through the easy uploading of your favorite images to social networking sites or just enabling you to share them with your friends.
The camera has a built-in wireless image transfer function that uses the dedicated "FUJIFILM Camera App", available as a free download, to instantly transfer and save your favorite photos to a smartphone or tablet PC. Beautiful images of your choice can be transferred with the Wi-Fi button ready for uploading to SNS or sharing with friends.
Users can also view and import pictures and videos to the camera from a smartphone or tablet PC. The function can also retrieve location data from your smartphone to add the information to pictures you take.
Get creative with your photography by employing popular special effects in-camera
With eight Advanced Filters, users can add special effects pre-image capture: namely Toy Camera, Miniature, Dynamic Tone, Pop Color, Soft Focus, High Key, Low Key and Partial Color. The camera also offers a Multiple Exposure mode which allows you to superimpose a second exposure onto the first exposure for a truly creative touch.
Additionally, Fujifilm's Film Simulation modes feature five different effects that emulate the looks that used to be captured by different photographic films: i.e. PROVIA(standard) for natural colour reproduction, Velvia (vivid) for saturated tones, ASTIA (soft) for soft graduation, Sepia and Monochrome.
Full HD video recording
The FUJIFILM X-M1 is capable of full HD (1920×1080) video recording at 30 frames per second. Creative effects can be added when shooting videos with Film Simulation options including Monochrome, and beautiful bokeh achieved with the large sensor at a large aperture.
FUJINON XC 16-50mmF3.5-5.6 OIS lens
A compact and lightweight XC 16-50mmF3.5-5.6 OIS zoom lens (24mm-76mm)*5 is being launched with the X-M1 as a Kit lens and is designed to complement the camera perfectly, covering the focal lengths of 24mm to 76mm*5. It is ideal for various scene types including indoor shooting, landscapes and snapshots.
The XC16-50mm lens consists of 12 all-glass elements in 10 groups including 3 aspherical elements and 1 ED element. It features seven round-edged aperture blades, which offers 17 stops in 1/3 EV steps for precise aperture control.
The use of lightweight lens elements and a high-precision stepping motor has enabled the camera to deliver high-speed autofocus. Coupled with optical image stabilization, the lens ensures that you capture all the shutter opportunities.
The lens will be available in two variations Black and Silver.
FUJINON XF 27mm F2.8
FUJIFILM Corporation (President: Shigehiro Nakajima) is proud to announce the launch of the new "FUJINON XF27mmF2.8" lens for the Fujifilm compact system cameras.
A highly portable high-performance single focal length lens for casual shooting with quality results!
The lens has a fixed focal length of 27mm (41mm in 35mm format equivalent), offering a field of view similar to that of the human eye, capturing each scene as precisely and naturally as you see it. It includes a glass molded aspheric element which reduces image distortion as much as possible. You can explore different ideas depending on the scene you're shooting, e.g. using your own footwork to adjust the distance between yourself and your subject, or by changing the shooting angle, enabling you to enjoy a broad range of photography.
Weighing 78g and measuring 23mm in length, this is one of the smallest and lightest single focal length lenses available for APS-sensor compact system cameras. Its thin form factor keeps the camera compact when mounted, encouraging you to take your camera wherever you go.
Extensive collection of X-M1 accessories
Leather Case: Specifically designed to fit the FUJFILM X-M1, the case offers protection to your equipment whilst also providing the right amount of grip and the premium finish of genuine leather.
Hand Grip: Ergonomically designed in pursuit of the perfect hold.
Clip-on Flash: Available in three types to suit all your flash photography needs.
Video Intro to the X-M1
Closing Remarks
Fujifim is clearly trying to grow their market share in the mirrorless scene, and this entry level X-M1 camera is a nice way in I must admit. The big brother Fujifilm X-Pro1 and X-E1 both offer a viewfinder solution unlike the X-M1, but they are also significantly more expensive. The X-M1 is very similar to the Sony Nex-3n in that regard as it's the currently entry level Sony Nex camera and has no viewfinder either.
That is about it for now, but please let me know if you think the new Fujifim X-M1 is worth the cash??
Jay
Pre-Order Links
Your support is greatly appreciated as we run this site in our spare time and are not paid. We can however, make a small commission if you click a product link that your interested in. That click will then give us credit if you choose to purchase any given item. This has no effect on the cost of the product, and is a simple way to give back to SonyAlphaLab.com for the effort and info we provide.
Tip Jar: https://www.paypal.me/SonyAlphaLab
Support SonyAlphaLab by becoming a | Patreon
Also, be sure to keep following us on Google+ | Twitter | Facebook |
Direct Shopping Links – Thanks for your Support!!
BHPhotoVideo | Amazon – US | CA | UK
Thanks,
Jay