It's very close to the end of the month and Sony Rebates are expiring that you may want to check out. We also have some interesting news/ rumors on the new Sony Full Frame cameras coming in the near future!
Here's the Latest:
Courtesy to SonyAlphaRumors for all this rumor info:
Sony is coming out with Two New 30+ Mega-pixel Mirrorless Cameras in early 2014, and possible a 3rd even higher quality model in early 2015. Apparently the new sensors will have the next generation technology, including dynamic range increases, 4K video and color to match the TV's, improved Phase Detection AF On Sensor technology, Higher ISO and cleaner signal to noise ratio's. Hopefully this comes with better battery life and power consumption as well 🙂
Sony is also making some pretty bold predictions on their upcoming A-mount lens demand, based on the New full frame camera sales forcast

Sony is so confident in their new 30+ Mega-pixel Full Frame Mirrorless Cameras sales, that they are expecting a 50% sales increase in the A-Mount lens sales for the entire year! Compared to 2013, although this year can't be that good with only the SLT-A58 coming out. The SLT-A99 is selling, but not like hot cakes, so this demand increase makes total sense to me and is not really that hard to believe.
I'm really curious how the auto-focus performance is going to be on these new mirrorless cameras compared to the amazing a99 performance for example? Or even my, almost ancient now, Canon 5d mark II Camera? Is Sony going to not push sports with this camera? I doubt that. I think they figured something new out and have a working photo-type that is performing awesome in tests. Or perhaps they just know the Sony fans are waiting for Full Frame cameras, and once these new cameras come out loyal Sony fans will come back? Not really sure, but I'm very optimistic as Sony constantly amazes me with it's innovation.
Very interesting news to say the least and I would love to hear your speculation if you have any 😉


Sony Rebates expiring 6/1/13
Up to $350 in Savings! Sony Camera and Lens Bundles @ BHPhoto >>, and Sony Nex Bundles on Amazon >>

$200 Off Sony SLT ALpha Cameras  @ BHPhoto >> | Amazon >>
Sandisk Savings
Save on sandisk cards @ BHPhoto (Click Here) and Amazon (Click Here)
New Releases
New Release Sony SDHC memory cards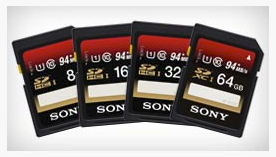 The Class 10 UHS-1 Memory Cards from Sony feature maximum read and write speed of 94MB/s in the SDHC line and 45MB/s in the SDXC line. Cards in both lines offer minimum transfer rate of 10MB/s and are proof against water, dust, shock, and X-ray, resistant to UV light rays, magnets and static, and capable of withstanding extreme temperatures. Additionally, the cards are compatible with downloadable File Rescue® software, which helps recover photos and videos, including 3D and RAW files that have been accidentally damaged or deleted. Available in 8, 16, 32 and 64 GB of storage space.
@ BHPhoto (Click Here) | Amazon (Click Here)
Sigma A-Mount 35mm f/1.4 Lens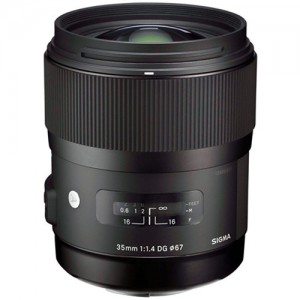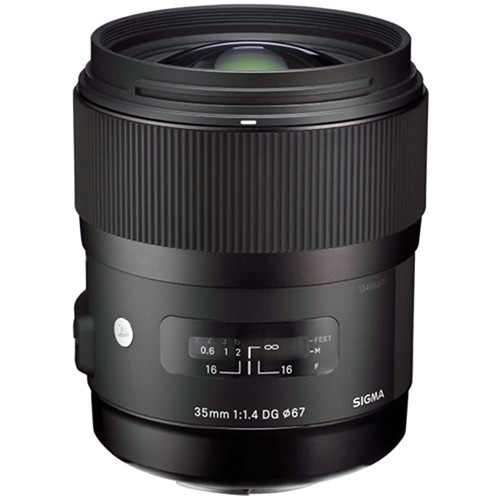 The 35mm f/1.4 DG HSM Lens for Sony DSLR Cameras from Sigma is the first entry into Sigma's Art series of professional lenses, with an emphasis on artistic expression and the creative potential of the lens. With a bright f/1.4 maximum aperture, floating inner focusing system, and Hyper Sonic Motor (HSM) you'll have quick and accurate control over the artistic effects achieved by the lens' high quality elements.
For wide angle photography, this 35mm lens and its circular 9-bladed f/1.4 aperture ensure excellent brightness and blurred background (bokeh) effects. The Super Multi-Layer Coating reduces flare and ghosting and provides sharp and high contrast images even in backlit conditions.
The lens' Hyper Sonic Motor (HSM) and floating inner focusing system ensure that you experience quick, quiet and precise autofocusing whenever you need it. Adjust focus using either autofocus (AF), or full-time manual focus, without having to switch camera modes or change settings – just flick the switch from AF to MF.
For greater build quality and strength, all metallic parts and the new Thermally Stable Composite compound material (TSC), are housed internally. Its brass made bayonet mount has both high accuracy and durability, and a special treatment is applied to its surface giving it greater strength and making it highly resistant to long-term daily use.
Price: $899 @ BHPhoto >>
Sony G Series 70-400mm F4-5.6 SSM Lens – SAL70400G2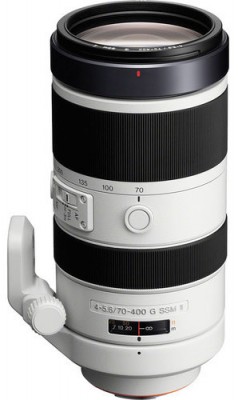 The Sony 70-400mm f/4-5.6 G2 Telephoto Zoom Lens is long-reaching portrait-length-to-telephoto zoom lens that is compatible with both full-frame and APS-C-sized image sensors. Its great zoom range is well benefitted by the inclusion of a high-performance focusing system that revolves around the Super Sonic wave Motor (SSM) for smooth, fast, and quiet AF performance. Benefitting quick shooting applications, this focusing motor utilizes piezoelectric elements that change shape and provide lens functionalities that include a large rotational distance at low speeds and quick start and stop response times. For further refinement of the focusing abilities, three focus hold buttons are available for locking-in focus positions and a focus range limiter can also be employed for greater focus response and subject tracking efficiency. When working with manual focus, an easy-grip focus ring provides increased tactility for more control and an auto clutch mechanism will also disable the manual focusing ring when working in AF modes.
The Sony G-series lenses are designed to provide optimal image sharpness and clarity as well as even peripheral illumination from edge to edge. Contributing to this enhanced image quality is the inclusion of two extra-low dispersion (ED) glass elements, which minimize chromatic aberrations throughout the zoom range and help to maintain true colors and image clarity. Additionally, a Nano AR Coating is also applied to lens elements to reduce lens flare, ghosting, and surface reflection in order to improve image contrast and light transmission.
Price: $2198 @ BHPhoto | Adorama
Sony Carl Zeiss Planar T* 50mm F1.4 ZA Lens – SAL50f14Z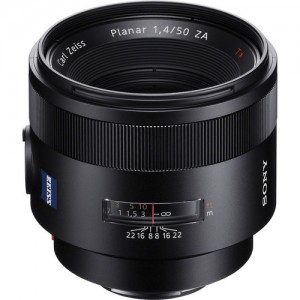 The Sony 50mm f/1.4 Carl Zeiss Planar T* ZA Lens is a normal-length prime lens that is compatible with both full-frame and APS-C-sized image sensors. This lens' construction integrates two glass-molded aspherical elements within its design to provide high image quality while reducing distortions and aberrations. The Carl Zeiss optics work to produce a rich image quality, and its planar design helps to improve overall image sharpness due to its flat reproduction characteristics with minimal field curvature. Additionally, extra-low dispersion (ED) glass is used throughout to further minimize chromatic aberration and aid in producing even sharpness across the image plane. A Carl Zeiss T* coating is applied to lens elements, too, to help reduce lens flare and surface reflections on individual elements.
In regard to focusing and handling performance, this lens utilizes an SSM (Super Sonic wave Motor) to produce quiet and smooth focusing that is ideal when working with video applications. A focus hold button and DMF (Direct Manual Focus) functions aid to this lens' manual focusing abilities, while the rear-focusing design and incorporation of a focus ring that does not rotate while in AF mode are specifically engineered for more efficient AF usage.
The optical design of the lens is housed within a metal lens barrel that offers both durability and rigidity while also providing drip- and dust-resistance for use in inclement conditions.
Price: $1498 @ BHPhoto | Adorama
Closing Remarks
Please let me know what you think about the Sony A-Mount Camera future and what your plans are in that regard? I'm excited for a mirrorless full frame anything, and if it's going to be an A-Mount that is great!  The Full Frame E-Mount Nex-9 is also totally welcomed, and coming soon also I believe. New High quality A-Mount lenses also coming soon, so good times ahead for sure!
That is about it for now, but I got a bunch Nex-3n sample photos to share and a ton of comments I need to reply to. Sorry for the delay in replies, but it does take some time to re-search certina questions etc..
Have a good day and thanks for checking,
Jay
Your support is greatly appreciated as we run this site in our spare time and are not paid. We can however, make a small commission if you click a product link that your interested in. That click will then give us credit if you choose to purchase any given item. This has no effect on the cost of the product, and is a simple way to give back to SonyAlphaLab.com for the effort and info we provide.
Tip Jar: https://www.paypal.me/SonyAlphaLab
Support SonyAlphaLab by becoming a | Patreon
Also, be sure to keep following us on Google+ | Twitter | Facebook |
Direct Shopping Links – Thanks for your Support!!
BHPhotoVideo | Amazon – US | CA | UK
Thanks,
Jay