The Carl Zeiss 16-35mm f/2.8 Zoom Lens (SAL-1635Z) for the Alpha Camera Systems (A-Mount) is one of the most wanted lenses in the Sony arsenal, and in this preview I'll give you all the info available on this incredible piece of glass.
For starters the Sony SAL-1635Z 16-35mm f/2.8 ZA SSM Carl Zeiss Vario-Sonnar T* Autofocus Lens is a professional-grade Fast zoom lens specifically designed for the Sony Alpha SLR series cameras. Carl Zeiss' optical design and anti-flare T* coatings used for this lens help to reduce flare and to increase contrast. The effective equivalent 35mm focal length for this lens is 24-52.5mm which makes for an excellent wide angle range in my opinion. This lens is definitely on my Want List!!
This lens is best suited for Landscapes, Architecture, and Low Light work with its wide angle zoom range and its fast f/2.8 constant aperture. The 16-35mm f/2.8 Carl Zeiss lens is also a killer for video, because it has the SSM (Super Sonic wave Motor) which makes for incredible fast, smooth, and Silent autofocusing!! When recording HD video on Sony Alpha Cameras the standard autofocus motor on most sony lenses is very audible, and noticeable in the videos!  Check this video out to see what I mean 😉 Listen for the autofocus in the video. I used the  a35  and the Carl Zeiss 16-80mm lens for this video and the 18-80mm has a very good autofocus motor, but it still makes noise and you can clearly hear it >> http://youtu.be/BJ3UpE8SJvs
The Carl Zeiss 16-35mm lens also has three aspherical and two ED lens elements which correct visual aberrations and improve picture quality edge-to-edge across the entire zoom range. As you know these types of lens elements are huge money and make a bug difference so keep that in mind when you see the price tag on this monster 😉
Also be sure to check out all the A-Mount Lenses available for the Sony Alpha Cameras over in my NEW A-Mount Lens Guide >>
My Hands on Review of the Sony 16-35mm f/2.8 Lens is coming soon…..
Pics: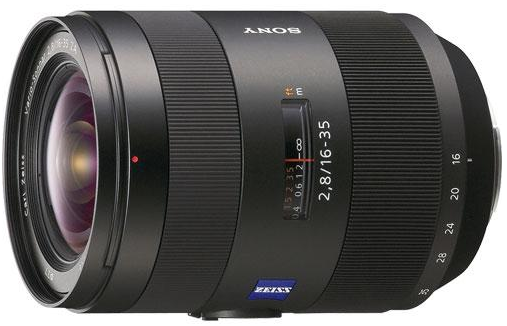 Features
Super Wide-Angle Zoom 16-35mm
Perfect for dramatic landscapes, interiors and unique perspectives on everyday objects. (35mm equivalent when used with APS-C format cameras: 24-52.5mm.)
Superb, corner-to-corner consistency
Resolution, contrast and image brightness are maintained not just at the image center, but also in the corners — a hallmark of Carl Zeiss design.
Short Minimum Focusing Distance
With the ability to focus as closely as 11 inches (0.28 m), this wide angle zoom lens also lets you move in for dramatic perspectives on people, natural subjects and close-up details
Focus Hold Button
For creative control a focus hold button conveniently located on the lens barrel lets you firmly lock in focus. Focus Hold also enables image preview with the ?900 D-SLR.
Super Extra-low Dispersion (Super ED) and ED glass
Newton showed that different colors bend at different angles when they pass through glass. In lenses, this causes the problem of chromatic aberration. Sony solves the problem with a Super ED and an ED glass element. You get sharp, clear images with well defined colors.
Auto Clutch
For reliable operation, the manual focus ring does not rotate in auto-focus mode
World-famous Carl Zeiss optics.
Carl Zeiss lenses are prized by photographic professionals. The SAL1635Z features the classic Carl Zeiss Vario-Sonnar zoom lens design.
Super low distortion
The lens minimizes field curvature even at wide angle settings.
SSM (Super Sonic wave Motor)
Large, wide-aperture zoom lenses tend to have larger, heavier elements that are harder to drive in Auto Focus. Sony achieves fast, smooth, near-silent automatic focusing with the Super Sonic wave Motor. It delivers high torque, high speed and rapid start/stop response.
Best-in-Class 0.24 Maximum Magnification.
(Among super wide angle zoom full frame lenses as of September 2008).
Circular Aperture
Because the aperture blades form a near circle at the wide openings used for low-light shots, spot-light sources have a pleasing circular defocused effect. The lens features nine aperture blades
Fast, constant aperture f/2.8
While typical zoom lenses lose maximum aperture toward the telephoto end, the SAL1635Z maintains a very fast f/2.8 across the entire zoom range for the utmost flexibility in challenging light conditions.
Carl Zeiss T* (T-star) coatings
Internal reflections on the glass-to-air surfaces can create veiling glare, which reduces contrast and takes the life out of your pictures. The SAL1635Z overcomes this issue with the famous Carl Zeiss T* coatings.
In-Camera Image Stabilization
Because Sony builds SteadyShot® image stabilization into the ? cameras, the SAL1635Z does what other lenses can't. This is the world's only large-aperture, full-frame capable wide-angle zoom with the benefit of image stabilization (as of Sept. 2008).
Multi-Element Design
The SAL1635Z incorporates 17 elements in 13 groups for superb sharpness, speed and edge-to-edge consistency.
Three aspherical elements
Fast lenses have a difficult time maintaining sharpness at maximum aperture. The SAL1635Z is amazingly fast for a 16-35mm zoom. Yet thanks to three aspherical elements, the lens achieves incredibly consistent, corner-to-corner sharpness at maximum aperture.
Supplied accessories
Carrying case, lens caps and petal shaped lens hood.
Full Specs
Optics/Lens
Lens Type : Wide-Angle Zoom Lens
Aperture (Max.) : f/22
Filter Diameter : 77mm
Lens Groups-Elements : 17 elements, 13 groups
Minimum Focus Distance : 12″ (0.3m)
Aspheric Elements : 3(3 surface)
Distance Encoder : Yes
Distance Scale : Yes
Non-rotating Focusing Ring : Yes
Tele-converter Compatibility – 1.4x : No
Tele-converter Compatibility – 2.0x : No
Aperture Blade : 9 blades
Focal Length (35mm equivalent) : 24-52.5mm
Focus-hold Button : Yes
Lens Weight : 1lb 14 oz (860g)
Magnification : x0.24
Weights and Measurements
Dimensions (Approx.) : 3-3/8×4-1/2 (83x114mm)
Weight (Approx.) : 1lb 14 oz (860g)
Best Price:

~$1998.00
Compare Prices @ BHPhotoVideo.com >>,  Amazon.com >>
Your support is greatly appreciated as we run this site in our spare time and are not paid. We can however, make a small commission if you click a product link that your interested in. That click will then give us credit if you choose to purchase any given item. This has no effect on the cost of the product, and is a simple way to give back to SonyAlphaLab.com for the effort and info we provide.
Tip Jar: https://www.paypal.me/SonyAlphaLab
Support SonyAlphaLab by becoming a | Patreon
Also, be sure to keep following us on Google+ | Twitter | Facebook |
Direct Shopping Links – Thanks for your Support!!
BHPhotoVideo | Amazon – US | CA | UK
Thanks,
Jay