The HDR Book (second edition) is a brand new book by RC Concepcion and I was fortunate to get my hands on one of the very first copies last week. I had a chance to read it before they became available and today I'm happy to share my review with you.
As a working full-time photographer I've created a lot of images. I'm always looking to create something new and often find myself looking for inspiration. As a fan of technology I'm quick to experiment with new gear, new software and new techniques. But most important to me is continuing to learn and improve. I've attended lots of photography/Photoshop seminars and conferences over the years and I also have plenty of books to keep me up to speed. I'm particularly fond of books and I've been super fortunate to meet most of my favorite authors and photographers in person over the years.
HDR Photography
Many years back I was introduced to a form of photography called "High Dynamic Range". The idea was simple – capture as much information as possible and process it in a way that lets people see into the brightest and darkest parts of an image. A camera (in a single capture) can only capture so much information (sometimes referred to as "stops of dynamic range") so this new way of working with images allowed for something totally unique.
An image with impossible dynamic range is nothing new. For many years photographers have used flash to create amazing images that capture very dark or super bright backgrounds with a perfectly exposed foreground subject. By setting your camera to expose for the background and using your flash to light up a foreground you're capturing something that wouldn't normally be able to be captured (without using a flash). I like to call this "practical" HDR photography (meaning it's done in-camera, not in software).
Today we can capture multiple images (each set to a different exposure level) and you can combine the resulting files into a single large file with a ton of dynamic range. By processing the resulting image with software (like Photomatix or HDR Efex Pro) you can see everything from the darkest shadows to the brightest skies in a single image. This processing is called: "tone-mapping" and the output file can be as large as 32bits.
HDR photography has grown in popularity in the last five years and now most camera phones include an HDR mode. If you do a google image search for "HDR Photography" you're sure to see hundreds of thousands of image results. If you want to learn about creating this kind of imagery you can find books, online videos and even workshops that will teach you the basics.
As someone who isn't shy about using software like Photoshop I've always loved good HDR photography. To create an HDR image you need to embrace the fact that you're altering the image to create something that reflects your own style. When it comes to HDR photography there is no "right way" or "wrong way" to create a final image. There is, on the other hand, very good and very bad examples of HDR photography.
It's important to note that the difference between good and bad HDR images really comes down to how much effort you put into creating your final image (just like non-HDR photography). The bottom line is this: if you want your images to look good you need to work hard at your craft and push yourself to create something that looks great.
What most people don't understand about HDR photography is that creating a tone-mapped image shouldn't be the end of your work. Once you have your tone-mapped image you're only half done. To get the best looking image you need to further process that tone-mapped file with Photoshop, Lightroom, a plug-in (like OnOne, MacPhun or Nik by Google) and continue to work on your image until it reflects your own personal style. Luckily there's a great resource to learn what to do with your tone-mapped image.
the HDR Book (Second Edition)
"…For those of you picking this book up for the first time, I promise you a straightforward, no-nonsense approach to teach you the tools you need to express yourself in this HDR world. I'm thrilled that you consider this and I can't wait to share with you what I've learned."
– RC Concepcion,  the HDR Book (Second Edition) page xiii
When it comes to learning about HDR photography there's one man who literally wrote the book on the subject. His name is RC Concepcion and he's a photographer, an instructor, a best-selling author and an all-around great guy. HIs books include "the HDR Book" and "Getting Your Photography on the Web". In addition to everything I've already mentioned he's an education and curriculum developer for KelbyOne.
As a teacher RC has a great way of presenting very complicated ideas. He's an enthusiastic person who wants us to all create great images and his newest book, the HDR Book (second edition), is a master course in HDR photography.
RC's book successfully leaves readers with all of the knowledge necessary to create amazing HDR images. But more important is how he demystifies the entire process by showing how simple it can be to turn an ordinary image into a breathtaking one.
The first chapter gives a detailed description of the tools and techniques you'll need to get the most from your HDR photography. RC talks about tripods, camera settings and everything you need to know at the time you're capturing your images.
The second chapter talks about the types of subjects HDR photography really works best with. There's plenty to think about before you set up your tripod and the guidelines he shares can really help you if you're new to HDR photography.
Chapter three describes how to take your files and merge them together with Photoshop and it shares some PS techniques you're probably going to be using a lot. What you read here is super important and many of the techniques will come up again throughout the rest of the book.
The next eight chapters are set up as projects (each chapter represents a unique project). RC shows you how he works with images he captures from start to finish and he even includes pages where it's our turn to try out what we learned (including a link to some of RC's own files to work with). This approach lets you learn by doing and I think that's an awesome inclusion.
Each page (of the projects) shows full color versions of how the image looks at that stage of processing and includes screen captures of the Photoshop panels so you can see exactly what the settings were that RC chose.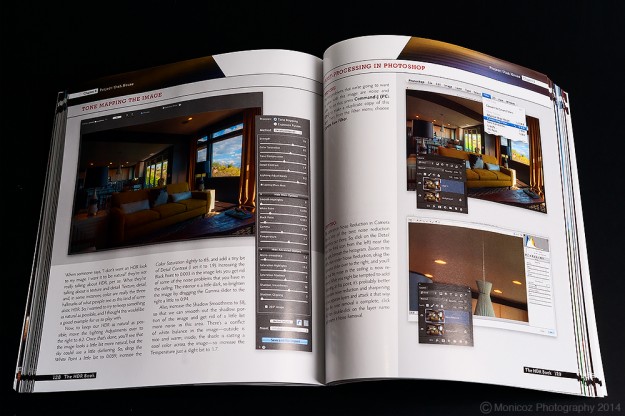 Scattered throughout the book are short interviews with some of the top HDR photographers. These inclusions are great because they share additional viewpoints on the subject of HDR photography.
RC wraps up his book with a chapter that showcases of some amazing images. RC hand chose these images to show what can be done and he even gives a short description/background on each shot. This chapter is my personal favorite because it really shows what great HDR photography looks like. By seeing HDR "done right" we have a goal that we can all work towards.
"… the process of HDR does not need to be incredibly complex. Follow a couple of guidelines. Take as many pictures as you can. Jiggle sliders. Repeat. To get involved in the whole "Can I do it in less frames" idea just asks for you to miss the opportunity to make a great shot. And, isn't that what we are really after? Use the technology you have to your advantage. Let the pictures you make speak for you."
– RC Concepcion | The HDR Book (second edition) page 207
I want to add that this book might be about HDR photography but the techniques you learn in it are easily applied to non-HDR photography. When RC processes an image he's applying universal finishing touches. The techniques you learn (in this book or anywhere else) are just that – techniques. When we learn a technique we can choose to apply it or not. With layers we can blend different versions of an image together and with masks we can "paint" a particular look into a specific area of an image. This book may be titled "The HDR Book" but it's really so much more.
If you own the first edition of the HDR Book you'll find that this book is an excellent update. RC has added plenty of new techniques and he's edited out some things that no longer apply (there's very little in this edition about using Photoshop HDR Pro, for example). If you don't own either of the HDR Books, and you had to choose only one to buy, this second edition is definitely the one to get.
Conclusion
If you're like me you'll finish reading this book cover-to-cover in no time at all. When you've finished reading it you're going to keep it close to where you do your editing so you can quickly find the technique that is sure to help you finish off your images.  And when you've memorized every technique it should find a home on your coffee table because the images in this book literally pop off the pages.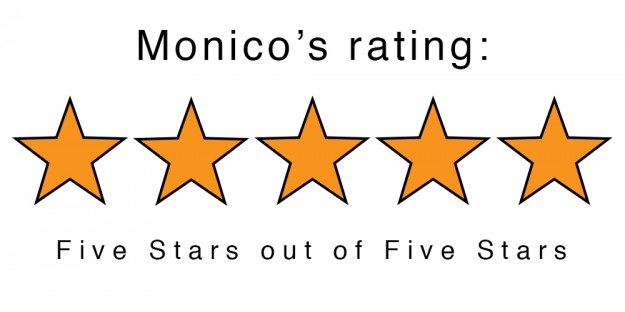 I give RC Concepcion's new book five stars (out of five stars) and I highly recommend it to all photographers who want to create better images (both HDR and non-HDR). It's an easy read that isn't too technical for people who are just beginning and it includes some advanced techniques that will satisfy the most experienced HDR photographer and Photoshop user. RC is an great instructor and his new book is equal parts instruction and inspiration.
You can find RC's HDR book at most book sellers and on Amazon.com here.