Over the past week or so there has been some exciting news on the Sony front including an awesome A57 movie that is a must watch, an incredible NEX-FS700 video camera, and we also have an announcement coincidentally on April 1st, but it still seems totally legit; Kenko Extesnion tubes for the E-Mount which have electronics built in!! This means Autofocus, and aperture control will work and you can transform your standard Nex E-mount lenses into Macro Lenses!!
In addition to that we have some SonyAlphaLab changes including a completely re-designed E-Mount Lens Guide, and a Dedicated Nex Lens Adapters Page which is still in the works. The plan for that page is to add tabs at the top for each Mount Type and have a killer database of all the adapters available!
Sony A57 HD Movie
First you really need to check out this Sony A57 movie originally posted by Lee Jinha (Click Here).  This video really shows you what can be done if you know what your doing with a video camera and Post Production Software!! More on the A57 over Here >>


Kenko Macro Extension Tubes with AF and Aperture Control!!
This is awesome and I'm surprised Sony doesn't offer something like these yet. Basically what these will do is allow you to focus much closer that you would normally be able to by putting a spacer in between the lens and camera body. It's hollow inside, so there is no optics added which is good! So, you can use a Non-Macro lens as a Macro Lens pretty much. Extension Tubes are awesome and I have a similar set for my Canon Gear which gets used it often for product photography 😉

Courtesy of SonyAlphaRumors:
Kenko announced two new 10mm and 16mm extension tube that fit in between the lens and the camera mount. It will transform any E-Mount lens in a macro lens! You can also use both extensions at the same time. The probably bigger news here is that it has electronic contacts to allow autofocusing and aperture control. The tubes will be available some time within April and cost around 216 Euro each.
Sony Announces the Nex-FS700 Video Camera
I normally don't post to much on the Sony Video Cameras, but this guy is no joke! What jumped out at me was the 960fps Slow Motion abilities. It also can output in 4k which only much more expensive models in general are capable of! Worth atleast checking out the pics below I figure 😉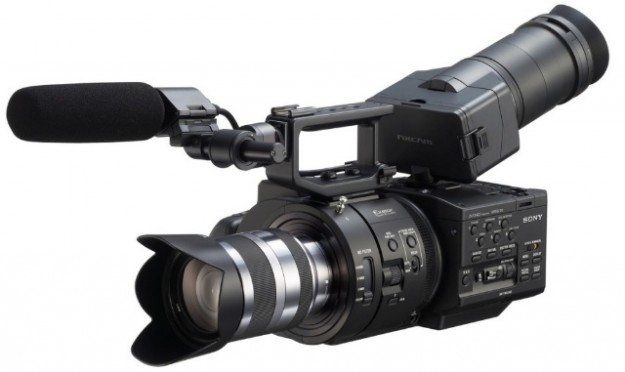 Courtesy of the Verge:
Sony has announced the NEX-FS700, the latest in its line of professional video cameras. It builds on the previous FS100 model, with a large Super 35mm sensor and the same E-mount used by the NEX still cameras, but the FS700 will be capable of 4K video shooting… eventually. There's a slight catch with this feature as it won't be quite ready out of the box, so you'll be shooting 1080p at first, but via a future upgrade you'll be able to record 4K video over 3G-SDI to an external recorder.
This addition would put the FS700 on the same playing field as Canon's C300, and likely at a significantly lower price — though we haven't actually heard word from Sony on that crucial point yet. Other features include built-in neutral density filters and super slow motion recording up to 10x at full HD resolution (40x at an unspecified lower resolution). We don't have official confirmation of a release date yet, but SonyAlphaRumors says it'll be available in June.
Fuji X-Pro1 – Hands On Review – HD Video
A pretty decent Hands on video by DigitalRevTV of the Fujifilm X-Pro1 and the 18mm f/2, 35mm f/1.4 & 60mm f/2.4 Macro lens. This camera looks incredible in my opinion and I would not mind reviewing it at all if your interested??
Should I review the New Fuji X-Pro 1 and the Olympus OM-D??
Hell Yeah, looks awesome and I would like to see your take on both cameras (55%, 46 Votes)
Don't Bother with either, stick with just the Sony Gear!! (34%, 28 Votes)
Just review the Fuji (8%, 7 Votes)
Just review the Olympus (6%, 5 Votes)
Total Voters: 83
Loading …
That is about it for now, but stay tuned for some new Hands On Reviews I'm putting together over the next few days!!
Jay
Your support is greatly appreciated as we run this site in our spare time and are not paid. We can however, make a small commission if you click a product link that your interested in. That click will then give us credit if you choose to purchase any given item. This has no effect on the cost of the product, and is a simple way to give back to SonyAlphaLab.com for the effort and info we provide.
Also, be sure to keep following us on Google+, Twitter, RSS-feed, or Sign up for Email Updates!!
Direct Shopping Links – Thanks for your Support!!
BHPhotoVideo | Amazon – US, CA, UK | Adorama | Ebay – US, CA, UK, DE, FR, ES