Baby sessions can often be really hard. Sometimes they cry, sometimes they have accidents, and sometimes they're super happy. The parents are very consistent though, as they always want a good portrait!! That being said, there are many things we as Photographers can do to help make our baby sessions go as smooth as humanly possible. Now keep in mind we have at least two different categories of baby's to deal with: Newborns, and 6 months or younger. Beyond that, they can be crawling and the tips and tricks tend to change a bit for those challenges. Please keep that in mind when reading through the tips!
Tip #1
Try and schedule your appointments at the babies Happiest time. All babies are different ages and have different habits, so consult the parents and work your schedule around if possible to accommodate a "happy hour" baby.
Tip #2

Advise the parents to use cream on that dry baby skin prior to the portrait session early enough so it's not greasy. potentially saves a ton of time editing out the dry skin later in Photoshop or Lightroom etc..
Tip #3
Get yourself a Corn Bag to help keep the baby asleep and comfy. You simply put these bags in the microwave for a minute or so and and the corn holds the heat. You can then put the corn bag under whatever blanket and/or pillow arrangement your using. It's out of site, but the heat will rise and keep the blankets nice and warm.
Tip #4
Advise the parents to bring warm milk for their newborn!! You really want newborns sleeping for their portraits, so the faster they are sleeping the better!! Once the Newborn is sound asleep you can pose them very easily.
Tip # 5
Talk very softly. Its very surprising to me especially now with Layla and all, how loud people are when first meeting a baby. That usually scares them no matter how nice or friendly the person actually is. So talking very softly from start to finish is good practice as I tend to slip up when I get excited and increase volume.
Tip #6
Advise the Parents to keep the babies nails clipped super short prior to session to avoid scratching. If the baby is a scratcher, suggest those cute little baby mittens to them. Editing out scratches in Photoshop can also be very time consuming, so anything that can cut down on editing time is a good thing!
Tip # 7
Have Baby Wipes and towels on standby! You never know when an "accident" is going to happen, and scrambling to find something is not only embarrassing, but it's messy! Pulling out fresh baby whips for a nervous/ embarrassed customer can be incredible helpful and soothing to the situation. It also helps build that common bond with your customer that lasts!!
Tip #8
This might seem obvious, but you would be surprised how many photographers don't pump up the heat for baby sessions. I highly recommend having the room your're using at least 80 degrees and even warmer for a newborn if possible. Your goal is to get as much happy time with your model as possible. The more little things you can do to help things along the better.
Tip #9
Always Shoot with Custom White Balance!! Babies skin is often difficult to adjust in post processing, because there are so many variables that can effect it. On top of that there are so many different shades of skin that it's pretty much impossible to try and replicate the color in Post if the White Balance is off. Don't get me wrong, you can fix the white balance in post processing, but it can be very time consuming to get the skin just right. Here is a video tutorial I made up on how to set up your camera for Custom White Balance. The Photovision WB Tartget is awesome and as you will see in the video it's cake to use and set-up. We use the 24″ model target, but the 14″ target will work perfect as well.
Tip #10
Use a large soft light source. Babies look best photographed with very soft light in my opinion. The large soft light just flows over the babies features and helps keep everything looking smooth and soft. Michele and I used to use the 46″ Softlighter II, because it's very affordable and folds up like an umbrella. We did however upgrade to a huge 30×60″ foldable softbox, because the catch light from the Softlighter II is not always the best for close-ups. The softbox catch light looks much better in my opinion.
Below are a few sample baby portraits we took using the tips provided 🙂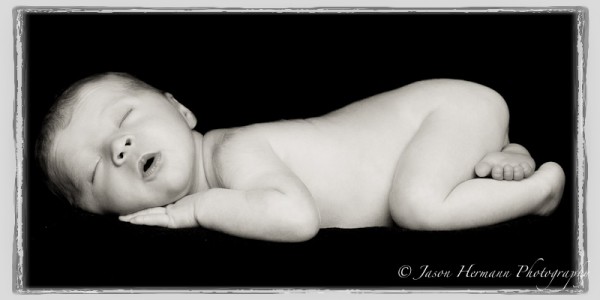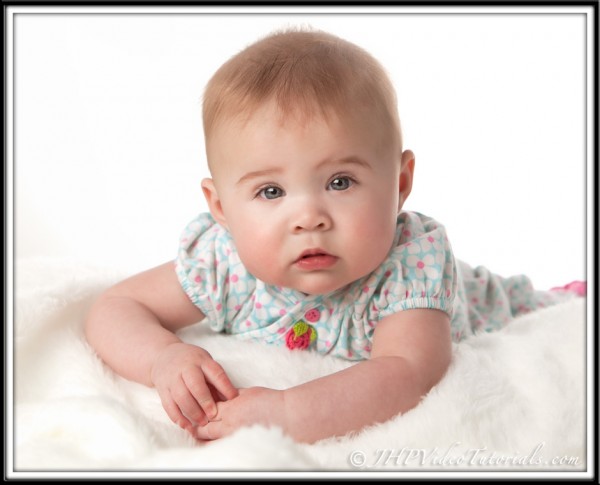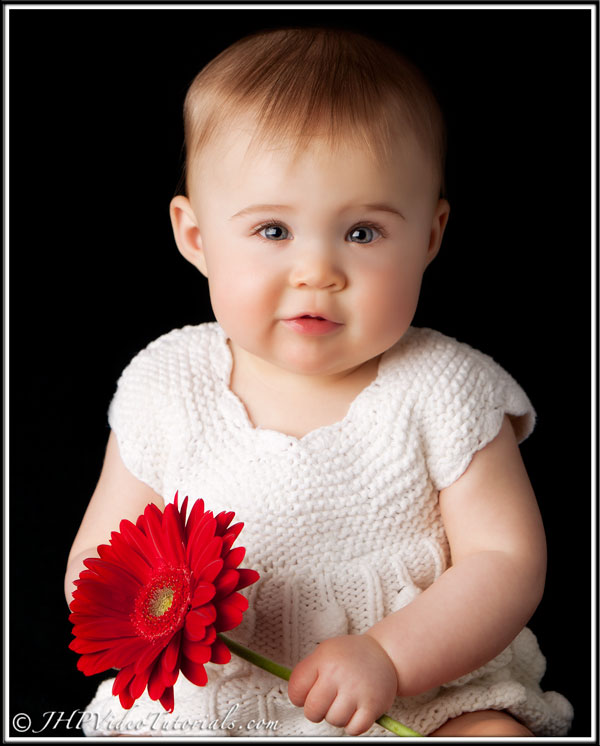 Your support is greatly appreciated as we run this site in our spare time and are not paid. We can however, make a small commission if you click a product link that your interested in. That click will then give us credit if you choose to purchase any given item. This has no effect on the cost of the product, and is a simple way to give back to SonyAlphaLab.com for the effort and info we provide.
Tip Jar: https://www.paypal.me/SonyAlphaLab
Support SonyAlphaLab by becoming a | Patreon
Also, be sure to keep following us on Google+ | Twitter | Facebook |
Direct Shopping Links – Thanks for your Support!!
BHPhotoVideo | Amazon – US | CA | UK
Thanks,
Jay